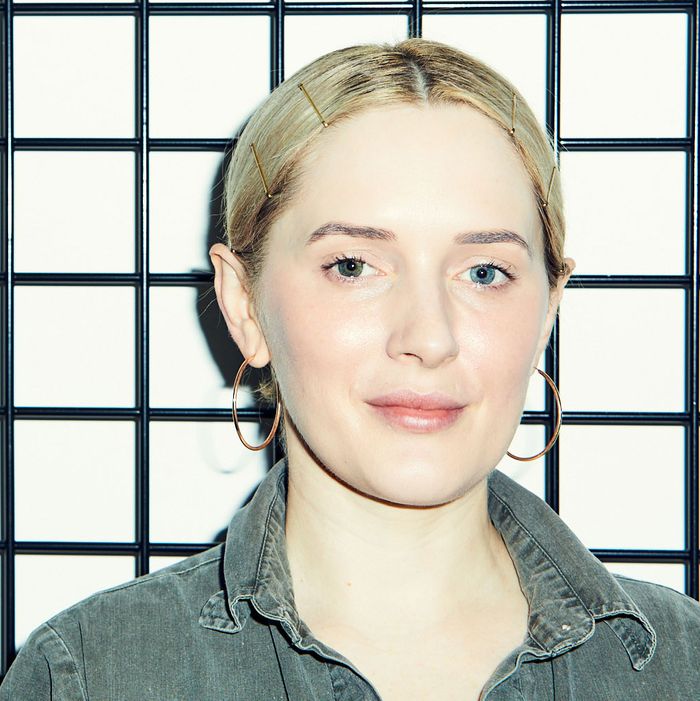 Photo: Meredith Jenks / Courtesy of Sovie Pavitt
Want more skin care? Join The Beauty Group on Facebook.
Before Sofie Pavitt founded her own skin-care studio in Manhattan, she designed handbags for 15 years. She was working for Michael Kors, making quarterly work trips to Seoul, when she discovered Korean beauty. "It got to the point where I would be more stoked on what treatments I was going to get on my trip and what I was bringing back for people than the handbags themselves, so I enrolled in beauty school," she remembers. For a while, she was working her full-time fashion job and offering facials on the weekends, but the facials eventually became so popular that she leased a full-time studio on Canal Street and gave herself an ultimatum. She recalls, "I said I would open up my December calendar to full-time, and if I booked out 35 appointments, I would quit my job." She booked 86 appointments and hasn't looked back.
As a facialist, Pavitt finds that her biggest nemesis is misinformation. "There are so many killer acids out there available for people to just go buy, and so many people are piling on three or four different ones, then thinking their skin is sensitive," she explains. "I see so many clients who've just completely burnt off their skin barrier by overusing exfoliants." She advises educating yourself on ingredients and investing in treatments rather than "tons" of products.
In her own routine, Pavitt tries to combat dryness and uneven skin tone, but her product and ingredient options are limited since she's currently nursing her newborn baby. "Although my skin was amazing through my pregnancy — I had a boy, and some people are convinced that the higher estrogen levels in your body can flare up breakouts if you're carrying a girl — my post-natal situation isn't as great," she says. "I have a lot of pigmentation from hormones that I'm trying to correct."
Below, a look at the routine that's actually given her results, including an alternative to retinol, a "magical" face oil, and an at-home LED light.
The Cleanser
"I discovered this cleanser in Korea before you could get Dr.Jart+ in the States. A tiny amount foams up into this really dense cleanser that takes off all your makeup and leaves your skin clean and soft. Plus, it's not that expensive. I hate paying loads for a non-active cleanser as you're just rinsing off your face."
The Toner
"This toner is refreshing and hydrating, not stripping at all. I can use this year-round. It's so gentle that I can apply it morning and night. I like to tone with gauze instead of cotton rounds because gauze doesn't absorb the product and more gets into your skin."
The Exfoliating Pads
"This is hands-down my favorite exfoliant on the market. I've been using these pads forever. They have a combination of five AHA and BHA acids combined with anti-aging actives to gently exfoliate. Your skin doesn't actually peel with these pads; the dry top layer of skin is just dissolved, revealing glowing baby skin underneath. I've tried everything under the sun, and I always come back to these. Contrary to the name, you don't have to use them every day. I aim to use them twice a week, and they keep my skin glowing and smooth. Warning: They do make you very sun-sensitive, so make sure you are really applying SPF correctly in the mornings. Obsessed."
The Serum
"I'm still nursing, so I'm still avoiding retinols, but I still want to start working on the pigment I got over the summer after my son was born. Pregnancy hormones caused havoc on skin, and melasma — skin discoloration, basically — is common. I wore SPF 50 every day and a hat all the time, but I still got some. This serum helps brighten and even my skin tone. It has a patented brightening complex combined with papain extract and glycerin to gently exfoliate and replenish hydration. I use it with a vitamin C in the mornings. Once I finish nursing, I'll break out the prescription retinol and maybe even some laser sessions, too."
The Face Oils
"Since having my baby, my skin is desiccated, the driest it's ever been. I never really used oils previously but my skin just drinks them up now. After my BrightAlive, I like to pat a little hyaluronic acid serum on to be my humectant, then mix up my Supernal Cosmic Glow Oil with a few drops of CBD oil. Supernal oil is a magical face oil. It's so silky, never greasy, and soaks right into the skin."
"I add Brain Dings CBD oil because it's carried in a hemp oil base so it doesn't clog your pores. Adding CBD calms down inflammation within the skin, and it's full of fatty acids, too. My skin felt irritated and rashy after pregnancy so adding CBD calmed it down, desensitized it, and took down the redness from my skin."
The LED Treatment
"I love LED. I use it a lot in the studio, and I love having this at-home device to use at the end of my routine. I usually use it plugged in to the side of the couch so I can watch TV while doing it. It gets boring to stand in front of the mirror for 20 minutes. It leaves your skin glowing, tight, and plump.
In studio LED treatments are stronger and more effective than the at-home devices but using them consistently will still be beneficial to the skin. I'd recommend going with a high-quality device like a Lightstim — their bulbs are strong, and there's a lot of them for maximum impact to the skin."