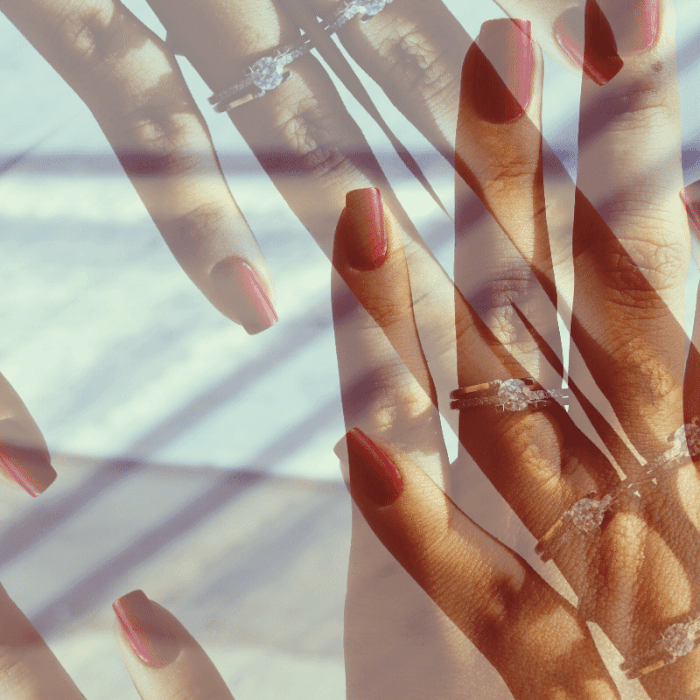 Photo-Illustration: the Cut; Photo Getty Images
"Peak Dupe" is a series about the end of authenticity as we know it.
In theory, there are a lot of benefits to duping a diamond ring. Synthetic diamonds are cheaper, more ethical, and often indistinguishable from the real thing. Yet even as dupes take over every other area of our lives, real diamonds may be the one thing we're unwilling to give up. (Just ask Vanderpump Rules' Lala Kent, who accused her ex-fiancé of buying her a fake.) Here are four New York women, whose names have been changed, on discovering their engagement rings were fake.
"He said his dad was a jeweler." —Judy, 48, nurse
My ex-boyfriend's dad was supposedly a high-end jeweler in London. I never met his father or mother because they lived out there and we lived in New York, and the story was his mother had a horrible fear of flying. So after dating for two years and being madly in love, my boyfriend proposed with a big, fat ROCK. It was three carats and beautiful, a cushion cut. He said his father designed it for him in London and it was a whole process to get it here, but he didn't want me to know the details because he said it wasn't "romantic" to talk about such logistics. It all sounded very fancy and regal.
I loved the ring, but a few things were strange to me. My fiancé didn't have a lot of money (he was a waiter at the time, and I was a bartender saving money for nursing school), and as we started to talk about moving in together and traveling together, he really didn't strike me as someone who came from some baller jewelry designer. We once walked into Tiffany for fun, and he had absolutely no thoughts or reactions to anything. He was English, yes, but he was not very sophisticated or cultured. Something just wasn't adding up.
One day, I went through my fiancé's emails (which I had never done before), and I found emails from his dad — who was in jail. My mind immediately went to, Oh shit, I bet his dad stole this gorgeous 60K diamond ring I'm wearing. Then I was all wrapped up in the ethics of it all. Would I need to return it? I loved my ring, and I loved my fiancé, and I felt bad that his dad was in jail. I tried to have compassion for how ashamed my fiancé must have felt. But wow, there were also so many lies unraveling. Did I say to myself, Holy crap, this ring is a fake? No. Never crossed my mind. But it should have, because when I confronted my fiancé, he confessed that he actually bought the ring from a guy on Canal Street. I ended up not marrying this man, obviously. I never would have cared if he was transparent about his family and financial situation. But the fact that he was so deceitful made me want to run … and I'm glad I did!
"I took it to be appraised, and they said it was worthless." —Ling, 50, fashion editor
My ex proposed after three years of dating. We were in our early 30s. I was very specific about the ring I wanted. I wanted a diamond in the middle and a small sapphire on each side. I cut out pictures from magazines and sent him links. I work in fashion and just had a strong point of view on the ring — as every woman should. So he proposes. We're on a summer vacation to Nantucket. The ring is exactly what I dreamed it would be. I was obsessed with getting it insured right away. I'm paranoid like that, and he said he spent somewhere between $15,000 and $20,000, which was a lot. So as he was beaching one day, I went into town to get it appraised; there was a small jewelry store there. I told him I was going into town to get a milkshake. I walked into the little jewelry boutique, and they quickly told me it was a fake. A good fake but, nevertheless, a fake. They estimated it was worth $400.
I was stunned. I didn't know what to do next. This guy worked on Wall Street, mind you. I had to go back to the beach and either pretend nothing had happened or confront it. I remember I was shaking. It took me until much later in the day to say something. I just wasn't sure how to handle it. Was this worthy of a big fight? Was it a red flag that meant I had to dump him? We went to dinner, and I was not myself. After I finished my first cocktail, I told him what had happened. I remember bursting into tears. He denied the whole thing. He said the ring was real and the people at the jewelry store were idiots. He became enraged. He was angry — like, scary angry. I knew he was lying. The whole trip was ruined. When we got back home, there was no coming back from any of it. I broke up with him, left the bogus ring on his dresser, and we never spoke again.
For a while, I was so humiliated by the whole story. We had called everyone we knew and told them we got engaged, and by the end of the trip, we were not engaged and not together and had burning animosity for each other. It was all so dramatic. I feel queasy just talking about it.
"He put a dupe in a little blue box." —Alicia, 38, social worker
I wanted the classic Tiffany solitaire engagement ring my whole life. When my boyfriend and I got serious, we went browsing. It was just for fun. The ring I fell in love with was around $45,000. My boyfriend came from money and also made good money, so he hinted that he could pull that off and kinda gave me a wink-wink. A few months later, he proposes. It's the little blue box and the dream ring. I burst into tears. I loved the ring so much. I studied it to see if he had engraved anything on the inside part of the band. Nothing. That was fine, but then … I thought it was strange that it didn't say Tiffany & Co. anywhere on the ring; I thought the brand would be engraved somewhere on there. I also thought there might be a serial number. I didn't think too much about it and just enjoyed our engagement night and the days to follow.
About a week later, I couldn't help myself. I brought the ring to Tiffany, and they were like, "No, this is not from us." They said it was a nice ring but just not a Tiffany ring. At home that night, I asked my fiancé if it was definitely a Tiffany ring. He said, "Yes! Why?" He looked very much caught. I told him he could tell me the truth. Eventually, he confided that he used his mother's jewelry guy on Long Island because it was half the price but still great quality. That was a big pill to swallow. I chose to forgive him. He was embarrassed and was trying to please both me and his mother (one of his issues in general). I made the choice to get over it and never tell anyone. Ten years later, with three kids, it still kind of upsets me that he lied, but it wasn't a good enough reason to blow up our future together. We're happy. And I do love my ring … enough.
"It was basically plastic." —Trina, 34, salesperson
After five years of marriage, I found out my husband had had several affairs. We didn't have kids, so our divorce was relatively easy. However, by the end, I really hated him and regretted marrying him, and I wanted to rid myself of any memories of him. So I went to sell my engagement ring. He had told me it cost about $15,000; there were three round diamonds side by side on it. He was a lawyer and said he bought the ring in the diamond district. I never asked him for more details. When I went to resell it, I told myself, Hey, if I get $5,000, I'll be happy. I took it to a consignment jewelry place with a very good reputation, and they said, "Sorry, honey, we can't take this." They wouldn't even give me a cent for it. It was pure garbage. Not even cubic zirconia. Plastic, essentially. I remember gasping out loud. I thought about going for a second opinion, but it all made me feel sick. I threw it in the trash can on the street on the way out. I flung it right into an empty bag of McDonald's. It was actually very cathartic. Fuck him. Fuckin' phony.