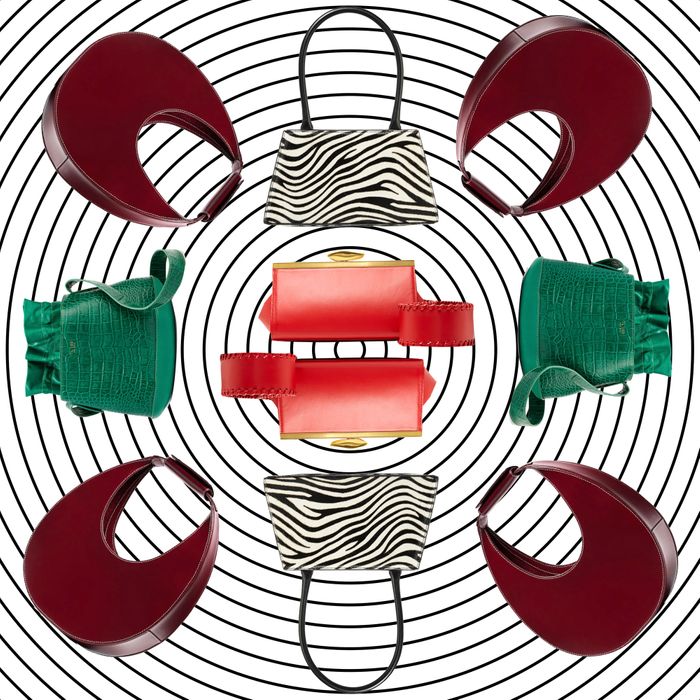 Photo: Courtesy of the Retailers
We're living in a golden age of cute little bags. There will always be heritage brands charging four figures for classic handbags, but right now, the market is booming with emerging designers who work in surprising, fashion-forward silhouettes. And while these bags aren't dirt cheap, they won't set you back a month's rent, either. Brands like Nanushka, Wandler, and Staud are already popular with fashion girls, but there are plenty others to discover, like Gu_de, Yuzefi and Imago-A, that deserve equal billing in your shopping cart. Scroll below to shop all of the bags we're loving this season.
If You're Sick of Boring Totes
Everyone has a basic black tote bag, but does yours have feathers? Add this to the mix when you want to give your outfit a focal point.
If You Love Lady Bags
Top-handle bags are just about flawless, except for the problem of what to do when you're tired of carrying it around. This Reike Nen is as elegant as any lady bag, but with the addition of a handy cross-body strap.
If You're Still Not Over Scrunchies
The Bag That Was All Over Fashion Week
If one bag emerged as a winner of fashion week, it was Staud's Moon Bag. The sleek, round shape and sturdy leather looks way more expensive than its $295 price tag.
The Newcomer
She might be new, but Indonesian designer Alfeya Valrina already has a signature: a clear vinyl detail on each of her bags.
If You're Crazy About Animal Print
We've been talking about animal prints for three seasons straight, and it's still not slowing down. Zebra is an interesting twist on the trend.
If You Want an Everyday Cross-body
Sometimes you just want a bag to mindlessly throw your crap in, without thinking twice about it. Brown feels decadent and fall-minded, especially worn against a classic wool coat.
If You Like Unusual Shapes
Cue the questions, "Where'd you get that?"
If You're Looking for Faux- Leather
Looking to avoid leather but don't want to compromise on style? Nanushka regularly uses faux-leather alternatives in both clothing and handbag designs.
If You Love Your Puffer Jacket
Dries Van Noten is not new by any standards, but rarely will anyone find one of the designer's bags at such an accessible price point.
If You Love Vintage Bags
This one is functional yet whimsical, with a vintage vibe.
If You Can't Decide on a Neutral
After finally deciding to buy a handbag comes the painstaking choice, "Which color?" With this neutral palette of black, brown, and cream, you don't have to pick just one.
If You're a Bucket-Bag Diehard
With vivid emerald croc-embossed leather and a cool shape, it's an upgrade to that Mansur Gavriel bucket bag you've been lugging for years.
If Simplicity Is Your Motto
A streamlined and elegant shoulder bag for just the essentials.
If Brown Is Your Neutral of Choice
The acrylic chain handle is a signature from the up-and-coming Korean brand.
If You're Looking for Something Really Unusual
It's like a chic, trendy, snake-print version of those paper boxes you throw your food in at the salad bar.
The Instagram Favorite
Ask any fashion person, and they'll tell you about Wandler. The brand's footwear became a staple over the summer, but we're equally excited about their functional handbags.
If you buy something through our links, New York may earn an affiliate commission.