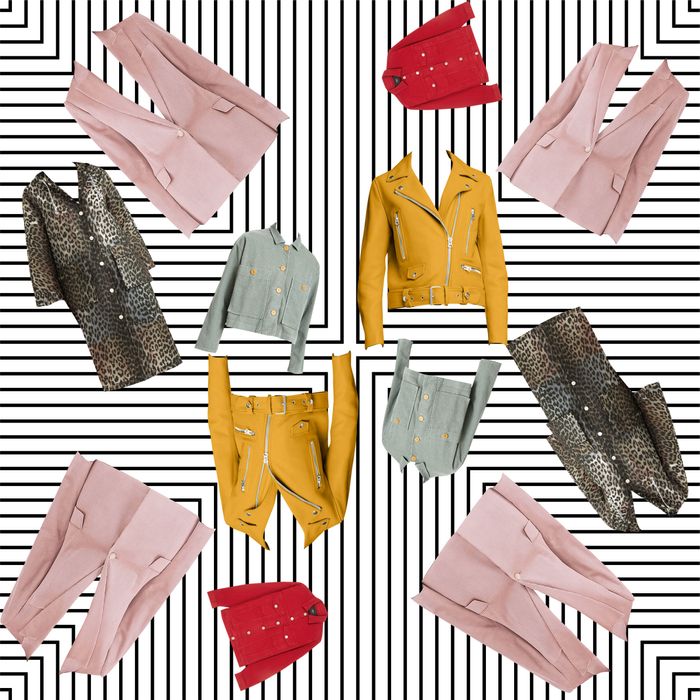 Photo: Courtesy of the Retailer
While the Northeast is experiencing record warmth this October, the calendar says it's technically fall — the time of year for taking gratuitous apple orchard selfies, swaddling yourself in cashmere, and eating an apple cider donut. Also important this time of year: finding yourself a good jacket. But do you go trendy and try a workwear-inspired style? Would you rather finally find a perfect leather jacket? Or do you simply need a stylish option that you can wear to work every day? Whatever outerwear your life requires, you'll find it below in this handy guide to fall's biggest jacket trends. Scroll ahead to shop them all.
If You Want a Trendy But Work-Appropriate Fall Jacket
Menswear-inspired blazers were a big street-style hit last year, and they remain popular. Wear one over a blouse and trousers for a sleek business-appropriate look, or try one with a T-shirt, jeans, and pumps for a Scandinavian cool-girl outfit. Should you want to go the extra mile, a few of the options below come with matching trousers so you can dabble in the suit trend.
Available in sizes 14–28.
Available in sizes XS–3X.
Available in sizes XS–XL.
If You Want a Classic Fall Jacket
Is there anything more refined than a well-cut trench coat? The design is proven to withstand fleeting trends; chose the right one, and it'll look just as good in ten years as it does now. You could splurge on a brand that's been making them for decades, but the latest designs from more affordable labels are just as sophisticated. For purists J.Crew makes a wonderful option with extended sizing, while Eloquii and Farrow (Need Supply's in-house label) offer more current updates in the form of interesting color and fabric choices.
Available in sizes 00–20.
Available in sizes 14–24.
Available in sizes 16–26.
If You Want a Cool Fall Jacket
A leather moto jacket has been shorthand for cool for decades, but before you buy one, you need to make a choice: Do you splurge on buttery soft real leather, or do you opt for a vegan option for either budget or ethical reasons? Should you fall in the former camp, both the Arrivals and Acne have good-looking options that definitely qualify as "cool". If you're among the latter, Blank NYC's design is a top seller at Nordstrom at just under $100, while Eloquii's rich red version offers a nice break from standard black.
Available in sizes 14–28.
Available in sizes XS–XXL.
Available in sizes 00–10.
Available in sizes XS–XL.
Available in sizes 8–14W.
If You Want Your Fall Jacket to Be Waterproof
New York Fashion Week might have been a rain-filled mess, but the street-style crowd figured out how to manage, mostly by carrying clout umbrellas worn with slick raincoats by the likes of Ganni and Rains. Both brands hail from Copenhagen, a place that can go from sunshine to downpour within minutes, so they know a thing or two about waterproofing. Whether you're looking for a Matrix-inspired design, a bold candy-colored look, or a trendy leopard print, there are plenty of ways to wear something cheerful on gloomy days.
Available in sizes XXS–XL.
Available in sizes XXS–L.
Available in sizes XXS–XXL.
Available in sizes 18–24.
If You Want a Fall Jacket to Match Your High-Waist Pants
Awkward pants are still going strong, but what do you wear on top? A roomy workwear-inspired jacket seems to be the most popular option. In denim or corduroy (yes, that '70s-era fabric is back in style), a square jacket offers the right proportion to complement high-waisted jeans and tucked-in tops. Look for styles that hit at the hip or higher with boxy cuts — anything too tight or long won't work. For the brave, you can dabble in colors like bright red, melodramatic purple, or mint green, but you really can't go wrong with a classic Levi's trucker jacket.
Available in sizes 20–24.
Available in sizes 1X–3X.
If you buy something through our links, New York may earn an affiliate commission.