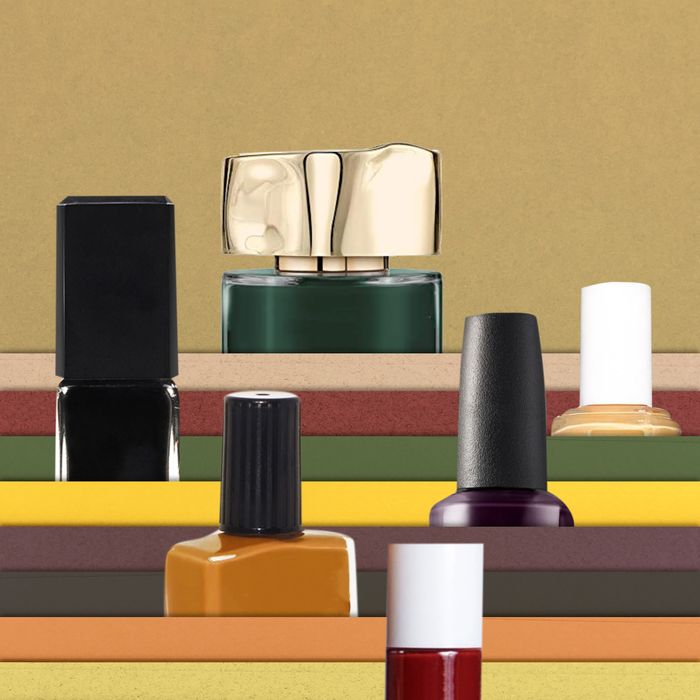 Photo-Illustration: by Stevie Remsberg; Photos: Courtesy of the Retailers
"Your nails are the best form of self-expression," says Sarah Gibson Tuttle of Los Angeles–based salon Olive & June. That's because they're so low-commitment: You can go from cow-print nails one day to rainbow nails the next.
So what are the shades and trends that feel especially relevant this fall? The Cut called upon some of our favorite nail experts to find out which colors and prints they're most excited about trying. Read on for the one shade family everyone seems into and the newest animal print for your nails, plus tips for how to make your manicure last.
1. Harvest Hues
Manicurists love fall too. At Paintbox, founder Eleanor Langston is "really psyched about terracotta shades." In L.A., Jess Hannah, founder of the J.Hannah nail polish line, says she'll be "favoring browns and beiges with infusions of rich yellow." Celebrity Nail Expert Mar y Sol Inzerillo (a.k.a. @NailsbyMarySoul), current go-to shades are burnt oranges and rusted metallics like Essie in Rust-Worthy.
2. Updated Animal Prints
Making your nails look like they could be at the zoo is trendy. "Animal print is very big right now," says nail artist Naomi Yasuda. "Leopard, zebra, snake skin, or even a cat-eye look gives off a cool, reptile vibe," Inzerillo adds. "I'm loving all the tortoiseshell nails I have been seeing," says Kandelac.
To set your manicure apart from the pack, Yasuda recommends choosing "an unusual base, like an unexpected color, a jelly nail, or even a matte." Think like a slime green as a base, with tortoise on top.
3. Skittle Nails
In the Skittle manicure, also known as the ombré manicure, each nail is painted in a slightly different, gradient shade compared to the next one. Sarah Gibson Tuttle of L.A.-based Olive & June says this is a big trend. For a sophisticated version, she advises choosing one color family with minimal variation in saturation between the fingers. Then, polish the nails in the same order on each hand. "It's nail art without the commitment," says Tuttle. "Have fun with it."
4. The Modern French Manicure
"I am very excited that the French manicure has made a comeback," says celebrity and editorial manicurist Julie Kandalec. "But I need to shout this from the rooftops — this is not the same French from the '90s! Like all trends, it has gone through a major overhaul." According to Kandalec, the French manicure of the moment is all about a thin line (not in white!) and steering clear of flat, wide nails.
Abramcyk, who says she's "definitely going to be wearing a two-tone French manicure this season," recommends a neutral base (like pale pink, beige, or gray) finished off with a bold red or black tip. "Make sure the line is thin to ensure it's an elevated French," urges Abramcyk.
5. Yellow
"I could not be more excited about the shades and tones of yellow this season," says Kandalec. "This season, we are finally seeing the gamut from pale and muted to deep mustard. When going for yellow, keep your length short and pair it with a natural shape like soft square or rounded edge. Avoid extremes, says Kandalec. "Let the shade stand on its own."
6. Jade
"Jade green is another trend I am seeing emerge for fall," says Kandalec. "It's inspired by the 'gemstone' nail art trend, which began with geode nail art, then amethyst, and the still-wildly popular rose quartz nails." Due to green's naturally strong pigments, it can grab onto and stain the nail surface. To avoid it, layer on two rounds of base coat. "You may also want to consider doubling up on your topcoat too (after the first is 100 percent dry) to prevent the pigmented color from rubbing off or transferring onto surfaces," she explains.
7. Deep Wine
A popular choice on the fall 2019 runways, wine was Choi's selection for the models at the Michael Kors show. "It is provocative and elegant and it owns the season," she says. Tuttle is also "really into deep Bordeaux." Her polish line's latest shade to launch is a wine color called SC. "These shades help transition to fall while easing the pain of saying goodbye to the pink summer mani," she says.
8. Pure Black
"Black is a true high-fashion color unto itself," declares Choi, who used this shade for the Marc Jacobs fall 2019 show. "It runs the gamut from classic and sophisticated to cool, edgy, and modern." For the most sophisticated look, Choi suggests using it on either short, square shape nails or medium rounded ones. When doing your own manicure, be sure to use a base coat to protect your nails from absorbing the color pigment, she cautions, and use a top coat to provide extra shine and a smooth finish.
9. Matte Metallics
This is "a two-in-one trend hitter," says celebrity manicurist Steph Stone. "For fall, I am choosing a vampy red and a neutral for my favorites, because they're each my go-to color, depending on my mood." Pro tip: When painting your nails with textured polishes like metallics, streaks and bumps are common. To avoid them, follow Stone's three-step prep process. First, buff your nails before painting them. Second, clean each nail with alcohol to remove any residual dust. Third, use a ridge-filling base coat to create the smoothest surface for your paint job.
10. Jewel-Tone Purples
"Right now I am seeing two renditions of purple that are having a moment: mauve-y lavender and deep plum," says Sigourney Nuñez, an education manager at OPI. "Fall seems to creep up a little slower on the West Coast, so nails are still pastel and nude as we try to hang onto summer." If you, too, are a West Coast native, Nuñez advises easing into fall by wearing a mauve-lavender shade first, "to introduce a hint of purple." Then, "once the temperature falls below 60," it's time to embrace the deeper jewel-tone versions, she says.
If you buy something through our links, New York may earn an affiliate commission.