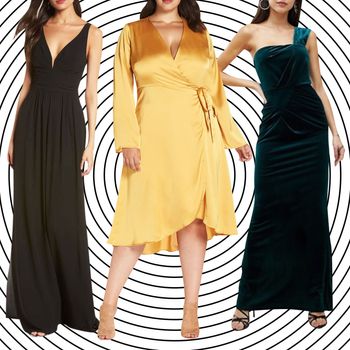 Photo: Courtesy of the Retailer
The dress code for weddings this time of the year can be a challenge. What do you wear to an formal event when you know the temperature's going to drop 20 degrees over the course of the evening and the seasonal color palette includes shades like "pumpkin"? Below, we've broken down our best tips for what to wear whether the occasion calls for black-tie or cocktail, outdoors or indoors, night or day. Read on for 16 fall wedding guest dresses under $300.
For a Black-Tie Wedding
There's really only one rule for black-tie attire: Your dress must be long. A ball gown with heavy layers can impede dancing, so we suggest finding a lighter dress where the hem just grazes the floor. Black feels fall-appropriate but can get boring; if you want to wear a black dress, try to find one with a slightly sexy neckline. Alternately, you can go in the opposite direction and wear a really bold color like the magenta dress below.
Available in sizes XS–XL.
Available in sizes 14–20.
Available in sizes 12–28.
For a Casual Daytime Wedding
Casual weddings are becoming more and more popular, which is lucky for you because it means you get to wear something more fun than a gown. Instead of the obvious LBD, try a jewel-toned wrap dress — you'll feel comfortable and look cute but not overly formal.
Available in sizes 0X–4X.
Available in sizes XS–XXL.
Available in sizes 14–24.
For an Outdoor Wedding
I'm not sure why, but when I think of what to wear to an outdoor wedding, Florence Welch seems like the perfect inspiration — she's always in a long, floral, flowy gown (and it's usually Gucci) and that vibe is perfect for an outdoor fall wedding. The length and the long sleeves will keep you warm whether it's during the day or a picturesque sunset affair.
Available in sizes 1X–3X.
Available in sizes 12–28.
For a Cocktail Wedding
Cocktail weddings are always hard — you don't want to show up in a gown and feel overdressed, but you can't exactly throw on whatever you'd normally wear to the bar. Your best bet is to dress exactly the way you would for a fancy work event. The simple, sophisticated, not-too-mini dresses below will do the trick.
Available in sizes XS–XXL.
Available in sizes 14–24.
Available in sizes 18–22.
If you buy something through our links, New York may earn an affiliate commission