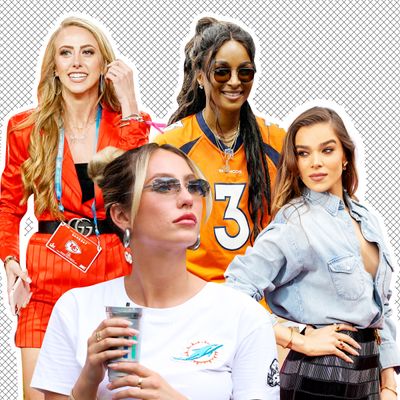 Photo-Illustration: by The Cut; Photos: Getty Images
Since she started "dating" the famous tight end Travis Kelce approximately one month ago, Taylor Swift has attended no fewer than four Kansas City Chiefs games, leading Swifities who never previously paid attention to the NFL to Google things like "what is a down?" and "tight end job explain?" Swift's sudden transformation into an enthusiastic NFL WAG has drawn the kind of attention to the league that is normally reserved for the Super Bowl. Whether she is eating chicken fingers with ketchup and "seemingly ranch," posing with Kelce's mom, or debuting a secret handshake with Patrick Mahomes's wife, Brittany Mahomes, in the Chiefs' VIP box, the cameras can't get enough of her.
But Swift is not the only famous person to ever date a football player. In fact, there are several fascinating women currently dating some of the league's top quarterbacks and wide receivers who are making their own drama on the sidelines. If you just started watching games on Sundays to keep up with the league's celebrity quotient, here are some other gals you should keep an eye out for in the stands.
Brittany Mahomes
Partner: quarterback Patrick Mahomes
Team: Kansas City Chiefs
Before Swift started dating Kelce, Mahomes was the best-known Chiefs girlfriend (now wife) on the team. She has been dating Mahomes since high school, and the two share two children: Sterling Skye Mahomes, 2, and Patrick "Bronze" Lavon Mahomes III, 9 months. She is at pretty much every game and always styling her long blonde hair in new and inventive ways. She is also known for criticizing referees on social media.
When news of Swift and Kelce's relationship broke, fans speculated that Brittany would be irked to have to share the spotlight with the pop star at games, but that does not seem to be the case. Instead, Swift has welcomed her into the squad: They've sat together in the same box at three different games, taken shots together at an after-party in Kansas City, and gone out for a girls' night in New York with Swift squad members Blake Lively and Sophie Turner. Oh, and now they have a secret handshake.
"Brittany is thrilled to be building a genuine friendship with Taylor," a source probably, totally, not named Brittany told Us Weekly recently. "They've hung out a couple of times and have grown fairly close in a short period of time."
Hopefully she'll get to be a bridesmaid in Swift and Kelce's wedding.
Hailee Steinfeld
Partner: quarterback Josh Allen
Team: Buffalo Bills
The 26-year-old actress and pop star reportedly started dating the 27-year-old quarterback in the off-season this year, and she has slowly become more public about the relationship on the sidelines. Earlier this month, she made an appearance at a local Buffalo clothing boutique with Allen's mom, and she later traveled to London to support Allen at his exhibition game against the Jaguars at Tottenham Hotspur stadium. According to "Page Six," she sat in a VIP box next to Allen's BFF, the Formula One driver Daniel Ricciardo.
Steinfeld has not yet spoken publicly about the relationship, but Allen more or less confirmed the two were dating on a Barstool Sports podcast earlier this year. The couple also attended a Buffalo Sabres game together last week.
Steinfeld and Swift are friends — Steinfeld was one of the 9,000 famous women to appear in Swift's "Bad Blood" video in 2015 — so it's possible they could reunite in a VIP box when the Bills take on the Chiefs December 10.
Ciara
Partner: quarterback Russell Wilson
Team: Denver Broncos
If Swift is hoping for a lasting relationship with Kelce, she could look to her fellow pop star Ciara as an example: The singer has been married to Wilson since 2016 and they are now expecting their third child together. The secret to their success may not be replicable for everyone, though: Ciara, 37, and Wilson, 34, were very public in the beginning of their relationship about their decision to wait until marriage to have sex. (Wilson was being advised by Seattle megachurch pastor Judah Smith when he was playing for the Seahawks; Smith is also famous for ministering to Justin Bieber.) "That took a lot of prayer," Ciara said of the decision in an interview with InStyle in 2019. "It was hard. I can't lie."
Ciara has continued to show up to Wilson's games while pregnant in Broncos maternity wear this season and recently praised his parenting abilities on the Call Her Daddy podcast. Should Wilson make it all the way to the postseason, Ciara could end up traveling to games with her OB like Kylie Kelce — wife of Travis Kelce's brother Jason Kelce — did last year when Jason made it to the Super Bowl with the Eagles.
Alix Earle
Partner: wide receiver Braxton Berrios
Team: Miami Dolphins
The 22-year-old University of Miami student turned TikTok phenomenon hinted on social media for weeks that she was dating an "NFL man" before showing up at his games in Miami in full Dolphins regalia. Now, many of her famous "get ready with me" videos revolve around getting ready for games or appearances with Berrios. Earle even filmed a Barbie-themed TikTok with Berrios on the sidelines of his game last week against the Carolina Panthers.
The two first confirmed their relationship in July when they walked the red carpet together at the ESPY Awards. This brought some drama, however: Berrios's ex-girlfriend, the influencer/reality TV personality Sophia Culpo, accused Berrios of cheating on her at the end of their relationship and intimated that it was with Earle. For her part, Earle vigorously denied her claims on — where else — the Call Her Daddy podcast. "I guess the ex-girlfriend had started posting things alluding to unfaithfulness in the relationship online and I was seen hanging out with this guy so everyone just kinda pointed fingers at me," she said. (She also made it clear she would never be a part of an affair considering her father had an affair with Ashley Dupre, one of Eliot Spitzer's famed call girls, when Earle was growing up — this woman has a very interesting family history.) Culpo has since deleted her claims and is reportedly dating someone not in the NFL.
Olivia Culpo
Partner: running back Christian McCaffrey
Team: San Francisco 49ers
Culpo, who happens to be the older, slightly more famous sister of Sophia, has an even more storied history as an NFL girlfriend. After breaking up with Nick Jonas in 2015, she briefly dated former quarterback Tim Tebow before embarking on a three-year relationship with former Patriots wide receiver Danny Amendola. Culpo went all the way to the Super Bowl with Amendola in 2018, but unfortunately he lost. After they broke up, Culpo announced she'd never date another athlete, but she is now engaged to McCaffrey, a 27-year-old running back for the 49ers who likely has several more years left in the NFL.
"He's just the best, I feel like he is really everything that I could ever ask for, so I never have to worry about anything," she told Entertainment Tonight in November 2022. "I think that was the reason why I didn't want to date an athlete, no offense, because there is a reputation there."
Culpo now seems more than happy to be a regular fixture at 49ers games as she is in the midst of wedding planning. She recently posted a TikTok in which she revealed she is planning to "rip out" her IUD on their wedding day to start trying for a baby. Fun!
Kim Kardashian (alleged)
Potential partner: wide receiver Odell Beckham Jr.
Team: Baltimore Ravens
Shortly before Swift debuted her relationship with Kelce, the tabloids reported that her onetime rival Kim Kardashian was secretly dating Ravens wide receiver Odell Beckham Jr. Kardashian, 43, and OBJ, 30, have not been photographed together, but People reported at the end of September that the two have been "hanging out," with TMZ noting that Kardashian recently attended the football star's birthday party. E! News went so far as to say the pair are "friends": "Kim and Odell are friends and have a lot of mutual friends in common. She's not seriously dating anyone at the moment but open to finding love again if she meets the right person. Right now her main focus is on her kids and her businesses."
Hmm. That doesn't sound too promising, but someone clearly wanted to float the idea of this relationship to the public, so maybe it is happening behind the scenes. Of course, Kardashian has been an NFL girlfriend before: She chronicled much of her relationship with former running back Reggie Bush on the early seasons of Keeping Up With the Kardashians (who could forget when Kris Jenner secretly sold the "private" calendar of sexy photos Kardashian made for Bush to the public?). It would be fun to see Kardashian back in the stands, and even better in a VIP box opposite Swift's. For now, we'll have to be content with Swift's sideline antics.