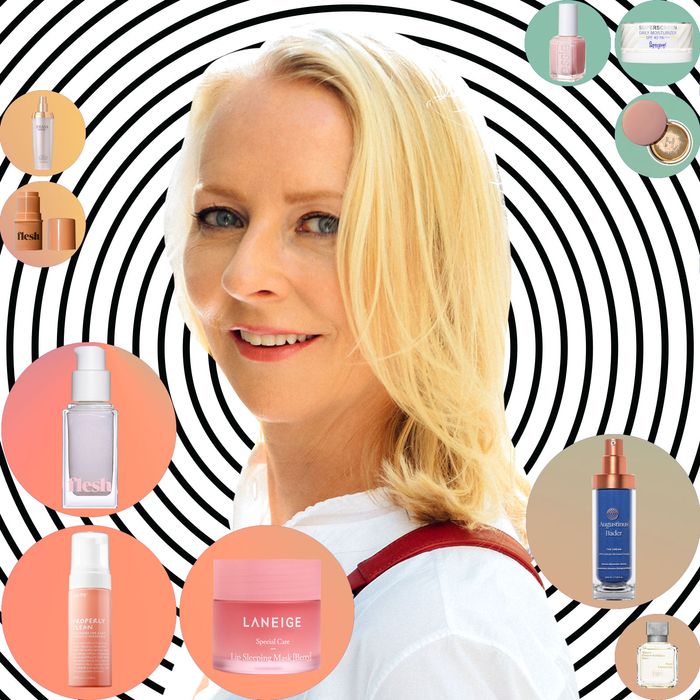 Photo-Illustration: Tommy Ton; The Cut
What beauty products do you buy over and over? On the Beauty Group, a Facebook community co-founded by the Cut and the Strategist, beauty obsessives chat all day long about the products they love — the ones so good, they'll make you hit that little "auto refill" box at checkout. So we decided to turn the question to some of our favorite beauty pros.
Linda Wells always knew she was going to create a beauty line. By the time she finally launched Flesh in 2018, she had come across thousands of products as the founding editor-in-chief of Allure (she's also the Cut's former beauty editor at large). "When you're a beauty editor, you try things all the time and think, I wish they had done this," Wells told our beauty director, Kathleen Hou, last year. Flesh is an attempt to correct those wrongs, but, of course, Wells still uses plenty of products that aren't from her own line — they just have to meet her rigorous standards.
"I can be momentarily seduced by great packaging, a founder story, an attractive Instagram post, an appealing fragrance, or a weird gimmick, but the thing that really hooks me is performance," she explains. "I try to withhold judgment until I've used a product over time. In skin care, that can mean a month, which sounds a bit boring for a beauty obsessive, but it's the only way to know for sure and not make an unholy mess of your skin."
The same goes for makeup, she says — especially foundation and mascara. She points out, "Every mascara is great when you first pop it open, but after two weeks, too many become a clumpy, tarry sludge. I don't spend a lot on mascara, because you have to toss it after a few months. Besides, drugstore mascaras are the best." Her favorite, which you can find below, retails for $10.
These days, Wells's only "real splurges" are on fragrance and skin care. More important than her products, though, is her beauty philosophy: Delete bad photos, never hit FaceTime, and carry around the best image of yourself ("even if it's a fallacy"). And don't worry about aging gracefully — the concept is "a scam, in my opinion. It's judgmental, and it shames women," she says. "Let's face it, the term is only directed at women — for coloring their hair, getting Botox, fillers, or cosmetic surgery. My friend and idol, Joan Kron, who's 91 years old and working on her second documentary, believes in 'aging disgracefully.' I love that."
Below, see all of Wells's favorite beauty products, including a face cream worth splurging on, a go-to nail-polish color, and an essential sunscreen.
If you buy something through our links, New York may earn an affiliate commission.