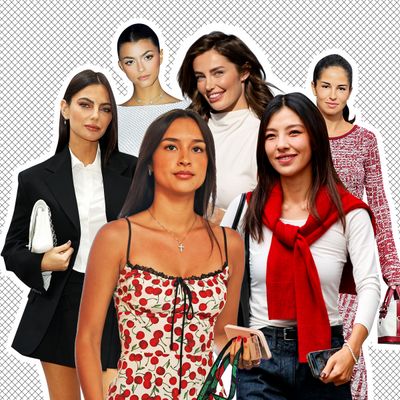 Photo-Illustration: by The Cut; Photos: Getty Images
If you thought WAG culture peaked with the NFL — thanks perhaps exclusively to current Chiefs-game fixture Miss Taylor Swift — allow me to introduce you to some of the most captivating, vital, and calculated personas in the game: the wives and girlfriends animating F1 paddocks as they toast flutes of Veuve to their race-car-driving partners.
Over the last decade, dating a man in a race car has become a sort of launching pad for modeling careers, brand partnerships, and commanding authority in the fashion world: the F1 girlfriend-to-influencer pipeline, if you will. (Unless, of course, you're someone like pro golfer Lily He, the girlfriend of Williams driver Alex Albon, with 700,000 Instagram followers of your own making.) Even those girlfriends who are no longer dating F1 drivers have maintained their rightful clout as affluent creators, earning their own hundreds of thousands if not millions of followers, with fan accounts chronicling their bags, closets, and every move. Not to suggest that these women are or should be used as props to male drivers' fame; rather, they're conjuring up fame on their own terms. The two cardinal rules of sports (according to me)? Never underestimate a fangirl, and never underestimate an F1 WAG.
Aside from providing a much-needed respite from the pulsing testosterone of their famous driver counterparts, these women have administered a dose of dynamism in an otherwise flat, homogeneous environment. Though often dismissed by F1 fanboys as just purveyors of useless gossip, the F1 WAGs have actually contributed to both the growing craze around the sport and to the rising celebrity of the drivers themselves. Instagram accounts like WagsF1 (with 60,000 followers), Love 4 Wags F1 (14,000 followers), and F1 Wags (12,000 followers) have together woven a Gossip Girl–esque tapestry of speculation and mythology around the WAGs, who in turn have bolstered the spectacle of drivers' lifestyle and aesthetic choices.
From old-money nepo babies to nouveau riche athletes and everything in between — though not everyone; this list isn't exhaustive, but is enough to get you started — let's get WAG-ged.
Lily He (Girlfriend of Williams driver Alex Albon)
The love story between professional LPGA golfer Lily He and Alex Albon is one of Hallmark rom-com proportions. The 24-year-old USC alumna has said that the pair first connected after she watched Drive to Survive in 2019 and was impressed by both Albon's athleticism and the fact that he was the only Asian driver on the grid at the time. He followed Albon, Albon slid into her DMs, and the rest is WAG Hall of Fame history.
Because He, like the rest of us, started out as a fan, she's in many ways the People's Princess of F1 … though she's often cuddled up with Albon on a private jet and her affection for Miu Miu sneakers is far from understated. Also just like us, she reads: He's feminist-leaning reading list, as F1 journalist Lily Herman painstakingly unpacked, includes A Little Life by Hanya Yanagihara, Three Women by Lisa Taddeo, The Goldfinch by Donna Tartt, and Men Explain Things to Me by Rebecca Solnit. Aside from hopefully radicalizing her boyfriend, He's relationship with Albon is what one might call a marriage, er, serious relationship of equals. They each have the power of their respective mega-sporting brands behind them, which means their relationship is mutually beneficial from a business perspective. Or "they are each other's WAGs," as one fan put it. They operate like a team and are seamlessly integrated into one another's social presence, and Lily's subtle glamour and advocacy for the visibility of women's sports is a welcome addition to the male-dominated paddock. Plus, He has no issues humbling or teasing Albon about his driving and (attempts at) golfing … all while sporting Chanel.
Kelly Piquet (Girlfriend of Red Bull driver Max Verstappen)
It shouldn't come as a shock that Max Verstappen's longtime girlfriend is about as polarizing as F1's reigning villainous champion himself. If there were ever a nondriver poster child for the insular elitism and questionable politics that characterize Formula One, it's Kelly Piquet.
In 2021, the pair rang in the New Year by going Instagram official. Under any other context, that might register as normal, but in F1, where the tangle of nepotism is inescapable, this coupling had everyone's eyebrows leaping up into their foreheads. Kelly was born into the F1 world, literally: Her father is three-time World Drivers' Champion Nelson Piquet (the same man who was fined close to $1 million for making racist and homophobic comments about Lewis Hamilton this year. The decision was reportedly later annulled, but you get the gist.) Kelly's brother is former F1 driver Nelson Piquet Jr., who is also without a spotless reputation. His career went up in flames after Piquet Jr. admitted he had deliberately crashed his Renault car so his teammate could win the race.
That's a lot of race-car infamy for one family as is, but the connections don't end there. In 2017, Kelly Piquet began dating former F1 driver Daniil Kvyat, and later they had daughter Penelope together. And, as fate would have it, Kvyat used to drive for Red Bull, the team Verstappen currently drives for. Despite her wishy-washy stance on her father's misdeeds, Piquet is living as charmed a life as ever: Earlier this year, she was featured on the cover of Vogue Netherlands decked out in motocore, and she regularly treats her more than one million followers to images of Fendi bags, red carpets at Louis Vuitton fashion shows, and lounge days on yachts. For Piquet, it seems the White Lotus vacation-style living never relents. And though she certainly brings a level of garish old-money sophistication to the sport, I'm not sure the paddock needs any more wealth nor generic fashion sponsored posts.
Carmen Montero Mundt (Girlfriend of Mercedes driver George Russell)
If Kelly Piquet is messy loud luxury, then Carmen Montero Mundt is her quiet-luxury opposite. Together for several years, Mundt and Russell's relationship is the image of fresh, aristocratic style. Think lots of cream-colored cashmere sweaters — like F1's second coming of the early Kate Middleton era. Mundt seemingly has made F1's paddock fashion less about wearing luxury brands and more about styling them effortlessly, and she should be credited with helping to brand F1 as the luxury-fashion container it is today. I mean, look at these two: Send them to Buckingham Palace. She's all finely tailored trousers, elegant button-downs, crisp linen, and, for the love of all the finer things, silk neckties. Plus, her pristine image livens up her partner's boyishness and imbues him with much-needed sophistication and maturity. If you're going to influence, this, it appears, is how it's done.
Meet Kika: the generally beloved model and girlfriend of Pierre Gasly, the driver who is rumored to be as terminally online as the rest of us. How does one's skin glow like this? Perhaps I, too, would be glowing like a spray-tanned mermaid if I were cashing in on H&M ads, Nespresso ads, Coca-Cola ads, and an abundance of other ads. Alas, I support Kika getting her bag, and she deserves it: She's graced the cover of Women's Health Portugal and brings that effervescent off-duty-model aura to the paddock, which neither Formula One nor Pierre Gasly could claim without her. You'll typically see fans posting "my fave couple" or "power couple" on her photos with Gasly.
Rebecca Donaldson (Rumored girlfriend of Ferrari driver Carlos Sainz)
Though Sainz has not vocally confirmed reports of his relationship with Donaldson, almost all of the WAG accounts are convinced Rebecca-los is happening. To their credit, the Ferrari driver earlier this week mentioned that he does have a "current girlfriend," without naming names, and he's been captured kissing Donaldson (with his eyes open, I might add). The Scottish model and activewear-brand owner boasts your typical high-fashion "It"-girl feed: distant, cool, and little real life represented there. Which is fine! Women on the internet don't owe anyone the intimate details of their lives. Sainz has been seen partying with Donaldson and going on vacation with her, and Donaldson was photographed in the paddock during last month's U.S. Grand Prix in Austin.
But the bigger story here is that Sainz was linked to Donaldson just a couple months after he split from longtime partner Isa Hernáez, triggering an earthquake in the WAGs community. Apparently, moving on at hyperspeed is a staple of the Ferrari brand …
… which leads me to our next entrant, Alexandra Malena Saint Mleux. She and Charles LeClerc were recently spotted courtside at a Lakers game and have been snapped in paparazzi shots for some time now, though she seems to be walking in the Louboutin-shaped footsteps of girlfriends past. The two were first linked together in May, just six months after the end of LeClerc's previous relationship with Charlotte Siné.
A longtime fixture of the WAGs paddock crew, Siné's breakup with LeClerc proved so seismic that it was covered in TMZ. A small-town Monegasque love story, Siné grew up next door to LeClerc and his family. When the duo later released nearly identical, hyperpolished breakup statements at the end of last year (as is now WAG lore), fans were stunned. But considering LeClerc years ago broke up with his then-girlfriend Giada Gianni to (as Lily Herman puts it) "focus on his career with ~no distractions~," only to begin dating Siné shortly after, his dating cadence should come as no surprise.
Honorable mentions: I would be remiss to assemble a list of WAGs without including Geri Halliwell-Horner, a.k.a. Ginger Spice (married to Red Bull team principal Christian Horner), and Susie Wolff, the pioneering women's driver and current managing director of F1 Academy (married to Mercedes team principal Toto Wolff).