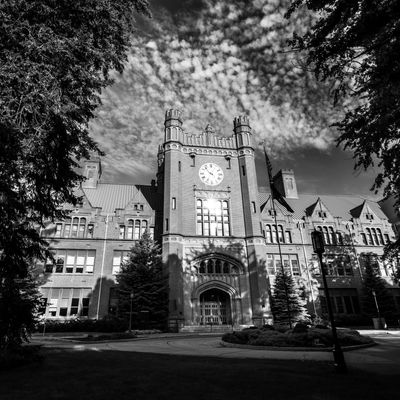 Photo: knowlesgallery/Getty Images/iStockphoto
Last November, the bodies of four University of Idaho students were found in a home near campus after another student called 911 to report "an unconscious individual" at the address. At the time, authorities described the killings as a "crime of passion," calling the incident an "isolated, targeted attack" with an "edged weapon," per ABC News. A county coroner later ruled all four deaths homicides by stabbing, though much about the case remained unknown.
Mor than six weeks after the killings, police arrested criminology graduate student Bryan Kohberger, 28, in Monroe County, Pennsylvania; he has since been indicted on murder charges. At Kohberger's arraignment on May 22, a judge entered a default "not guilty" plea on his behalf, after he declined to enter a plea of his own. Months later, Kohberger's defense attorneys offered up an alibi in court documents, claiming their client was out on a drive by himself in a nonspecific location at the time of the murders. In August, Kohberger waived his right to a speedy trial, delaying its start date, which was supposed to be October 2, indefinitely. Here is everything we know about the case.
The four victims were close friends.
The New York Times reports that the killings took place at a home in an off-campus neighborhood in Moscow, Idaho, where three of the victims — 20-year-old Xana Kernodle, 21-year-old Kaylee Goncalves, and 21-year-old Madison Mogen — lived with two more roommates. The fourth victim, 20-year-old Ethan Chapin, was in a relationship with Kernodle and staying the night as her guest. Kernodle's sister told the Times that the other victims were good friends to her sister and she was "lucky" to have them in her life. "We are grieving together as a family. We are definitely in shock," the owner of a restaurant where two of the victims had worked as servers told the Times.
The night before the attack, Chapin and Kernodle had reportedly been at a party, while Mogen and Goncalves went to a bar downtown, a video livestream showing the two women ordering from a food truck around 1:45 a.m. on November 13. The four friends later gathered at the house, a large rental that police say showed no signs of forced entry. The Times reported that officers found the door open when they first arrived at the scene several hours after the murders took place. According to police, the two other roommates were in the house during the time of the attack, though they were unharmed. Police have said that one of the survivors called 911 at approximately 11:58 a.m. to report an unconscious person, believing one of their roommates had passed out.
After the killings, it took weeks for police to identify a suspect.
Following the killings, police initially said they had not identified a suspect. Police said the murder weapon wasn't found at the house but did not go into further detail. James Fry, Moscow police chief, said the police department was reviewing "video that has been collected" in the case and asked citizens to contact the department with tips.
The murders, which took place the same day that a gunman killed three students at the University of Virginia, left the University of Idaho community on edge. Other students living in the neighborhood said they were leaving town, citing anxiety and uncertainty over what had transpired. "Everybody kind of just went back home because they're scared … It's definitely uneasy on campus right now," one student told CNN. Some students told the Times that they'd first learned about the killings through the university's alert system but had received little information from the school and law enforcement thereafter. Fry cautioned the community — which hadn't logged a murder since 2015 — to "be aware of your surroundings at all times."
In December, police said they wanted to speak with the driver of a white 2011–13 Hyundai Elantra, which was seen near the crime scene on the morning of the killings. They said, "Investigators believe the occupant(s) of this vehicle may have critical information to share regarding this case."
A suspect was arrested in Pennsylvania.
On December 30, Kohberger was arrested at his parents' home in Effort, Pennsylvania. According to the Times, he had been pursuing a Ph.D. at Washington State University, about ten miles from the University of Idaho, and had previously earned undergraduate degrees in psychology and cloud-based forensics. A former classmate of Kohberger's told the Times that he had been "highly engaged" in a criminology-class discussion about forensics, DNA, and other evidence just two weeks before the killings. Authorities did not outline a motive for the killings.
At an extradition hearing, when the judge asked Kohberger if he had any mental-health issues that would impede his ability to waive his extradition, he said no. After being held in custody in Monroe County for six days, Kohberger was handed over to local authorities in Idaho.
Jason LaBar, the public defender representing Kohberger in Pennsylvania, said that Kohberger drove across the country with his father for the holidays in a planned trip and that his client had been following the case with interest but was "shocked" to be arrested.
The FBI reportedly tracked Kohberger and his father from Washington to Pennsylvania and asked Indiana cops to pull him over to secure images of his hands, a law-enforcement source told Fox News. Indiana authorities pulled Kohberger over twice on December 15, per NBC. First, a deputy from the Hancock County Sheriff's Department stopped him for following another vehicle too closely while driving the Elantra. Indiana State Police said at the time that there was "no information available on a suspect for the crime in Idaho." Nine minutes later, a state trooper stopped Kohberger but let him go with a warning after he heard that Kohberger had been stopped a few minutes earlier. "The trooper, having learned the two had been stopped minutes before by a deputy from the Hancock County Sheriff's Department, who he knew was working just down the interstate from him, used his discretion and released the two men with a verbal warning," state police said.
Body-camera footage of the stops shows Kohberger's father mentioning a fatal police standoff that happened earlier that day near Washington State University. He said he and his son had been discussing the "horrifying" incident.
At a press conference in Idaho, Fry said other arrests were not likely. He added that the white Hyundai Elantra had been at the home in Pennsylvania but they had not yet found a murder weapon. The Times reported that Kohberger received a new license plate for the car five days after the murders.
LaBar released a statement from Kohberger's parents and two sisters saying that they "love and support our son and brother" and had cooperated with the police in an effort to "promote his presumption of innocence."
In a released affidavit, one of the surviving roommates recalled seeing a "figure clad in black clothing and a mask."
According to unsealed court documents and a probable-cause affidavit, one of the surviving roommates — identified by law enforcement as D.M. — heard crying in the house the morning of the murders and saw a man dressed in black and wearing a mask. D.M. told law enforcement that all four victims were home by 2 a.m. and that she was woken up around 4 a.m. by what sounded like Goncalves playing with her dog. Shortly afterward, D.M. said she heard Goncalves say, "There's someone here," prompting D.M. to look out her window, where she saw no one. Later, D.M. told authorities she heard crying coming from Kernodle's room and a male voice saying, "It's okay, I'm going to help you," at which point D.M. said she again opened her door and saw "a figure clad in black clothing" and a mask walking toward her. She described the man as athletically built with bushy eyebrows and recalled him walking past her and toward a sliding door while she stood "frozen in place," ultimately locking herself in her bedroom. Kohberger's DNA was eventually found on a knife sheath left at the crime scene, and authorities found a match by rooting through his family's trash in Pennsylvania.
The unsealed court documents revealed unsettling details from Kohberger's phone records, which indicate that his phone stopped responding to the network at 2:47 on the morning of the murders and was turned back on at 4:48 a.m. Further phone records reveal that Kohberger had been near the victims' home at least 12 times since June 2022. The documents also revealed that Kohberger had applied for an internship with the Pullman Police Department in the fall of 2022 and wrote an essay expressing interest in helping rural law enforcement collect and analyze technological data.
The court documents showed that, as authorities were being criticized by the general public and families of the victims for not having a suspect or investigating quickly enough in November and December, a team of local and state law-enforcement officials, along with the F.B.I, had been working on the investigation through the holiday season.
A grand jury indicted Kohberger, eliminating the need for a preliminary hearing.
Kohberger made his first Idaho court appearance in early January. CNN reported that he smiled at his public defender and avoided making eye contact with anyone else — including the victims' family members, many of whom were crying in the front row. At the time, the judge upheld the prosecutor's request for a no-contact order for the victims' family members and the two surviving roommates for two years and denied bail for Kohberger. The suspect returned to court one week later, where he waived his right to a speedy trial. Public defender Anne Taylor reportedly told the judge that she wanted more time to review evidence, and prosecutor Bill Thompson had no objections.
A judge scheduled a preliminary probable-cause hearing for June 26, but it was canceled after a grand jury indicted Kohberger on four counts of first-degree murder and one count of felony burglary last week. The indictment says Kohberger did "unlawfully enter" the victims' home and "willfully, unlawfully, deliberately, with premeditation and with malice aforethought, kill and murder" them. According to NBC, a district judge ruled in favor of the state's request to seal the names of witnesses who testified before the grand jury.
Police found a knife and a gun while searching Kohberger's car and his family home in Pennsylvania.
Search warrants unsealed in March revealed that police discovered a knife and a gun while investigating Kohberger's car and his family home in Pennsylvania, the Washington Post reports. While it's unclear whether the knife is the one used in the murders, it is among 63 items investigators took from the property and the car, along with multiple laptops — two of which were damaged — computers, hard drives, a "shop vac" vacuum, dark clothing, medical gloves, criminology books and materials, and Kohberger's personal notes. Investigators also recovered empty gun magazines, a sales record for a .40 Glock, and a "green leafy substance" inside a plastic bag, as well as medical and court documents. The unsealed warrants don't reveal the content of the recovered items, but, per the Post, investigators were searching for corroborating evidence, DNA, or anything that might speak to Kohberger's mental state. The Post also reports that lawyers involved in the case have been prohibited from speaking about it by a gag order, which multiple news organizations and a lawyer for one of the victim's families have asked to strike down.
A lawyer for Goncavles's family says the victims "didn't know" Kohberger.
According to the Times, a lawyer for the Goncalves family says they have been searching for a potential connection between Kohberger and the victims, but so far none have surfaced: "They didn't know him," the lawyer said. An investigator with knowledge of the case told People that, two weeks before the killings, Kohberger reportedly sent one of the victims a message on Instagram. The source claimed that when she did not respond, he sent several more. "He slid into one of the girls' DMs several times but she didn't respond," the source said. "Basically, it was just him saying, 'Hey, how are you?' But he did it again and again."
Meanwhile, old posts Kohberger made as a teenager on the online forum Tapatalk — formerly Yuku — indicate that he'd experienced suicidal thoughts, a lack of remorse, and an inability to feel emotions. "I feel like an organic sack of meat with no self worth," a 16-year-old Kohberger wrote in 2011, according to the Times. "As I hug my family, I look into their faces, I see nothing, it is like I am looking at a video game, but less." Per the Times, Kohberger made posts about invisible snow, a neurological condition in which small flickering dots disturb a person's visual field, which, per the posts, he started experiencing in 2009 — the same time he stopped feeling emotions. "Nothing I do is enjoyable," Kohberger reportedly wrote in an old post. "I am blank, I have no opinion, I have no emotion, I have nothing. Can you relate?"
Kohberger reportedly displayed unsettling behavior at school in the weeks around the killings.
Per the Times, Kohberger exhibited such unsettling behavior on campus in the weeks around the killings that Washington State University investigated his conduct with women and eventually fired him from his teaching-assistant job over concerns regarding his professional conduct.
According to interviews and university records, several female students had reported feeling uncomfortable around Kohberger, and one student accused him of following her to her car. A subsequent university investigation didn't find Kohberger guilty of wrongdoing, but the Times reports that the criminal-justice department had fired Kohberger because of his poor performance as a teaching assistant and his inability to meet the "norms of professional behavior," which included two alleged altercations with the professor he'd been assisting in the fall. Eleven days before the murders, Kohberger is said to have met with faculty to go over an improvement plan and was notified of his termination prior to his arrest in December. The department claimed he "had not made progress regarding professionalism."
The house where the murders took place will be torn down.
While Kohberger awaits trial, the house where the murders occurred has been donated to the University of Idaho, which plans to demolish it. In an email sent to students and faculty in February, the university's president, Scott Green, called the demolition a "healing step." He added that tearing the house down "removes the physical structure where the crime that shook our community was committed," adding that it "also removes efforts to further sensationalize the crime scene." He referenced plans to build something new on that land, writing that "students may be involved in the future development of the property."
This summer, however, the school paused demolition plans until hazardous materials, including asbestos, are removed; they will resume when the case goes to trial this fall. "While we look forward to removing this grim reminder of this tragedy, we feel holding until October is the right thing to do," University of Idaho's president said in a statement to ABC News, adding that "every decision" the school has made has been "with the families of the victims and our students in mind."
Kohberger declined to enter a plea to the murder charges, and his legal team will offer up an alibi.
After Kohberger elected to "stand silent" at his arraignment on murder charges on May 22, a judge entered a default "not guilty" plea on his behalf. The Times reports that a group of the victims' relatives stared at Kohberger "in silence" when he looked toward them in the courtroom, and that he answered "yes" when asked if he understood the counts against him and that he could face life in prison or the death penalty if convicted.
In August, after prosecutors asked the court to make Kohberger reveal whether or not he plans to offer an alibi, his defense attorneys filed court documents claiming Kohberger had been out for a solo drive at the time of the murders. "Mr. Kohberger has long had a habit of going for drives alone. Often he would go for drives at night," his defense attorney wrote in the documents, obtained by the Associated Press. "He did so late on November 12 and into November 13." According to the documents, Kohberger isn't "claiming to be in any specific location at a specific time" but may have witnesses corroborating he wasn't at the victims' home the night of the murders. At present, however, his team isn't detailing who they are.
Kohberger waived his right to a speedy trial, delaying it indefinitely.
On August 23, Kohberger waived his right to a speedy trial, indefinitely postponing the start of proceedings originally scheduled to begin on October 2. According to KTVB, Kohberger's attorney, Anne Taylor, spoke on Kohberger's behalf and told the judge she didn't think his defense would be prepared by then. When the judge asked Kohberger if he was comfortable with the decision, he responded, "Absolutely." Meanwhile, the New York Post reports that ahead of the August 23 hearing, Goncalves's parents wrote in a Facebook post that they were "afraid" Kohberger would waive his right to a speedy trial, potentially creating a yearslong delay. "We want to get this trial over," their post read. "Just thinking it could be years absolutely kills me."
This post has been updated.