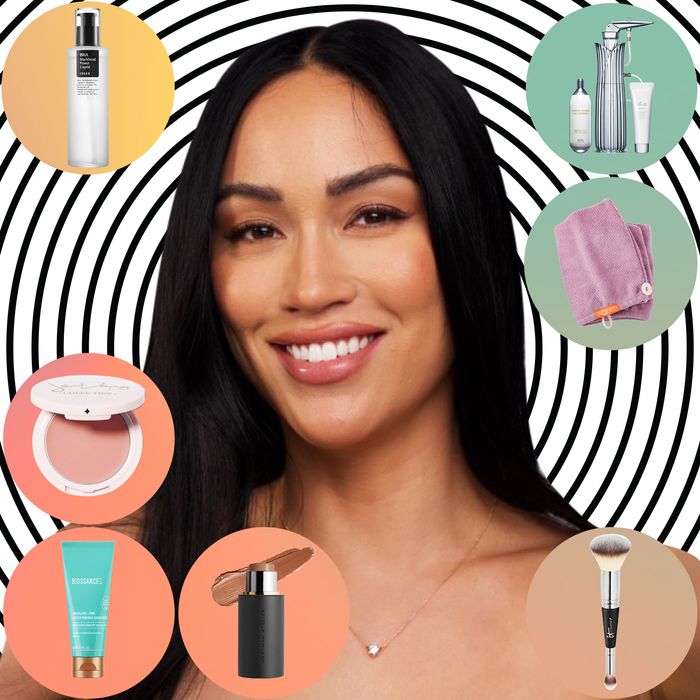 Photo-Illustration: by The Cut; Photos: Courtesy of Steph Shep, Retailers
On the Beauty Group, a Facebook community co-founded by the Cut and the Strategist, people chat all day long about the products they love — the ones so good they'll make you hit that little "auto-refill" box at checkout. Below, we asked one of our favorite beauty pros to share her own selections.
Stephanie Shepherd Suganami, or Steph Shep, used to be Kim Kardashian's executive assistant, and eventually became Kardashian West Brands' chief operating officer. But in the years since, she's shifted her focus to climate education and advocacy through her non-profit Future Earth. The "climate club," as she describes it, addresses topics like global warming, greenwashing, and environmental justice.
Shepherd believes that everyone has a part in combating climate change, but she's not after zero-waste, nor is she into shaming people for their choices. "What's that saying? You attract more flies with honey than with vinegar?" Plus, she says, she's not doing things perfectly, so she's not expecting anyone else to either. With her beauty buys, for example, Shepherd mostly opts for 'clean' brands that keep sustainability and the environment in mind. But the beauty industry still has a long way to go, and sometimes the brands making the products that work for her skin aren't quite where they should be with sourcing or packaging, so instead, she focuses her efforts on what she can control. Shepherd references one of her favorite quotes, "'We don't need a lot of people doing zero-waste perfectly, we need millions of people doing it imperfectly.' At the end of the day, if a handful of corporations could just get their shit together, it would make much more of a difference."
Products aside, what Shepherd recommends the most is seeing a dermatologist, if you're able. She first sought out skincare specialist Christie Kidd after moving to Los Angeles from Ohio at the age of 19. "For the first time in my life, I was really breaking out, and I was very confused, and looking back, I definitely was using products that were irritating my skin, like Proactiv. I'm still dealing with the scarring of that breakout," she says. "Seeing a dermatologist was a big expense as a 19-year-old, but I made an investment in it, and it really worked out."
Below, Shepherd breaks down the products and devices she relies on now, including a LED device she says is actually worth the money, the hair towel she always packs in her suitcase, and the sunscreen she keeps in her purse.
The Blush
"This is just a great little blush pot. Cream products, to me, look a little bit more natural, and sometimes I don't like the way powders build up. You can put it all over your face really — you can use it on your lips, you can put on your cheeks. I just use my fingers to apply it, and it also smells really good. I don't know how to describe it, but it's really fresh."
The Brush
"I feel like everyone has this brush. I see every makeup artist and every beauty blogger with it so I was finally like, Okay, I'm just gonna get it. I'm not great at doing my own makeup so when I see other things that people have, I like to buy them. It's just the best brush for everything. It has a small side for concealer and a bigger head for your foundation. I also use it for my contour. It's a two-in-one, and who doesn't love that?"
The Contouring Stick
"I'm always gonna contour a little bit. I like that look. I don't do a harsh bake — I don't even wear that much makeup — but I'm always going to do that. That's my vibe. And this is the one! I always have to have this product on me. I use the big side of the IT Cosmetics Brush #7 [above] with it. Westman Atelier is just a great, clean beauty brand, and I saw so many people rave about the contour sticks, so I tried one. 'Biscuit' is the perfect shade. I don't love an orange kind of color, and this one has a little more gray in it so it reads more natural."
The Mist
"My skin tends to be a little dry, so giving my face a real hydration moment before I put any makeup on is key — and I think that's something that people don't realize that everyone else is doing. Some of the makeup artists that I admire are doing maybe 30 minutes of skin work before they even start to put makeup on — so you're steaming, you're applying moisturizer, you're doing a face mask, you're using a mister to lock in moisture so your skin is ready for makeup.
I'm obsessed with this Refa Mist Set. One of my makeup artists, Jen Tioseco, put me on to it. It's sort of like an airbrush but with serums. I'll steam my face to prepare it for my moisturizer and everything else. Then, just before I put my makeup on, or even if I'm feeling extra, I take the little machine and it has a serum that you put in it, and it blasts moisture into your face. It's incredible. It's really chic-looking, too. We weren't able to get facials during the pandemic, but with this, you can give yourself a really nice, hydrating facial at home."
The Sunscreen
"This is my favorite sunscreen. This is another clean beauty brand that I really love. I find their products to be extremely efficacious. Squalene is typically sourced from shark liver. Who knew? That's disgusting, first and foremost, and it kills millions of sharks. So Biossance created a way to source squalane from sugarcanes. So it's saving sharks every year, which I think is incredible, and it's a mineral sunscreen, which I find works better for me, and it doesn't leave a white cast on your skin. I highly recommend it. I literally have one in every bag.
To be honest, I started wearing sunscreen like last year. I'm the worst. I mean, I would wear it when I would be in the sun, but it wasn't until a couple of years ago that I was religiously doing it if I were to lay out on vacation. But just around town? I didn't do it, and now, my skin's not healing the way that it used to. If I could tell my younger self anything, I would say, 'Wear sunscreen. Don't be a fool.' Everyone tells 20-year-olds to do that, and they don't do it, and they still tan. You gotta listen, but I didn't, and they don't.
Actually, I got really burned on a big vacation to Tahiti because I didn't realize the sun was so strong. You know when you're just out in the sun, and you don't think anything of it? Then I got Dengue fever, and my white blood cell count was really, really dangerously low, and so my skin didn't heal from the burns the same way because my immune system was so messed up, and it completely changed the texture of my skin. I have all these dark spots now, and once you get that sun damage it's really difficult to reverse it."
The Moisturizer
"This brightening moisturizer protects your skin from pollutants and helps to restore the skin's barrier, which I didn't even know was a thing until working with Codex."
The Micellar Water
"I have a really incredible facialist in L.A., Inara Lopetaite at L'inara Skin Care, and she uses the Biologique Recherche products so she put me on to the line. She said that because I have combo skin, it has a tendency to dry out in certain spots. She told me to wash my face and do my full routine at night, but in the morning, just either splash some water on or use a little bit of the micellar water and my toner – but not a cleanser, because if you're getting too dry, and then you wash it, it's just drying it out even more."
The Hair Towel
"I live in this hair towel. I hate having wet hair — I have so much hair, and I hate to feel it on my back. You know when you're getting ready, and you put a regular towel in your hair, and then it falls over, and you're like, Oh, I can't figure it out. This just eliminates all of that. It's so easy to put on, wrap up, and then it clips at the back. I actually travel with it. I literally go everywhere with it — I wear it out to run errands; I have no shame. Sometimes I just wear it all day because it just keeps my hair up and out of my face."
The Pillowcase
"I love this pillowcase. Silk doesn't absorb the oils on your face the way that cotton pillowcases do. And silk doesn't tangle your hair, and it feels really nice to sleep on. It's just really soft, and I also like that the fabric stays cooler. I travel with mine."
The Serum
"This is a game-changer. I think I saw someone talking about it in a beauty interview that I was reading. I forget who it was that mentioned it, but I was like, 'Ooh, I want to try that.' I love anything that makes me feel like I'm really cleaning my skin, and this exfoliates without having to feel like I'm actually exfoliating. I only put it on my T-zone because my cheeks are really sensitive — sometimes I get rosacea so I don't really apply anything there."
The LED Device
"This is expensive. I got it as a Christmas present — that's the key there, everybody — but I think it's 100% worth the investment. Every dermatologist, every facialist, and every cosmetic doctor that I've seen really believes in light therapy. And as someone who's prone to breakouts, it's great for me. The light helps clean your skin and prevent breakouts, and it's super easy — you just put a podcast on, an audiobook, or whatever, you lay down, and put the panel over your face for thirty minutes. Well, I try to use it thirty minutes a week — it's hard not to be on your phone for that long — but it's also a good time to meditate or get off your phone because you have to keep your eyes closed."