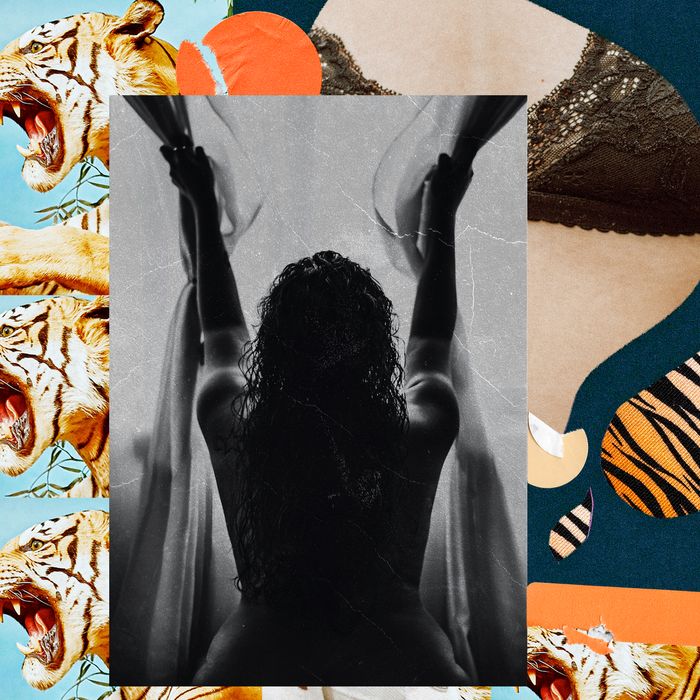 Photo-Illustration: by Marylu Herrera
New York Magazine's Sex Diaries series asks anonymous city dwellers to record a week in their sex lives — with comic, tragic, often sexy, and always revealing results. The column, which began in 2007, is the basis of a new docuseries on HBO.
This week, a woman parties with artists and has dinner with her sugar daddy: 25, single, Brooklyn. 
DAY ONE
9 a.m. Good morning! Today's main event is a party at a Brooklyn art space. My best friend, Dean, who is gay, is a graphic designer there and is getting me in.
11 a.m. I am barely caffeinated and I can't decide what to wear. My clothes all look worn out.
2:30 p.m. One of my roommates, Marion, and I crack open cold beers and whiz around the apartment tearing apart our closets. She offers me some glossy cream heels, and I like them even though I look like a Catholic school mistress in them.
4 p.m. I get a text from Tate, this guy I am dating: photograph of a tiny pink thong I left at his place.
I like Tate. I like fucking him, but things are a little strained because he's in this long-distance open relationship. It's fine, but I feel like me and his girlfriend are similar — we're both British, we're both writers.
7 p.m. At the party. Dean arrives wearing a tie. I am wearing a slip skirt, no panties, the cream schoolmistresses heels, and no bra. We head to the bar.
9 p.m. Have already visited the bar three times. We are standing outside beside the firepit. I see this Czech painter I've been talking to on Feeld, the kink app. I am going to head over to speak to him, and then I notice a dark-haired woman with him. I decide not to approach.
10:30 p.m I am talking to one of the artists-in-residence,  daydreaming about hooking up with her when she tactfully mentions her boyfriend, which makes me feel kind of like a pervert.
11 p.m. I'm too drunk. I run to the bathroom and get sick.
11:15 p.m. I Irish good-bye everyone.
DAY TWO
4:30 a.m. Wake up in the early hours of the morning to a text from the Feeld painter. "I saw you tonight! Let's go to a gallery this week?" I'm kind of freaked out that he is messaging me at 4 a.m. I wonder if he's a drug user.
10 a.m. Hung-over and kinda embarrassed because I see that there's loads of merch from last night's party in the living room, as well as bushels of pretty flowers. I realize Marion must have stolen it all on her way out. Sometimes she gets drunk and goes full on Klepto-Barbie.
1p.m. Try to get some work done. I work part-time at an art gallery, and the rest of the time I'm finishing my M.F.A. in writing. My roommates are both at work so I feel like a total bum. One of them is doing postdoc cancer research and I am writing a poem.
2 p.m. Head to the city to sit in an infrared sauna to sweat out my hangover.
3 p.m. Back in Brooklyn in a Pilates class where the instructor is shouting at me. I'm meeting my newish sugar daddy John tonight at a shitty Greek restaurant uptown. We met on Seeking Arrangements. It's our second date. John is single now but was previously married to a sugar baby.
4 p.m. Back home. Trying to reset myself. I will have to pretend I'm not hung-over, because John thinks having more than three drinks in one evening makes you a drunk.
6 p.m. Head back to the city to see John. Looking forward to the free dinner and the cab he will get me home.
8 p.m. I realize, as we eat, that John is kind of ugly.
8:45 p.m. I'm tipsy and looking at John differently now. He strokes my face. I slip my foot out of my shoe and stroke his crotch under the table. He is rock-hard. He tells me I am testing him. He said he doesn't sleep with his sugar babies until the fifth date.
9:15 p.m. John is putting me in a taxi. I kiss him and he sticks his tongue down my throat. I don't want to get in the car, but he opens the door for me.
9:30 p.m. Nothing I love more than listening to the Roches and driving over the bridge from Manhattan to Brooklyn.
DAY THREE
8 a.m. It's my friend Sam's 26th birthday. He's about to become a doctor, so, for his service to society, my friends and I have decided to throw him a special birthday.
10 a.m. We are en route to Coney Island. I keep falling asleep on Sam's shoulder.
12 p.m. It's pretty empty, so we ride a bunch of rides, and then we all feel sick from the rides, so I suggest we go to the Russian Spa.
3 p.m. At the spa eating borscht and sipping shots of raspberry vodka straight up. The routine is: sauna, plunge, Jacuzzi, vodka shot.
4:34 p.m. I'm alone in the steam room and a guy comes in. He asks if he can put his towel down beside me. We chat for a little — he's in finance and lives in Red Hook. He then asks if he can give me a massage. I'm kind of taken aback, but I say yes and lie down on my belly. It's like a pornish fantasy come true!
4:35 p.m. He massages my neck, my back, and then moves onto my legs. It feels so good — all I want is for him to slip his dick in — but at the same time I know this isn't a sex spot, it's the Russian Spa!
4:38 p.m. Two guys come into the steam room. The massage slows down and eventually ends. Finance guy and I sit next to each other for a while, then I get up and leave to find my friends.
5 p.m. We're all in a taxi home. I'm still horny … John sends me a photograph of his new cheese plate. "Cute," I reply.
7 p.m. We are at my place with pizza and Prosecco.
11 p.m. I pass out in bed.
DAY FOUR
10 a.m. In the gallery today, on my third cup of cold brew, feeling like total shit. I've degraded my body too much recently. I just saw some gray hairs in the mirror.
11 a.m. There is a huge box of cherry donuts in the kitchen. I scarf one down.
3 p.m. Still hung-over at work.
4 p.m. Leave the gallery early for an appointment with my therapist.
6 p.m. I am in love with my therapist, Dr. H., and he knows it. Today, we speak about the massage and if I'm polyamorous. I want Dr. H. to love me. I never ever feel truly single because I know I have him in my life.
8 p.m. I meet Tate at a gallery. I want his undivided attention, but there are two other women here. They're apparently just friends, but I wonder if he's fucking all three of us.
9 p.m. We all go to a dive bar for a drink. I start to stroke his crotch under the table in the booth at the bar.
9:30 p.m. The other girls go. Me and Tate walk to the train. We're tipsy and holding hands. He says he doesn't want to have sex tonight because "he likes the idea of restraint."
9:45 p.m. Still walking to the train. I need to pee, so I duck between two parked cars, and Tate comes over to me. While I am peeing, I lick and nibble his crotch through his pants. He is rock-hard and he pulls out his dick. I am still peeing sucking on him. After I finish peeing, we both laugh as he puts his dick away.
10:15 p.m. After this, I decide to order a taxi home. Tate asks if he can join. Pretty sure he just wants the AC.
11 p.m. At home. I put on a red silk nightdress. We're kissing in my bed. I am tipsy and start riding him through my clothes, but we don't have sex.
DAY FIVE
7:45 a.m. Wake up and make coffee. I tell Tate to stay in bed while I go to work, but he says he'll jump on the train with me. I hate getting on the train with anyone in the morning, but it's fine.
9 a.m. We head to the train, and the humidity is awful.
9:25 a.m. We're kissing on the train. He says he wishes we'd fucked.
10 a.m. Back in the gallery. I feel like I need to talk to other men, so I don't get too wrapped up in Tate. I text this hot guy I met when I worked the door at a nightclub in Brooklyn.
1 p.m. My best friend is getting a record deal because she went viral on TikTok overnight. She texts that she has a hotel room for a work thing. I tell her later I'll meet her there. It's at the Standard with the panoramic windows.
5 p.m. Upstairs at the hotel using the gym. I can see the Statue of Liberty. I tell myself I need to get rich.
8 p.m. Traveling back home from the hotel.
DAY SIX 
10 a.m. My roommates were going to cycle to the beach, but Marion's boyfriend has a Tesla and is loaning it to her. She doesn't want to drive, so she asks me if I'm down, and I agree to it.
12 p.m. We stop at a diner in Utica, and I get some banana and peanut butter on toast.
1 p.m. Parked up at the beach. Not sure if this parking lot is private or what. We see some people getting towed and hope that we don't since it's not our car.
4 p.m. Trying to sleep on the beach, but there are so many Bushwick podcaster types around us. I keep getting woken up by vaguely annoying conversations and people cracking hard kombuchas open.
6 p.m. Drive to our friend Alex's apartment. Well, he's actually house-sitting, so the apartment is way nicer than we're used to. It belongs to this girl Diana.
7 p.m. We help ourselves to rum, pineapple juice, and club soda. Great cocktail. We cheers. Marion and I make a little charcuterie board.
8 p.m. Tipsy, Marion and I are looking through Diana's cosmetics. Marion does a face mask. I start applying eyeliner and mascara.
8:30 p.m. So, this has turned into a full-on rental-closet situation. We put on Diana's ballet skirts, heels, and jewelry. We are diving into piles of her belongings — they are so neat and perfect.
10:30 p.m. I text Tate and invite him over. He texts back and says he's listening to a podcast and about to fall asleep. Though I am slightly embarrassed about being rejected, I say, "sleep well angel" and forget about it.
11:30 p.m. Alex is going to meet his friends at the Puerto Rican Social Club. Marion and I think it would be funny to go out in Diana's clothes. We look nuts.
12:30 a.m. When we arrive, it is hot as hell and crowded. Marion tells me that one of Alex's friends, Luis, is recently single. He is also a personal trainer. Luis is cute.
2 a.m. Suddenly, I'm in an Uber uptown with Luis. We are just kissing and holding each other's thighs in the back seat. I don't care that I am traveling miles and miles away. He smells like Le Labo perfume.
3 a.m. At his place, getting naked. His body is perfect. He says he doesn't care that I am on my period (legend) and puts a towel down on the bed and goes down on me. I ask him to spank me, but his idea of a spank is a light brush. I tell him to do it harder, but it still feels like a feather. He has a huge cock and we fuck for hours in front of his giant mirror.
DAY SEVEN
8 a.m. Fuck. My mouth is dry. Luis is next to me, but for a second I'm like, Who is this guy?
11 a.m. I wake up again, for real this time. Okay, I need to go home. Gonna have to call a car even though I am near penniless. Luis walks me to the car and kisses me and says he had a really good time.
1 p.m. Marion calls me to say I have to drop off the clothes and jewelry because Diana gets back tonight.
3 p.m. Drop off the stuff.
5 p.m. Back home. It is time to carry my laundry to the laundromat and do the Sunday routine.
Want to submit a sex diary? Email sexdiaries@nymag.com and tell us a little about yourself (and read our submission terms here.)