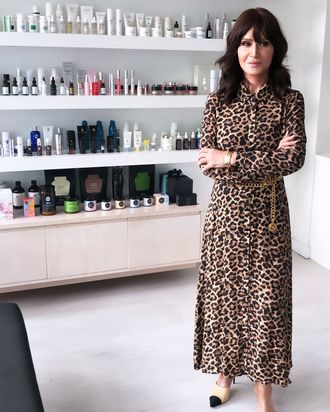 Photo: Courtesy of Miriam Gee
Want more skin care? Join our Facebook Group, the Beauty of It All.
Miriam Gee describes her skin-care routine the same way she does her career: a result of years of hard work, dedication, and commitment. One of the four forces behind Gee Beauty, an online beauty retailer with studios in Toronto and Miami that she helms with her three daughters (Celene, Natalie, and Stephanie), Gee initially started out in the beauty industry as a makeup artist. "In my early 20s, I became more creative with makeup. I love color and would experiment with dimensions and textures on my eyes and lips — it was all during the Studio 54 era," she says. "I would have a simple but consistent skin-care regimen, buying whatever I could afford at that time, but always staying consistent. I knew that was the key."
Gee also wasn't a stranger to DIY-ing her own face masks. "When I was growing up, we didn't have a lot of resources or money." She looked to baking soda to help clear congestion and oatmeal or cucumber to calm irritated skin.
Her current routine is markedly different from her DIY days, though it still involves plenty of masks. She says, "I'm like a chemist or mixologist with my skin. Because I know it so well, I know I can 'shock' my skin a little to stimulate cell regeneration and repair." Below, a look at the three-minute face mask she loves after a workout, her go-to supplements, and why you should never forget about your neck.
Step One
"I drink warm water with lemon and add Inulin powder to it, which is a natural, plant-based soluble dietary fiber. Inulin works to promote smooth digestion and as we know, good skin starts in the gut."
Step Two
"I apply the Dr. Sebagh Rose De Vie Hydrating Mask while working out on the treadmill for the simple sake of multitasking. As it's such a sheer, thin mask, it almost instantly absorbs into the skin, making it easy to work out in. It is super hydrating and gentle, so I use it under my eyes, on my lips, and on my neck as well. It's perfect for calming my skin if I have any irritation; plus it's so sheer it absorbs into the skin. It's even great on a flight. No one will notice!"
Step Three
"I remove my mask with Gee Beauty Oil Cleanser and two-by-four gauze facial pads I pick up at the drug store. I keep stacks of these on hand at all times. I prefer these to pressed cotton pads. Our Oil Cleanser is very calming with its jojoba oil, and the facial pads remove the mask much more efficiently than cotton pads."
Step Four
"Once a week, after I work out, I apply the Goop Instant Facial to exfoliate and detoxify my skin. It's a power-packed treatment in a jar. I love this mask for the morning for its time efficiency. You can only leave it on for three minutes at maximum, so when time is of the essence, this powerful mask is all I need."
Step Five
"Next, I apply this, which is packed in antioxidants and anti-inflammatory ingredients such as purslane and skullcap. I use our Gee Beauty 24K Gold Tech Bar on top to penetrate and invigorate my skin."
"The energizing bar helps contour my face. I use it every day. The electric vibrations create a stimulating current to awaken and strength my skin cells. When done in upward and outward motions, you get a contour effect that I love."
Step Six
"I take two Dr. Barbara Sturm Skin Food supplements for anti-inflammatory benefits, and Catalyst Gold supplements for optimal digestion. I have committed to these supplements for a year and have experienced transformative results. I've noticed less bloating, smoother digestion, more even balance in my hormones and better quality sleep."
Step Seven
"I mix Dr. Sebagh Vitamin C Powder with Colbert MD Retensify Firming Cream. The vitamin C powder is super brightening. I use it on both my face and hands. I believe vitamin C is the most important a.m. ingredient. It protects the skin against free-radical damage and also helps to improve uneven skin tone. I love vitamin C in powder form as there is no smell, it easily absorbs into other serums that I mix it with to apply to my skin, and it's extremely active. I love this mix because I get protection, brightening, and firming all in one."
Step Eight
"Apply Dr. Barbara Sturm Anti-Pollution drops for added environmental and screen protection. I believe in its protection of the skin's barrier against environmental stressors, toxins, and inflammation."
Step Nine
"Dr. Gross Ferulic + Retinol Fortifying Neck Emulsion. Never forget about the neck! This formula is so light and lifting. I have seen a significant improvement in the fine lines on my neck, giving me smoother and tighter skin. The retinol used in this serum, combined with the Ferulic Acid, work to increase cell turnover for new collagen to be naturally produced. It's a very well balanced product to give optimal results!"
Step Ten
"I use Dr. Sebagh Supreme Eye Serum under the eye. I love this eye serum because the applicator has a metal roller-ball tip, which is stimulating and helps with lymphatic drainage and puffiness."
Step Eleven
"For my lips I use SkinCeuticals Antioxidant Lip Repair. I think of it like eye cream for the lips. It's not a balm or gloss but rather a treatment that helps reverse fine lines — it's like instant repair!"
Occasionally
"Twice a week I use the Joanna Vargas Bright Eye Firming Mask to soothe, brighten, and refresh. It instantly awakens my eyes if I'm feeling tired. I also use eye drops from the drugstore if I need some brightening and hydration."