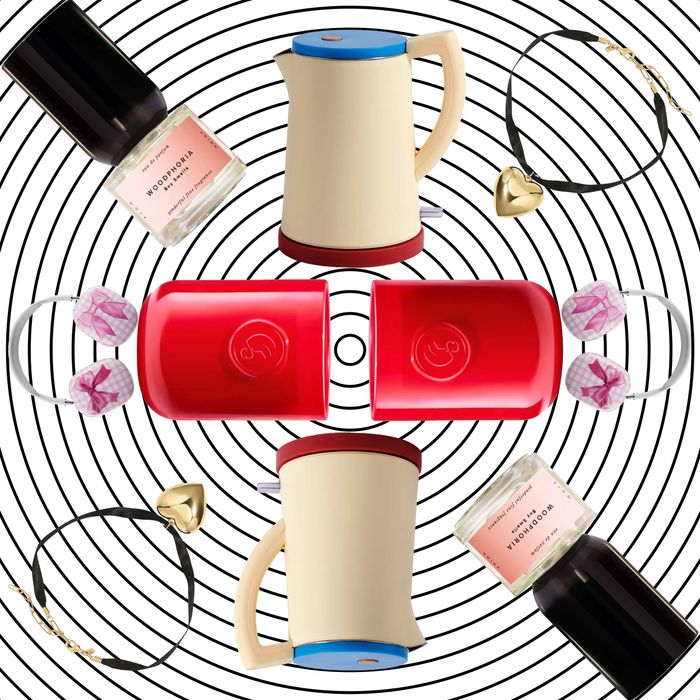 Photo-Illustration: by The Cut; Photos: Retailers
For more of the Cut's favorite fashion, beauty, and home finds, sign up for the weekly Cut Shop Newsletter.
As a Gen-Zer myself, I'm well aware that my generation is known for a lot of things — impeccable taste being one of them. Sure, I might be biased, and I know that it's hard to assume a whole generation can get behind certain trends and items. But if you read through this list, I can almost guarantee you'll find the perfect gift for your Gen-Z bestie.
From Apple Airpod Max covers and exercise dresses to viral TikTok products like the Kosas concealer and Baggu bags, anybody with a Gen-Z mind-set will appreciate these products. (I know I do. Friends and family, consider this my holiday wish list.)
However, don't let these items discourage you. You don't have to belong to this group to wear or own these products. If this roundup is still not what you're looking for, we've also got stocking stuffers and employee gift ideas that span the generational divide.
$30 and Under
For that person who always asks your sign
Lisa Stardust's astrology deck makes reading cards easy. Stardust has been practicing and teaching for over a decade. In this deck, the user can learn to interpret the stars and do their own
readings.
For the friend who does their own nails
Photo: retailer
We all know that person who loves to get a nail design but needs to save some $$$$ . Why not give them the gift of not having to attempt it themselves? These press-on tips are reusable and come in over ten different patterns and colors.
For the ecoconscious
These easy-to-clean reusable bags are perfect for the person in your life who wants to reduce their use of single-use storage bags.
For the avid reader
Everyone is reading The Guest, including us (see our book club here). Author Emma Cline's first novel, The Girls, was loosely inspired by the Manson cult. Her second follows a woman named Alex as she house-hops after being kicked out by her older boyfriend.
For your bestie who loves a no-makeup-makeup look
After Hailey Bieber shared that she uses this concealer from Kosas, everyone flocked to Sephora to stock up. And we don't blame them. It's one of our favorites too.
For your friend who loves A24
When it comes to films, Gen Z and A24 go together like peanut butter and jelly. While the company has lots of fun merch available, our personal favorite is this mini-puzzle from Greta Gerwig's Lady Bird.
For a clean facial
Say hello to the face mask that's basically a smoothie for your skin. Made for all skin types, this makes a great gift for the skin-care enthusiast in your life.
For the dog (or cat) parent
This handmade pet tag is customizable and comes in four different shapes, making it fun and sparkly enough to look amazing on any cat or dog.
For the first to share their Spotify Wrapped
Personalize the latest and hottest tech accessory that everyone has (which we also tried and loved) with some covers adorned with bows or whatever else your heart desires.
$65 and Under
For your "hot-girl walks"
Try adding these ankle weights to all your post-holiday "hot-girl walks."
For the one that loves Baggu
Gen-Zers know you can never have too many Baggu bags. If someone already has an endless supply of its reusable bags, this crescent bag is a great gifting option.
For the Glossier superfan
They've been wearing Glossier's You for years? Check. They love Olivia Rodrigo? Check. They need a new candle? Triple check.
For your friend who needs an ashtray
Nothing says sophistication like a fancy ashtray. For those Gen-Zers who are 21 and up, this ashtray from Etsy comes in a cream or bold metallic and is both functional and gorgeously designed.
For the martini lover
Martinis are back, baby! What better way to celebrate the resurgence of this cocktail than by gifting cute glasses?
For your friend who wants to get into matcha
Whether your friend is an Emma Chamberlain superfan or just wants to get into matcha, this starter pack features everything you need to make the green drink at home.
For the tea lover
Everyone needs a kettle, and this one is too cool not to get.
For the friend who loves her hair
No knots here. This hand-carved and biodegradable comb features widely spaced teeth with rounded tips, plus a sturdy handle for an easy grip to work through tangles without causing breakage.
If they already have plenty of Adidas
We know Blokecore is in, but having a closetful of Adidas basketball shorts is a little overkill. Consider these from Overtime instead, especially since they have some pretty floral detailing.
To channel their inner Matilda Djerf
Whether an avid baker, chef, or just someone who loves to have the cutest kitchen accessories, these fruit mitts are sure to make the aesthetic heavy person if your life happy.
If they already have UGGs
If they already have and love the UGG Tasman slippers, try these thermo-traction mules from North Face for a similar comfy feel but different look.
$100 and Under
For the person who needs a new phone case
Urban Sophistication is best known for its puffer-jacket-inspired phone case beloved by Dua Lipa, but this case-purse combo is just as good. I've had my eye on it for a while, and it feels like the perfect thing to gift a friend who loves their phone a little too much (i.e., needs a handle for easy access).
For a gift that's barely there
Let's be honest: The only person to ever gift underwear is one's mother, but that doesn't mean undies aren't a good gift. They are the best, especially if they're cute and on the higher-price side like this cotton-and-lace pair from Cou Cou Intimates.
For the active friend
This workout dress works for all seasons, and it's super-cozy to wear. Girlfriend Collective designed this dress with all the best-selling qualities of its Paloma bra in mind, making it perfect for hiking or throwing on for a coffee run.
For the person who needs an earring refresh
If you're looking for an earring refresh, the "earscapes" from Studs are the perfect thing to get.
For the person who needs a signature scent
Known for its candles, Boy Smells is a cult favorite when it comes to scents. Its latest gender-fluid release is a woodsy and calm fragrance anybody would love.
For the New York obsessed
We all know that person who loves New York, so why not gift them a some home decor to show it!
For your trendy friend
Is your friend on top of all the latest trends? Then they'll adore this chunky heart choker from Vanessa Mooney.
To hydrate in style
Drinking water will never be cooler than doing it from this adorable bedside carafe. Even better, it can double as a vase.
For your fashion friend
The perfect layering piece to add to any fashion forward person's closet. And it comes in 13 different colors, including fuchsia, aperol, and fern alongside basics like white, cream, and black.
$150 and Under
If they need new boots
We've gone through our fair share of footwear trends (think mary janes and ballet flats). So it might be time to give your shoe-loving friend a new statement boot to add to their rotation, especially while this style is so popular.
For your friend who's always chilly
This colorful throw doubles as a thick quilt for those of us who run a little cold.
For the Marie Antoinette Obsessed
Whether they love cake or Sofia Coppola movies, this exclusive tissue box is sure to impress.