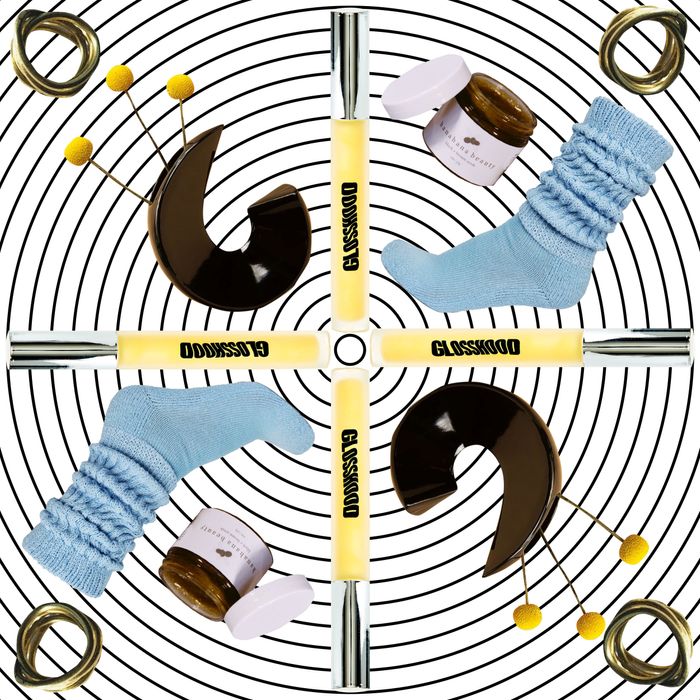 Photo: Courtesy of the Retailers
It's the time of year where you're buying presents for your family, friends, work wife/hubby, and maybe the neighbor you've become super-close with over the last eight months. If you're looking to shop small, locally, and consciously, this is the guide for you. These Black-owned businesses not only have an amazing selection of gifts, they're also run by entrepreneurs who are creating spaces to foster the next generation of creators.
From cozy winter clothing to matcha kits to experiences that will help you or a friend grow their career, check out these 25 Black-owned businesses to shop and support this holiday season and beyond.
Savant Studios is located in Bed-Stuy, Brooklyn. With monthly events that bring together the community, the brand has become a home for Black creatives of all ages.
For the Nina Simone lovers in your life, this hoodie is the one. It's cozy and includes the lyrics for "Young, Gifted and Black" on the back.
Peace & Riot is another Bed-Stuy, Brooklyn, spot and it's a personal favorite of mine. The boutique is my go-to local home-goods store, where I buy all my candles and incense.
This candle celebrates the store being in business for seven years. Available in two scents, aptly named Peace and Riot, the former has notes of white birch, driftwood, and Egyptian amber while the latter smells like Sriracha, citrus agave, and grapefruit.
You might know Sincerely, Tommy — it's one of our favorite concept stores, where you'll always find inspiring, curated pieces. I love stopping by to grab a matcha from our favorite barista, Pissy Pussy, in the morning.
This fluffy, cow-printed bucket hat is a great gift for anyone who wants to look cute while staying warm.
Lá Bel is a natural skin-care line that I recently discovered at the Building Black Bedstuy market. The brand is also transparent: It breaks down all the ingredients, advises on what skin type works for which product, and explains how to apply it.
This serum is my favorite from the line. Made with vitamin E, frankincense, turmeric, and other essential oils, I noticed my dark spots fading within a few weeks. I immediately dropped a link to the product to all my friends.
Named by Refinery29 as 2020's Most Innovative Makeup Artist, Mimi Quiquine has a line called Maison Quiquine. Featuring a face oil, body oil, gua sha tool, and more, its luxurious spa products are made for relaxing Sunday nights.
This body scrub will leave you glowing and feeling supersoft. Just watch this video and thank me later.
Founded by Banna Nega and Shelby Macklin, Glazed NYC dives into Black history through fashion, film, and music while utilizing design for storytelling and community building.
The Glazed "G" is iconic and will have you feeling like a baddie any day of the week. Also, it makes a perfect Zoom call tee.
If you're looking for inspiring home design, check out the Faire Plaisir. Founded by Indya Brown, the carefully curated site and Instagram has loads of bright, colorful images that'll make you want to redecorate your apartment.
The accent pillow of your squiggly dreams!
Founded by Nana Agyemang, EveryStylishGirl, is dedicated to creating spaces for women of color to break barriers in fashion, beauty, and business. Through events like Sip N' Slay, ESG provides opportunities for attendees to connect with industry professionals to gain career advancement opportunities.
Secrets of Black Success is a virtual conference focused on how to take your brand and business to next level. Featuring guided conversations and tactical workshops with thought leaders from fashion, venture capital, finance, design, and more, it's a great experiential gift.
Savoy's Objects is a luxury vintage home-décor company founded by Reegan Savoy Houston. If you're looking for interesting pieces from the '60s to '80s, this is the place.
This vase is more like an art piece so you don't even need to add flowers.
Glosshood, which was founded by Sienna Brown, is a lifestyle brand that'll satisfy your early '00s nostalgia. Right now they sell only one product, a lip gloss, but the brand also shares free curated playlists on Apple music or Spotify to set an overall vibe while you moisturize your lips.
This organic gloss is ideal for winter chapped lips, leaving them looking dewy and plump.
Hanahana Beauty is a clean skin-care and wellness brand founded by Abena Boamah-Acheampong. Drawing from her childhood and her family, who used shea butter to heal common ailments, Boamah-Acheapong sources the ingredient from Katariga Women's Shea Cooperative in Ghana. It serves as the base for most of her products, but she also features other natural ingredients in her scrubs and balms as well.
While this line is best known for their soothing shea butter balms, I love this gentle exfoliating facial cleanser. It's made with black soap, brown sugar, and rose water to scrub away makeup and grime.
Yo Soy Afro Latina's mission is to empower Black women within the Latinx community. The lifestyle brand celebrates the beauty, experiences, and culture of the Afro Latinx community.
A coffee mug that reminds you "I have flavor" each and every morning.
Golde was born in Brooklyn in 2017 from the one-bedroom apartment of Trinity Mouzon Wofford, who is the co-founder and CEO. The brand is on a mission to make wellness easy, accessible, and fun for everyone.
Photo: ISSEY_KOBORI/Issey Kobori
All the essentials you need for the perfect at-home matcha experience.
MinfulFee is a lifestyle brand encouraging women to love and heal themselves.
An affordable and cute gift for Somebody's Mama.
Founded by Shiara Robinson, LaSette is a stylish lingerie line that you can layer under daytime clothes or show off for a night out.
Photo: B)2018 Gabriela de Cos
This set is not only lacy and pretty but also comfortable enough to be worn under sweats.
Looking for a customizable gift? Check out BROKEG3MS. Founded by Jourdan Ferguson, the brand makes colorful necklaces, name plates, and pendants that playfully reference streetwear iconography like the Nike swoosh or the Air Jordan logo.
Cheerful and sparkly, give this to a friend who always knows what to say to make you smile.
This New York City–based brand is founded and designed by Courtney Brown and Fatou Diakite. It offers unique spins on closet staples, including statement tops, dresses, and other cool pieces you can work into your wardrobe.
This cropped, ribbed tank top is a great twist on the summertime basic.
Featured in the Cut's On the Rise series, EDAS, founded by Sade Mims, makes unique jewelry, bags, and art objets.
For the person who loves a statement ring, give them this swirled number.
Founded by stylist and DJ Karissa Mitchell, Best Case Scenario is a label to watch. The line features tees, dresses, and jeans that tend to sell out fast.
Made from Japanese raw selvedge denim, these rigid jeans are meant to be worn a little long and with exaggerated cuffs.
Murdock uses crochet techniques to create streetwear-inspired pieces as well as little accessories like scrunchies and handbags.
Get this for the friend who's always asking you for a hair tie.
Dermasaa is a NYC-based holistic skin-care service founded by Samantha Mims, a licensed skin therapist. Her treatments are geared toward boosting cell regeneration, leaving your face looking refreshed and glowing.
If you're looking for a quick yet effective facial, this 30-minute service offers deep cleansing, followed by a microcurrent treatment and application of hydrating products. Get this for your NYC-based friend who needs or treat or buy one for yourself.
Based in Detroit, Plant Economy is a community for Black botanists and gardening enthusiasts. When you buy its bags or pots, they come with tags that feature seeds embedded in the paper so that you can grown your own plants.
Give this set of three planters to the plant person in your life — just note that they don't come with the succulents shown.
Patterned Paints is a luxury reusable gel press-on nail company based in the U.K. It features eye-catching designs in an array of colors.
Know someone in your life who always shows up with a fancy manicure featuring elaborate designs? They'll be thrilled to get this fun set of nails.
Founded by Jason Evege, Linoto is an affordable line of linen home goods including boxers, sheets, towels, and more.
Upgrade his underwear drawer with these soft boxers.
Best known for her whimsical shoes that feature everything from ruffles to feathers to cow print, Aurora James's Brother Vellies line also includes cute little accessories that make for great gifts.
No one would be unhappy to get a pair of soft, cozy socks, especially in this pretty sky-blue shade.