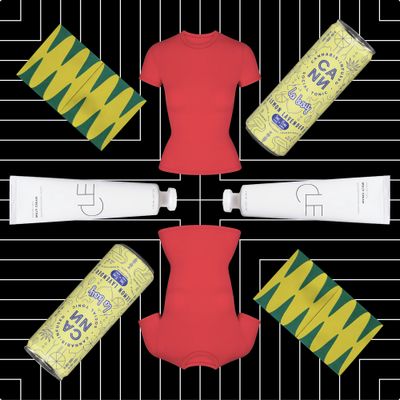 Photo-Illustration: by The Cut; Photos: Retailers
For more of the Cut's favorite fashion, beauty, and home finds, sign up for the weekly Cut Shop Newsletter.
If gift giving is your love language, well then, congratulations! You're already a step ahead — because for the rest of us, holiday gifting can be incredibly stressful. But no matter how you feel about the gift-giving season, Black Friday and Cyber Monday are just a few days away, so it's definitely time to start building out that holiday shopping list.
Whether you're looking for the perfect game-changing beauty product for your skin-care-obsessed friend or a new craft project for your indoors-y sister, this assortment has you covered. Just remember to pace yourselves and drink plenty of electrolytes — it's a marathon, not a sprint. Below, you'll find the best affordable gift ideas under $50 for everyone on your list.
The Wardrobe Staple
Say hello to the perfect crewneck T-shirt. It's comfortable, breathable, and stretchy, and it comes in a wide variety of colorways.
The Ultimate Rainbow Chocolate Sampler
In addition to making delicious chocolate, Tony's is also a B Corp– and fair-trade-certified company that works to make chocolate production more ethical worldwide.
A TikTok-Famous Facial Spray
Hyped for soothing everything from acne to eczema to general irritation.
A Buzzy New Novel
Photo: FX
As gripping as it is poignant – the perfect gift for bookworms.
Food-for-Thought Puzzle
It doubles as a work of art upon completion.
For the Skin-care Lover
Sea Buckthorn is emerging as a must-have ingredient in your skin-care routine — and Ayurvedic brands have already mastered it. This lightweight oil helps boost radiance, strengthen the skin barrier, and improve skin tone.
Crown Affair's Buzzy Leave-In
A Healthier, Tastier Hazelnut Spread
Not only is the packaging chicer, but the ingredients are also much more thoughtful — using olive oil in lieu of Nutella's palm oil and cutting out half the sugar.
Darn, That's Cute!
This wooden mushroom would be a no-brainer gift even if its sole purpose were just to stand around and look adorable, but it's also a clever darning tool.
Cozy Felted Wool Slippers
They come in 20 different colors.
Seven Pre-Rolled Mini Joints
Each has .3 grams of CBG White, a premium strain of hemp flower known for its energizing effects and "cognitive enhancing" potential.
Nice and Toasty
Crafted by hand, a jaunty red toast rack with twisted-rope detailing.
For a Better Buzz
Cann is crafted with THC and CBD, making it the ultimate alcohol alternative that provides an energetic yet mellow buzz.
The All-in-One Beauty Product
This rich multi-cream is ultrahydrating for skin, hair, and nails. It has a subtle palo santo scent.
For the Cool Hostess
These marble-and-brass bowls are stylish but neutral enough to match any host's tablescape.
The Reusable Tote
This reusable tote is all of our favorite things: pretty, practical, and sustainable.
For the Aspiring Chef
Ideal for the at-home chef who wants to record their own recipes, this super-cute journal is what culinary dreams are made of.
A Fancy Incense Burner
The latest trend in fragrance is leaning into holistic scent alternatives. This piece holds incense sticks and acts as an art piece, too.
Not-So-Bare Necessities
Practical? Yes. Exciting? Also yes! Really good underwear is the key to any polished look (especially holiday dresses), and these from Spanx are some of the best. They're soft, smoothing, and totally invisible under clothing.