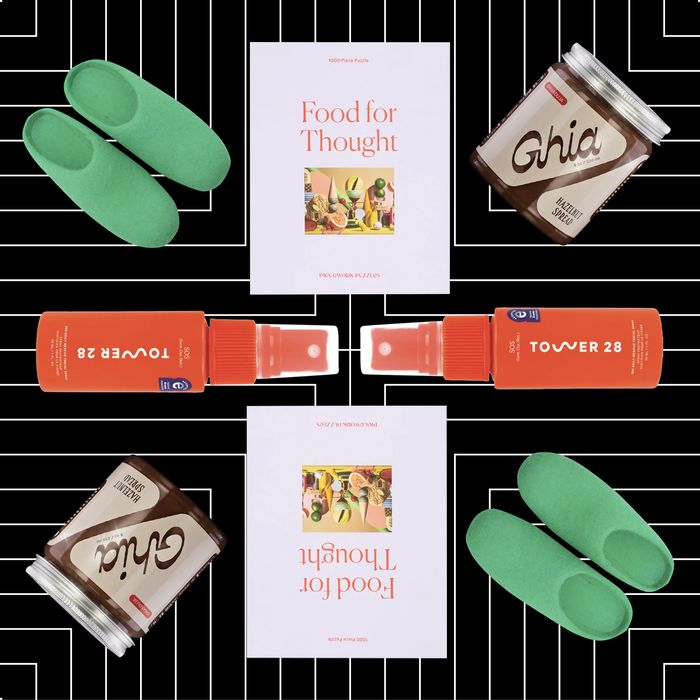 Photo-Illustration: by The Cut; Photos: Retailers
If gift giving is your love language, we would like to extend a hearty congratulations and warm welcome on behalf of the impending holiday season. This is your time to shine, sexy babies! Below is a roundup of gifts under $50 to aid you in your cause, featuring items from across the interwebs.
Whether you're looking for the perfect game-changing beauty product for your skin-care-obsessed friend or a new craft project for your indoors-y sister, this assortment has you covered. Just remember to pace yourselves and drink plenty of electrolytes — it's a marathon, not a sprint.
The Ultimate Rainbow Chocolate Sampler
In addition to making delicious chocolate, Tony's is also a B Corp– and fair-trade-certified company that works to make chocolate production more ethical worldwide.
Crown Affair's Buzzy Leave-In
A Healthier, Tastier Hazelnut Spread
Not only is the packaging chicer, but the ingredients are also much more thoughtful — using olive oil in lieu of Nutella's palm oil and cutting out half the sugar.
Perfect Pleating
Darn, That's Cute!
This wooden mushroom would be a no-brainer gift even if its sole purpose were just to stand around and look adorable, but it's also a clever darning tool.
Food for Thought Puzzle
It doubles as a work of art upon completion.
A Flower-Friendly Fig
Each fig vase is handmade and totally unique.
Coffee-Run Wallet
Two card slots, zip storage, and a convenient carabiner clip leave your hands free to carry multiple cappuccinos.
A Buzzy New Novel
Photo: FX
As gripping as it is poignant – the perfect gift for bookworms.
A TikTok-Famous Facial Spray
Hyped for soothing everything from acne to eczema to general irritation.
An Expressive Mobile
For the coolest baby you know (or perhaps the parents of one).
Cozy Felted Wool Slippers
They come in 20 different colors.
Seven Pre-Rolled Mini Joints
Each has .3 grams of CBG White, a premium strain of hemp flower known for its energizing effects and "cognitive enhancing" potential.
Tam Tam Stool
French designer Henri Massonnet created the Tam Tam stool in 1968. Compact and comfortable, the iconic silhouette is as relevant as ever.
Montessori Building Blocks
These natural wooden blocks encourage shape recognition and open-ended playtime.
Nice and Toasty
Crafted by hand, a jaunty red toast rack with twisted-rope detailing.
For more from the Cut Shop team, follow us on Instagram and Twitter, where we share our best new finds, favorite styling tricks, and more.