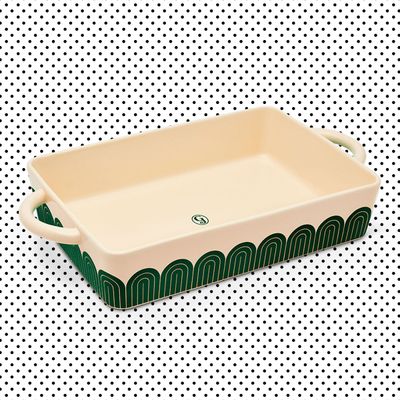 If you cooked during quarantine and didn't post it on Instagram, did it even happen? Cookware brand Great Jones, known for its savvy social-media presence thanks to its photogenic pots and pans, realizes the value of a beautifully presented dish. To make your lasagna or brownies look their best when they're fresh from the oven, the company released the latest addition to the line: the Hot Dish.
The name is a nod to the casserole made with veggies, starch (preferably tater tots), and meat that is popular in the Midwest. Inspired by vintage Pyrex dishes, the nine-by-13-inch ceramic baking dish has a visually eye-catching Art Deco–like print that's available in blue, green, and yellow. It's pretty enough to go straight from oven to table, but it's also functional: The dish can withstand temperatures up to 450 degrees Fahrenheit and conducts heat slowly for an even bake.
The brand recommends eating directly out of the pan while the juice of your fruit cobbler is still bubbling hot, but, really, it's good for anything from roasts to veggies to its namesake, the Hot Dish. Get it as a gift for the foodie who won't let you dig in until they get the perfect 'gram shot.