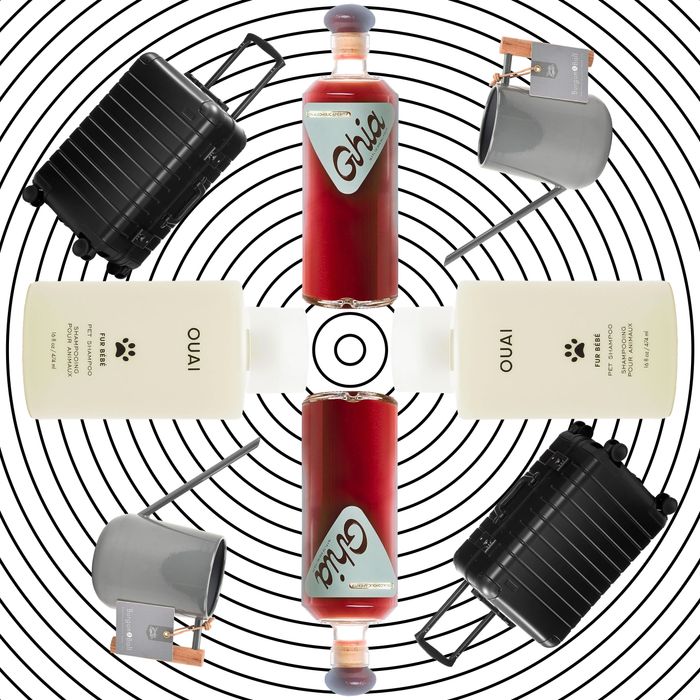 Photo-Illustration: by The Cut; Photos: Retailers
For more of the Cut's favorite fashion, beauty, and home finds, sign up for the weekly Cut Shop Newsletter.
Brainstorming gift ideas by specific holiday, specific size, or specific relationship is fine and dandy, but another fun way to land on a great present is by pondering what personal news the people you love would be (or already are) posting about. Whether they spontaneously quit their job, miraculously quit coffee, put down a down payment, or created a whole new human, here are some holiday gift ideas based on super-specific life phases that at least one person on your list is probably going through right now. As a team whose job entails extensively researching the best products for each and every one of these life phases, you can trust we've included products that readers love in our respective roundups and in real life.
For the sibling who just became a plant parent
A stylish watering can should ensure they keep their new herbage alive.
For the couple who just got married
Wish the happy couple an eternity of the most comfortable sleep with this linen sheet set that will change their lives.
For the 40-something friend
This pocket-size massager melts away all those mysterious muscle aches and weird hip pains that were never there before.
For the friend who got into a new relationship
These candles not only set the mood but warm up a silky, skin-softening massage oil that can be poured directly onto skin, "Livin' La Vida Loca" style.
For the friend who is going to get engaged soon
Keep their hands ring-selfie-ready with this all-in-one kit that features an oil to nourish cuticles, a glass file to shape nails, and a quick-dry clear top coat for long-lasting polish and shine.
For the friend who is newly sober
This biting, botanic-filled aperitif makes seltzer feel special and is a beautiful addition to a budding alcohol-free home bar.
For your sibling going through their Saturn return
For the friend who just signed a new lease
For the friend going through a breakup
Help them clear their head by breathing in good vibes and snuffing out the bad ones with these smoke-free incense sticks.
For the friend embarking on her natural-hair journey
Set them up for success with this stylish satin-lined cap they can wear to bed, on Zoom, and out and about to keep strands soft and safe.
For the friend who just made a drastic hair-color change
This kit is made for all hair types and features the Cut Shop–approved hair-prepping shampoo, repairing leave-in conditioner, and post-wash hair oil that smoothes frizz and doubles as a heat protectant. So your friend's hair is covered no matter how many times she switches or touches it up.
For the friend who finally quit coffee
Give them a quick and easy way to whip up matcha lattes and energizing protein powders. The rechargeable mixer froths all their essential powders and mixtures and is easy to take on the go.
For the friend who is cutting out caffeine altogether
This incredibly chic kettle has the charm of an old-school teapot — just without the ear-splitting scream so they can pour a cup of jitter-free tea in peace.
For the cousin who just graduated from college
This multitasker takes the place of eight different pieces of cookware, which makes it ideal for small spaces and chefs who are just starting out.
For the sister-in-law who is very pregnant
This silky, skin-loving set is not only a thoughtful splurge, but can easily travel to the hospital, where it's hard to get quality shut-eye.
For the sister who just had a baby
Keep her as comfy as possible with this super-plush robe that comes in colors other than bright white, which is begging for stains.
For the sibling making a big cross-country move
Never let them forget where they came from with a scented candle that smells a hundred times better than your actual hometown probably does in real life.
For the sibling who just became a pet parent
Jen Atkin's newest shampoo ensures furry first-borns smell as good as an A-lister's pet and show off hair as shiny as a Kardashian.
For the sibling who is openly smoking plants now
This adorable pipe doubles as décor they'll feel fine leaving strewn about.
For the sibling who just landed their dream job
Help them look not only bright-eyed but pretty cool for their first day of full-time Zoom.
For the sibling who is going back to office in 2023
These lunch boxes come in a rainbow of colors cheery enough to cancel out the commute dread.
For the friend who needs to hyper-fixate on a new snack
How many Honey Mama's bars are too many Honey Mama's bars? The limit does not exist because once your friend tries any flavor of this multipack, they will be hooked.
For the friend making a big career change
Nothing is more suitable for their new job than a fancy leather agenda. They can plan out their weeks and jot down all those Zoom-meeting notes in this pocket planner. We recommend gifting their favorite colors and customizing with their initials.
For the friend who just quit their job to Eat-Pray-Love
These compact, colorful, and travel-friendly binoculars are a nice accessory for whatever adventure they're going on next, be it camping, stargazing, or posing for personal photo ops.
For the friend going all in on their pour-over
This design-first burr grinder will blitz their beans quietly, while leave virtually zero debris on their countertop.
For the cousin heading to college
This season's hottest accessory is over-the-ear headphones. Bonus points if they are noise-canceling ones. Gift this to the future coed to dedicate quiet time to their studies or watching TikTok without waking up their roommate.
For your cousin who already has AirPods
Keep them scratch-free and safe with these colorful covers from their favorite "It" girl, Devon Lee Carlson. Looking cute walking across campus is just a bonus.
For the parents who are retiring
Help them hit every destination on their bucket list in style with the brand's best-selling carry-on, leveled up with a striking aluminum shell.
For the friend who just bought a house
Vitruvi's collab with jewelry brand Mejuri is probably the chicest way to scent their home. The gold diffuser is cordless so they can effortlessly move it from room to room.
For the friend who just moved
Minimal and chic, this vase looks pricier than it is and will barely take up space in a small apartment. Fill it with a bouquet of flowers (fresh or dried) or some greenery like eucalyptus. It makes an easy housewarming gift too.
For the sibling who is working remotely, forever
The best WFH desk accessory is piping-hot coffee that doesn't require repeat trips to the microwave.
For the couple who recently renovated their home
Put the finishing touch on an updated bathroom with these aromatherapy mists that make regular shower steam feel spa-worthy.
For your friend who just got into wellness
This 15-pound beam looks like a sculpture but is actually a strength-training bar that won't blister their hands, thanks to its soft silicone wrapping.
For the friend who's working on their fitness
Perfect for stress, sleep, and pain, this mat is a go-to for anyone looking to up their wellness routine.