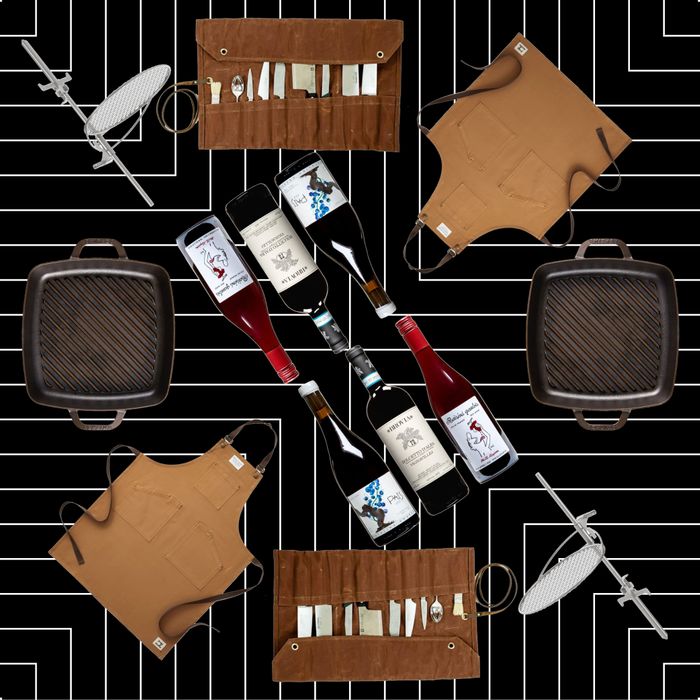 Photo-Illustration: by The Cut; Photos: Retailers
Buying a gift for a food-obsessed person can be challenging. They're always smelling things, and their condiment collection takes up multiple shelves. You can't give them something expected, like another Boos block. And it's safe to assume they already own every knife they'll ever use in a lifetime.
To ease the process of shopping for the foodie who has everything, we've rounded up a handy list to shop and refer to. We have picks from the kitchen to the grill and even options for lovers of fancy coffee. That said, if this list still doesn't cut it, get them a good old-fashioned gift certificate — because there's nothing foodies love more than control. Go with either Food52 or Williams Sonoma, which will cover all the bases.
For the Foodie With a Favorite Olive Oil (or Two)
Fancy oils deserve even fancier bottles, and these bottles are great for their favorite oils or homemade dressings.
For the Messy Chef
Because splatters, drips, and splashes are inevitable.
Every month, they'll receive a selection of wines, curated by an Eater-approved expert or sommelier, with detailed tasting note cards from the expert and, of course, expert wine intel. To give you a taste of what to expect, November was curated by the Atlanta-based Korean chef and wine expert Seung Hee Lee. Choose from two to six bottles per month and red or white wines. Anyone who fancies themselves an expert in the world of wine will appreciate getting the selection delivered right to their door.
For the Undefeated Cookie-Swap Champion
Not all vanilla extract is the same: Heilala's is beloved by chefs, fancy pastry people, and regular folks who just make a lot of cookies. Its goopy vanilla paste will leave these lovely black vanilla-bean specks in whatever you bake, plus it gets bonus points for being ethically sourced.
For the Foodie Who Cares Where Their Meat Comes From
A gift that won't gather dust because it's the gift of three pounds of bacon. Not just any bacon — bacon from pigs who were humanely raised. Worth the few extra dollars per pound, if you ask us. The quality's better, too. Check out that marbling! Easy to freeze, which means it's the gift that keeps on giving.
For the Gluten-Free Foodie
If they have a sense of humor, they will enjoy this charming Japanese bread lamp.
For the Foodie Who Swears You Can Only Get Decent Pizza in New York
Nothing says "I love you" like the best Neapolitan pie in the five boroughs.
For the Foodie With a Serious Sweet Tooth
Any mention of Milk Bar is met with raving about how good it is and we're sure the foodie in your life has mentioned it more than once. Gift them these easy to snack truffles in two signature flavors.
For the Foodie with Too Many Knives
Do they have a handmade waxed canvas roll to carry them in? Even if they're just taking them to get sharpened at the hardware store, this Georgia-made roll will show them off and make them feel like their idol Bobby Flay.
If Their Favorite Part of Traveling Is Exploring New Cuisines
Whetstone is the food magazine that doesn't bother with pasta-making tips or, um, gift guides. It dives deep into food culture — the people who grow our food, where it comes from, and what's at stake. Founder Stephen Satterfield is the host of Netflix's new show, High on the Hog.
For the Foodie Who Weighs Their Coffee Beans
If you're feeling particularly generous, get them this gorgeous, well-designed electric pour-over coffee machine by Ratio. It's the sexiest coffee machine on the market, hands down — there's a reason it's sold out on Goop. Don't worry, you review watchdog — it's highly rated, too.
For the Foodie Who Grills
If they've been grilling the same burgers, chicken skewers, and blackened catfish for decades now, help them change things up with this new cookbook from Rodney Scott, one of the country's most respected names in barbecue.
If They Already Own the Great Jones Dutchess
Smithey's grill pan makes perfectly char-marked burgers and green beans — and isn't that all you want from it? But it also looks good when left out on the stove afterward.
For the Outdoorsy Foodie
This portable folding grill can stick in the ground next to any campfire/fire pit/beach fire and become a makeshift Weber — but it's a lot lighter. It adjusts up and down and comes with a bag to carry it in too. Don't forget the mustard!
If You're Not Quite Sure What They Want
Everyone likes cheese. Second maybe only to chocolate, this is your safest bet.
For the Foodie Who's Still Very Much Into Kale
Crisper drawers only get you so far. Store delicate greens and any other vegetables likely to wilt in the fridge in these Vejibags — thick, organic cotton sacks that you dampen before storing. It extends the life of vegetables by days, or, in the case of cabbage, weeks.
For the Plant Parent
Whether your favorite plant parent's home is full of plants or their window sill is a mini spice garden, they'll appreciate caring for this little citrus plant and growing their own lemons or limes.
For the Foodie Finally Delving Into Sourdough
Sure they're a little late to the bread-baking party but they're here now, right? This bread-making kit is the gift that keeps on giving meaning, you'll all probably be enjoying homemade bread for the foreseeable future.
For the Coffee Lover Who Has All the Gear
The gift of nice coffee is classic, but how about the gift of five pounds of coffee all at once? An airplane-pillow-size five-pounder of Stumptown's crowd-pleasing Hair Bender costs $75, lasts about a month in a two-person coffee-loving household, and is most likely fresher than what you find at grocery stores.
For the Spicy-Food Connoisseur
This collection of sauces, spices, and peppers will keep them busy for months. Try the Zhong sauce with dumplings and sprinkle the Mala spice over meat as a marinade (it also makes for a delicious popcorn topping). The chili crisp is literally good on anything. And lastly, the peppercorns and chilies can be transformed into your own chili oil or incorporated into recipes like mapo tofu.
For the Foodie Who Already Has Every Grill Accessory You Can Imagine
This portable pizza oven gives them a whole new way to cook on the patio.
For Anyone Who Was Forced to Learn to Cook During Lockdown
Delicious, bright-tasting olive oil that they won't mind displaying on their counter.
For the Noodz-Loving
This kit comes with everything they'll need to make Xian Famous Foods' famous numbing-spice dish.
For the Foodie Who Loves Eating Out of a Tin
This new-ish tinned-fish company started by Becca Millstein and Caroline Goldfarb is fun, playful, stylish, and tasty and does limited-edition drops. A tuna sandwich never felt so exciting.
For the Foodie Who Appreciates Little Luxuries
Grab a few of these jars and fill them with spices like vibrant Aleppo pepper, fancy saffron, or truffle sea salt. They make for lovely small gifts that feel special.
For the Foodie With a Ton of Personal Style
Made in collaboration with New Hampshire artisan Linny Kenney, these hand-dyed vegetable-tanned leather gloves are meant to age beautifully while protecting their hands from hot surfaces.