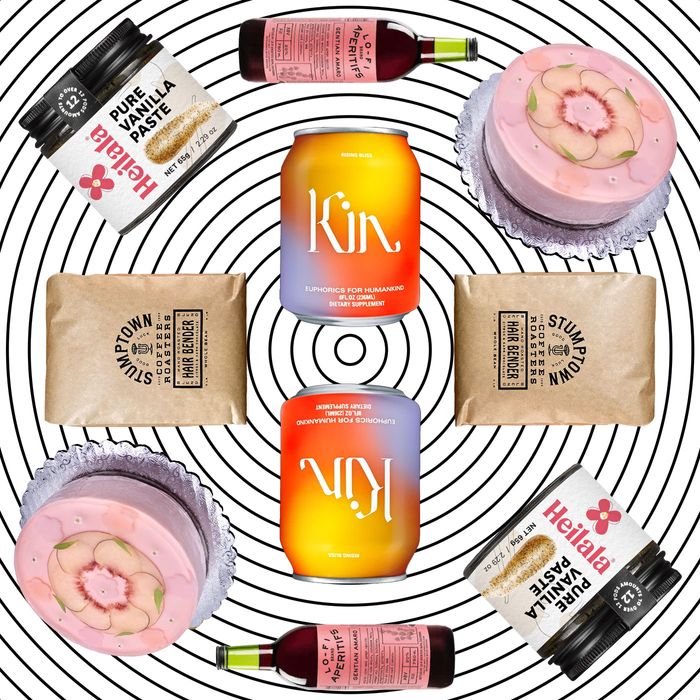 Photo: Courtesy of the Retailers
Buying a gift for the food lover in your life can be challenging. They're always smelling things, and their condiment collection takes up multiple shelves. They're the person who orders for the table (whether you agree or not), and they know how to make an elaborate layer cake. You can't give them something expected, like an Instant Pot. It's safe to assume they already own every mug ever made or sold at Anthropologie. And don't even think about getting them a Dutch oven: They already have one in a signature color.
To make things easier, we've put together a handy and wide-ranging gift guide for all kinds of cooks, bakers, food lovers, coffee enthusiasts, and wannabe wine snobs. That said, if this list still doesn't cut it, get them a good old-fashioned gift certificate — because there's nothing foodies love more than control. Go with either Food52 or Williams Sonoma, which will cover all the bases.
If They're Old School
Candy is a fairly route-one Valentine's Day gift, yes, but this is much better than what you'd find in the candy aisle at Duane Reade. And the tin it's in is so cute and French you don't even need to wrap it.
For the Person You Only Just Started Seeing
Gift-giving is always tricky in the early days of a relationship, let alone on Valentine's Day. Personalized coasters say "I'm thoughtful, and I know your first initial, but I'm not giving you this present while down on one knee."
If They're Gluten Free
If they have a sense of humor, they'll enjoy this charming Japanese bread lamp.
For the Person Who Swears You Can Only Get Decent Pizza in New York
Nothing says "I love you" like the best Neapolitan pie in the five boroughs.
For the Person With a Serious Sweet Tooth
Photo: CarolineArcangeli
A mini red-velvet cake, a dozen red-velvet truffles, and a tin of cookies spell romance.
For the Person You Live With
You'll also get lots of use out of these 100 percent cotton hand-dyed tenugui, whether for wrapping, covering, or decorating.
If Their Favorite Part of Traveling Is Exploring New Cuisines
This new, biannual printed food magazine celebrates Black women and femmes in food and wine. The first issue features 35 women throughout the diaspora.
For the Person Who Weighs Their Coffee Beans
If this person is your spouse/partner/sidepiece, or if you're feeling particularly generous, get them this gorgeous, well-designed electric pour-over coffee machine by Ratio. It's the sexiest coffee machine on the market, hands down — there's a reason why it's sold out on Goop. Don't worry, you review watchdog — it's highly rated, too. Just remember: order by December 15 to get it by Christmas.
For the Person Who Could Be on The Great British Bake Off
Claire Saffitz's Dessert Person is for the baker who toggles between chocolate chip cookies and 18-tier croquembouche (if you know, you know). The photographs beam off the pages, so even a baking novice will want to show off this cookbook on the coffee table.
If They Already Own the Great Jones Dutchess
There's a new casserole dish in town from Instagram-favorite Great Jones, and it's as cute as the rest of the line. Combine it with the ingenious gift of a bag of frozen tater tots and you're halfway to having someone else make you actual hot dish, the greatest gift of all.
If They Have a Condiment Shelf Full of Hot Sauce
Spicy handmade earrings for a spicy person.
If You're Not Quite Sure What They Want
Everyone likes cheese. Second maybe only to chocolate, this is your safest bet.
For the Chef Who Puts a Squeeze of Lemon in Everything
This fragrance from Margiela smells fresh and subtle, not like you spilled lemon juice all over yourself.
For the Person Who's Still Very Much Into Kale
Crisper drawers only get you so far. Store delicate greens and any other vegetables likely to wilt in the fridge in these Vejibags — thick, organic cotton sacks that you dampen before storing. It extends the life of vegetables by days, or, in the case of cabbage, weeks.
For the Spice Collector
Tell someone you think they're hot stuff with some hot stuff — more specifically, with this duo of Spicy Seasoned Salt and Chili Crunch.
For the Plant Mom or Dad
A lemon/lime tree bears fruit every six months, and every six months that would be very exciting for whoever you give this little tree to.
For the Undefeated Cookie Swap Champion
Not all vanilla extract is the same: Heilala's is beloved by chefs, fancy pastry people, and regular folks who just make a lot of cookies. Their goopy vanilla paste will leave these lovely black vanilla bean specks in whatever you bake, plus it gets bonus points for being ethically-sourced.
For the Aspriring Wine Snob
This set of three wines hails from dreamy Mediterranean islands: Santorini, Sardinia, and the Canary Islands. All three taste like being on vacation, a thing people used to do.
For the Person Finally Delving Into Sourdough
This set has everything they need to make the perfect loaf. Add a dry starter to your order so they don't have to figure out how to make their own.
For the Coffee Lover Who Has All the Gear
The gift of nice coffee is classic, but how about the gift of five pounds of coffee all at once? An airplane pillow-sized 5-pounder of Stumptown's crowdpleasing Hair Bender costs $75, lasts about a month in a two-person coffee-loving household, and is most likely fresher than what you find at grocery stores.
For the Person Looking to Expand Their Culinary Knowledge
IYKYK ("if you know you know" for the uninitiated) is a limited release zine from The Infatuation that features recipes, interviews, art, and more. The aim: readers learn about foods they may not know about, and those who already do know experience excitement and pride. The first issue is about Hong Kong-style diner food, and a portion of the sales will benefit Welcome to Chinatown.
For the Messy Chef
Because splatters, drips, and splashes are inevitable.
For the Aesthete
You've probably spotted Lexie Park's cakes all over Instagram. The jiggly pastel-hued confections are made with flavors like peach, lychee, and persimmon. They're only available for local pickup in Los Angeles and tend to sell out fast — currently, the week of Christmas is not available, but she does tend to have extras that pop up on her Instagram account.
For the Friend Who Doesn't Drink
Just because they can't enjoy a glass of wine over Zoom with you doesn't mean they should be stuck sipping on club soda. These slightly bitter, slightly sweet spritzes have no alcohol but offer the same satisfying feeling of drinking a balanced cocktail.
For the Aperitivo Aficionado
Mix with some sparking wine and a splash of soda for a pre-dinner beverage that goes great with prosciutto and fancy Parmesan.
For the Spicy Food Connoisseur
This collection of sauces, spices, and peppers will keep them busy for months. Try the Zhong sauce with dumplings and sprinkle the Mala spice over meat as a marinade (it also makes for a delicious popcorn topping). The chili crisp is literally good on anything. And lastly, the peppercorns and chilies can be transformed into your own chili oil or incorporated into recipes like mapo tofu.
For the Person Who Insists on Manning the Grill
This portable pizza oven is for home cooks who mean business.
For the Person Who Was Forced to Learn to Cook During Lockdown
Tasty, bright-tasting olive oil that they won't mind displaying on their counter.
For the Noodz Lover
They can use this noodle kit to make their own (they can literally hand pull them before their very eyes). It comes with everything they'll need to make Xian Famous Foods' famous spice numbing dish.
For the Person Who Wishes They Were in Portugal
This new tinned-fish company started by Becca Millstein and Caroline Goldfarb is fun, playful, stylish, and tasty and does limited-edition drops. Their salmon is already sold out, but you can still get the tuna.
For the Person Who Appreciates Little Luxuries
For the Person Who Uses Their Freezer for Ice-Cream Storage
This 70-year-old family-run dairy is a master at balancing smooth and crunchy textures for optimal chunk-burrowing with a spoon. This sampler includes four delicious ice-cream flavors, plus a pint of ready-to-bake Chocolate Chunk Cookie Dough.
For the Person Who Loves to Serve Piping-Hot Food
Serve your perfect roast chicken or hearty beef stew by placing your Dutch oven on this elegant trivet. Made from leather, it'll be a piece that will last over the years and will look equally as good sitting on your dining table.
For the Person Who Believes in Cooking With Flair
Made in collaboration with New Hampshire artisan Linny Kenney, these hand-dyed vegetable-tanned leather gloves are meant to age beautifully while protecting your hands from hot surfaces.