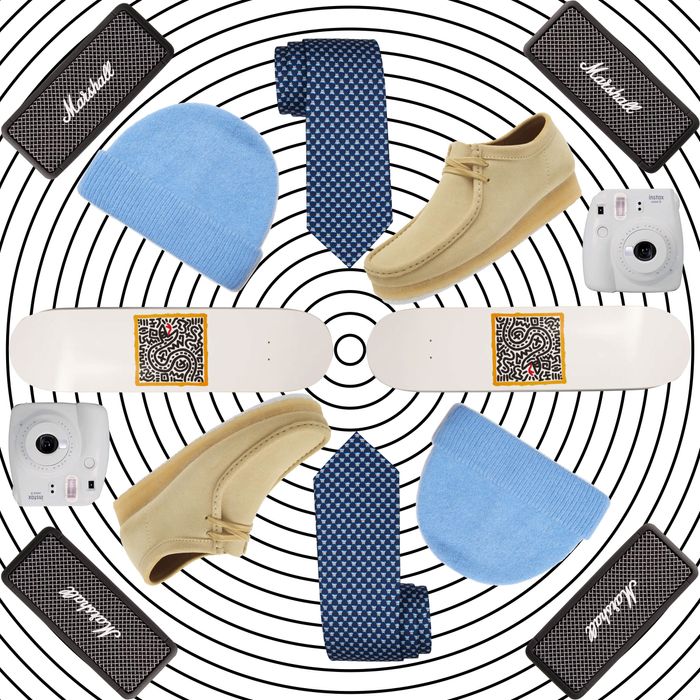 Photo: Courtesy of the Retailers
So you need to buy a man a gift, and you're stumped. Maybe you haven't known him for long and you're not sure of his taste; maybe you've been dating him for a decade and you've run out of creative ideas. Maybe it's your dad, because we all know dads are impossible to shop for. Regardless of the man or the occasion, here are 40 of the best gifts for men, from a bag he'll actually use to a high-quality speaker you can buy on Amazon for just over $100.
For the Man Who Takes His Coffee Seriously
This best-selling pour-over comes with a filter built in. If he's going out of his way every day to get "the only decent coffee in [insert city here]," he needs this for his own sake.
For the Man Who Takes His Cocktails Seriously
This set comes with a shaker, jigger glass, strainer, and bar spoon, so he can whip up the perfect old-fashioned or martini.
For the Man Who Takes Beer Seriously
Get him this elegant set of glasses and tack on a six-pack of his favorite microbrew IPA.
For the Man With a Bulky Wallet
No one needs a wallet stuffed with unused cards. Be the person to upgrade him.
For the Man Who Hates Pants
These classic sweats are great for the active guy. And when paired with the right sneaker and a T-shirt, they'll still look pulled-together.
For the Man With a Cold Head
Everyone needs a good beanie. This one is made with Grade-A cashmere from Inner Mongolia, which gets softer the more you wear it.
For the Man Who's Now a Bread Head
The Bronx-born culinary collective Ghetto Gastro collaborated with the kitchenware brand Crux on a stylish line of cooking implements. If he hopped on the bread train since the beginning of lockdown, this machine will make the process a whole lot easier with 15 preset programs, two loaf sizes, and three crust colors.
For the Man Who Wants to Look Like Steve McQueen
Warby Parker aviators are a good gift for people who spend a lot of time in the sun, people who like the '60s, people who want to support a company that does some good in the world, and pretty much anyone in between.
For the Man Who's Always Chill
A tee in relaxing olive green to match his cool, calm, and collected personality.
For the Man Who Needs to Learn How to Cook
Maybe he just started college or moved out on his own. Either way, if you know someone who is just getting the hang of "adulting," a slow cooker is a gift he'll be grateful for.
For the Man With an MBA
A Tom Ford pocket square is subtle but elegant way to add flair to a suit, if he still has to wear that sort of thing these days.
For the Man in Your Bed
He might not buy fancy underwear for himself, but he'll appreciate having someone else buy it for him.
For the Aspiring Photographer
Not only do you get a camera, but it's bundled with film, a travel case, and more, so he can start shooting right away.
For the Relaxed Creative Guy
A comfy and stylish button-down to wear while working from home.
For the Man Who's Always Late
You can't go wrong with a black leather watch that's designed from scratch in Brooklyn.
For the Man Who'd Like to Be Slightly More Stylish
These are great for a guy who wants to add just a hint of streetwear pizzazz to his outfit but, you know, not too much.
Another Stylish Sneaker Option
Fresh white sneakers are the safest bet there is. They're comfy, classic, stylish, and work well with anything.
For the Man Still Going to the Office
Yes, this tie is covered in swans. But the beauty of Ferragamo is that the whimsical designs are placed so tidily into geometric patterns that from a distance it just looks like an amazing, smart tie.
For the Man Who Loves Harry Styles
Congratulate him on his good taste with a Gucci tee.
For the Man With a Lot of Stuff
Roomy enough to fit everything he insists on lugging around.
For the Man Who Uses One Soap for Everything
Help him graduate from three-in-one soap with this set of three bath products.
For the Fancy Businessman
Understated sterling-silver cuff links will last him for years.
For the Man Who Loves Being Cozy
Wool-lined slippers are peak cozy, especially if you can run to the bodega in them.
For the Man Who Is Always Cold
A scarf is a good gift for anybody, especially when it's in a simple gray.
For the Man Who Loves a Hoodie
Upgrade his collection by giving him this extra-cozy fleece number.
For the Man Who Desperately Needs a New Jacket
This Patagonia down puffer can be folded into a small bundle, so it'll fit into any backpack. Plus, if the seams start to fray, you can take it to any store for a repair.
For the Preppy Man
Can't go wrong with a new polo shirt.
For the Outdoorsy Man
This lightweight backpack fits into a pocket-size bag. Perfect if your motto is "Be prepared."
For the Outdoorsy Man Who Already Has a Good Backpack
Sorel's boots are made to withstand long hikes, but they don't sacrifice style.
For the Socially Conscious, Outdoorsy Man
The Parks Project makes merch with proceeds going toward vital projects at national parks. If he's the type to enjoy a trip to Yosemite, Zion, or Yellowstone, he can rep his favorite spot while also giving back.
For the Man Who's Hard to Shop For
Everyone could use a new hoodie. Choose from several color options to match his personal style.
For the Man Who Still Talks About His Skater Days
While his days of grinding rails and dropping into a bowl might be a distant past, he still appreciates an arty skate deck he can display.
For the Man Who's Ahead of the Trends
He probably already has these Clarks Wallabees on his list, but even if he doesn't, he'll be thrilled to get these boots, which are poised to be the next men's status shoe.
For the Gadget-Loving Man
This handy device will both charge and sanitize a phone — so he'll never have to be reminded to wipe it down.
For the Man Who Loves Music
These retro-inspired Marshall speakers deliver high-quality sound, can be carried from room to room, and are so durable that they're water-resistant.
For the Sporty Man
Ease his sore muscles with this handheld massage gun. It features multiple heads and speeds that'll soothe knotted backs.
For the Sophisticated Man
This slick quarter-zip cardigan is easy to dress down or up, like the guy in the photo above who paired it with white chinos.
For the Fancy Man
A black belt goes with everything, but the hint of Burberry stripes is a subtle flex that a fancy guy will enjoy.
For the Very Fancy Man
In a sea of boring sneakers and dress shoes, get him a cooler option. You could band together with a group and buy this for a peacock you all love.
For a Man Who Only Wants the Finest Things
A luxury watch is a tricky gift because it's intended to last a lifetime, so it has has to have long-term appeal. This classic Cartier is sure to please anyone and won't go out of style.
If you buy something through our links, New York may earn an affiliate commission.