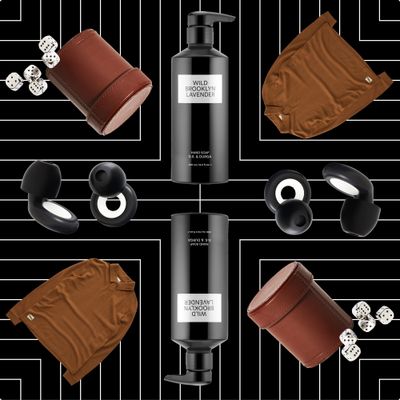 Photo-Illustration: by The Cut; Photos: Retailers
For more of the Cut's favorite fashion, beauty, and home finds, sign up for the weekly Cut Shop Newsletter.
So you need to buy a man a gift, and you're stumped. So stumped, that you went ahead and desperately typed "gifts for men" into Google hoping for a stroke of inspiration that will relieve the specific stress of giving a good present. But there are so many types of men out there. There are the ones you haven't known long or don't know well (perhaps an in-law or co-worker); the ones who are family (fathers, uncles, cousins, brothers, nephews); the ones you're romantic with (boyfriends, husbands, and even the guy you've only dated for a week).
Regardless of the man or the occasion, we asked around and compiled the best gifts for men, from Adidas Sambas for your fashion-obsessed Gen-Z nephew to new dishware and luxe soap for a bachelor pad.
For the Man Who Constantly Reads
The Kindle Paperwhite now has a bigger display and adjustable warm light to make it easier on the eyes before bed. Its display reads like real paper, even in direct sunlight, and its waterproof feature makes it so he can read in peace by the pool or at the beach. The 8 GB storage can also fit around 5,000 books if he's up for the challenge.
For the Man Who Has a Green Thumb
Add to his growing plant collection with this ZZ plant that thrives with minimal care and already comes shipped in a sleek two-tone ceramic pot.
For the Man Who Enjoys His Sleep
Linen sheets are a saving grace for those who run hot. Upgrade his beauty sleep with this luxe sheet set that gets softer with every wash.
For the Man Who's a New Dad
On the subject of sleep, any new father is lucky to get any with a baby (or a puppy) waking up at all hours of the night. While a brightening eye cream won't solve all his problems, he can at least avoid any dark circles when he's fighting to stay awake.
For the Man Who's Always Traveling
A premium suitcase is not necessarily something you need, but oh it is an absolute game changer once you have it. If he is in need of a gift for a significant anniversary or milestone birthday, check out this luxe aluminum carry-on. Outfitted with a secure locking system, 360-degree spinner wheels, handles that can pull a hefty weight, and slick, durable aluminum shell, he is going to be booking trips just so he has an excuse to use it.
For the Fancy Man
Need a luxe gift for a man who's celebrating? This French cognac is bursting with spicy fruit notes and a richness that can only mean luxury with every sip.
For the Man Who's Up to Date on #Content
A subscription is a perfect last-minute gift if shipping times are stressing you out. He can catch all the latest insider news from Washington, Hollywood, Silicon Valley, and Wall Street all in one place with Puck.
For the Man Who Just Moved
Moving to a new place is a great time to reset his dishware. This bundle from Our Place comes with four plates, bowls, and glasses that all easily stack for convenient storage. The bowls and plates are microwave and dishwasher safe, and you can choose from a variety of colors for the glassware. Plus, the porcelain holds up even with scraping knives and stabbing forks.
For the Man Who's Stylish
Impress the man whose wardrobe is almost exclusively jeans and tees with this lightweight bomber jacket. Not only will it match almost anything, but its versatility will also give any outfit just a bit more flare.
For the Man Who'd Like to Be Slightly More Stylish
This timeless icon of a shoe is great for a guy who wants to add just a touch of streetwear style to his outfit but, you know, not too much. They are also incredibly comfy and durable.
For the Man Who Loves Toast
This all-in-one toaster oven has five modes to toast bread to perfection for all his fancy loaves, sandwiches, and even his artisan pizzas. The sleek oven also functions as a standard toaster oven to heat up small dishes.
For the Man With a Lot of Stuff
Roomy enough to fit everything he insists on lugging around, including a padded sleeve to keep his laptop safe. There is a luggage handle pass-through (that's also a pocket) if he wants this to double as his carry-on while on the road.
For the Man Who Has Nice Things and Wants to Take Care of Them
Gift him this fabric shaver so he can maintain those nice sweaters and keep them in good condition. The gentle but tough shaver removes lint and fuzz from even the most delicate fabrics like silk and cashmere.
For the Man Who Loves to Build Things
Maybe he is nostalgic for all those hours he spent building Legos as a kid. Get him this realistic set from their Botanical Collection that includes over a thousand pieces and doubles as decor for his space. When he's finished, he'll have a pretty piece of faux greenery. No green thumb required.
For the Man Who Takes His Coffee Seriously
If he is always complaining about how no one knows how to make a decent cup of coffee, gift him this pour-over kit from everyone's favorite third-wave coffee roaster. It comes with everything he needs so he can taste all the notes of his single-origin beans.
For the Man Who Prefers a French Press
Maybe he likes a more robust cup. Opt for this glass French press that's equal parts utilitarian and kitchen décor. It comes in a ton of colors so you can match his kitchen set-up.
For the Sophisticated Man
Gift him a new everyday fragrance with this sophisticated favorite from Maison Margiela. With warm and spicy notes of woody pink pepper, chestnut, and vanilla, you'll also want to borrow this unisex scent so you can also smell like a cozy fire.
For the Man Who Loves Music
These retro-inspired Marshall speakers deliver high-quality sound, are durable enough to be taken from room to room or out of the house, and are water-resistant. A single charge also gets him over 20 hours of playtime.
For the Man Who Loves Being in the Sun
Gift him some stylish, sporty sunnies that will protect him from the UV rays. The lenses are anti-scratch, anti-sweat, and, most importantly, easy to remove so if he carelessly throws them in his beach bag, you know they'll hold up fine.
For the Man Who's Hard to Shop For
Everyone could use a new hoodie and this one combines recycled fabric and a classic style that will stand the test of time. Gift him this affordable option he can wear almost anywhere.
For the Man Who Needs a Soap Upgrade
Replace that Softsoap in his bathroom with this lavender one from a Brooklyn-based fragrance brand. Yes, this might seem like a splurge for hand soap, but he can differentiate himself from the endless Aesop-filled bathrooms, and he'll have this bottle by his sink for a long time.
For the Man Who's a Pro in the Kitchen
Anyone who knows his way around the kitchen probably has this kitchen torch on his wish list. Spice up his cooking with this easy-to-use, adjustable, and refillable torch made for easily searing and toasting meals and brûléeing desserts.
For the Man Who Loves Tech
No messy wires here. He can stack, store, and charge everything Apple in this sleek case.
For the Man Who Needs a Skin-Care Routine
This skin-care kit has everything he needs to replace whatever three-in-one he's currently using. He can gently cleanse with the cult-fave Superfood cleanser, revitalize his skin with the caffeine-infused vitamin C serum, and seal it all with the whipped moisturizer.
For the Man Who Wants to Be a Little Fancier
Photo: Retailer
A pocket square can be a daunting sartorial addition for the uninitiated. Ease the process with this simple but elegant linen square. You can even monogram it for an extra $10.
For the Man Who Needs the Essentials
A Rugby is a great way to add a touch of prep to his wardrobe, and this one doubles as a workout top. This Rugby from cool New England brand Tracksmith not only looks polished enough for the office but is also engineered to regulate body heat with its gridded texture and Merino-wool blend. This is a closet staple he'll actually wear out and about and even during those cooler months when working out in the crisp air.
For the Man With a Bulky Wallet
This understated, classic wallet holds everything he needs and nothing he doesn't. Say good-bye to any miscellaneous receipts and papers that tend to pile up. We'll call that a win.
For the Man Who Needs to Learn How to Cook
Well worth the hype, this affordable Ninja will have him Googling air-fryer recipes. He might want to watch a little J. Kenji López-Alt and Internet Shaquille on YouTube though so he can actually learn to cook some meals that involve the stove too.
For the Man Who Is Trying to Drink Less
Whether he is sober curious or just trying to drink less, he can still enjoy a fun bev at home with this bundle of non-alcoholic Aperitifs and gin to make a NOgroni, if you will.
For the Man Who's Low-Key
Every man has a pair of Patagonia baggies. If they don't, they definitely need one. If they already own multiple, they probably want more. The easy pull-on waistband makes these a great purchase for those who like to get ready with minimal effort. 
For the Man in Your Bed
Say congrats to his underwear drawer because ​​Kim Kardashian's popular intimates brand finally launched men's products. Everyone always appreciates nice underwear; they'll just rarely buy a pair for themselves. Be the hero.
For the Fancy Businessman
If suits are a regular part of his 9-to-5 and his 5-to-9, gift him these minimal and understated cuff links. Made of sterling silver, they'll be a staple for years.
For the Outdoorsy Man Who Already Has Good Gear
Give him the gift of the outdoors. This pass is his ticket to more than 2,000 federal recreation sites across the country, including all our national parks.
For the Gadget-Loving Man
For the man in your life that will not settle on sound quality. This surely will elevate whatever watching, listening, or gaming he is doing.
For the Sporty Man
No matter his workout routine, help to ease his sore muscles with this handheld massage gun. It features multiple heads and speeds that'll soothe knotted backs.
For the Man Who Loves Live Music
Is he always posting photos from a show, concert, or impossibly cool, dingy basement every weekend? Show him you care about protecting his hearing with these low-profile, high-fidelity earplugs. They still preserve sound quality, and he will thank you years from now.
For the Man Who Loves the Classics
This iconic sneaker looks good on everyone at any age. Add some retro style to his sneaker rotation with this version of the Chuck Taylors, which are a tough chunkier and have improved materials.
For the Man Who Appreciates Comfort
Upgrade his house-clothes situation with a robe from this chic brand out of Copenhagen. The traditional blue stripe is stylish enough to throw on when he needs to stand on his law in his slippers and wave at the neighbors like in an idyllic suburban movie.
For the Man You Go to for Fashion Advice
Elevate his entire wardrobe with a bag that is both contemporary and timeless. This iconic mini hobo is also made of a regenerated nylon yarn produced from recycled, purified plastic trash.
For the Man Who Likes Playing Games
We do mean literal games. Whether he likes playing Backgammon, Dungeons and Dragons, or wants to bring some Ralph Lauren–elegance to Beer Die, these silver dice are sure to elevate any game night.
For the Man Who Takes Après-ski Seriously
This is not your average beanie for the man who goes above and beyond. Keep him warm on the coldest days of the year in this structured hat crafted from a combination of ribbed cashmere and cotton velvet. He will love this for years to come.