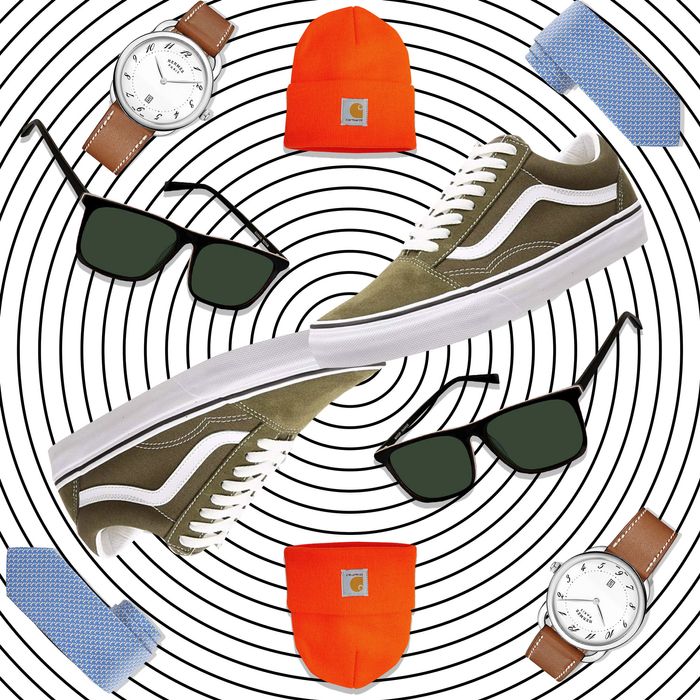 Photo: Courtesy of the Retailers
So you need to buy a man a gift, and you're stumped. Maybe you barely know him and you're not sure of his taste; maybe you've been dating him for a decade and you've run out of creative ideas. Maybe it's your dad, because we all know dads are impossible to shop for. Regardless of the man or the occasion, here are 29 foolproof gifts for men, from a bag he'll actually use to a high-quality speaker you can buy on Amazon for just over $100.
A Gift for the Man With a Cold Head
This hat has becoming an unspoken classic — just ask every single stylish guy walking around New York City. It's not too late to get in on the trend. And if orange isn't his thing, there's 35 other colors to choose from.
A Gift for the Man Who Wants to Look Like JFK
Warby Parker Wayfairs are good for people who spend a lot of time in the sun, people who like the '60s, people who want to support a company that does some good in the world, and pretty much anyone in between.
A Gift for the Man Who Loves to Cook
Impress the recipient by telling him about the high-carbon stainless steel and ergonomic handle.
A Gift for the Man With a Velcro Wallet
Be the person to upgrade him. Everyone should have a quality double billfold leather wallet.
A Gift for the Man Who Is Always Chill
An olive green tee to match his zen personality.
A Gift for the Man Who Hates Pants
When paired with the right sneaker and a more subtle shirt, these Krost sweats look cool and pulled-together. Plus, the brand is donating proceeds to Eden Reforestation Projects and planting 10,000 trees.
A Gift for the Man Who Needs to Learn How to Cook
Maybe he just started college or moved out on his own. Either way, if you know someone who is just getting the hang of "adulting," a slow-cooker is a gift he'll be grateful for.
A Gift for the Man With an MBA
Yes, this tie has dogs. But the beauty of Ferragamo ties is that the whimsical designs are so tidily placed into geometric patterns that from a distance it just looks like an amazing, smart tie.
A Gift for the Man in Your Bed
Comfy, classic, and cringe-proof.
A Gift for the Relaxed Creative Guy
A comfy and stylish button down for a relaxed guy whose workplace has casual Friday every day.
A Gift for the Man Who Travels All the Time
This travel pillow is the gold standard of travel pillows. Three-hundred-sixty degree neck support — what more could you want?
A Gift for the Man Who's Always Late
You can't go wrong with a silver link watch.
A Gift for the Man Who'd Like to Be Slightly More Stylish
When it's comes to sneakers, there's a lot to choose from. These are great for a guy who wants to add just a little pizazz to his outfit but, you know, not too much.
Another Stylish Sneaker Option
Aside from a nice sweater (see above), adidas Originals are the safest bet there is. They're comfy, classic, stylish, and work well with anything.
A Gift for the Man Who Takes His Cold Brew Seriously
If he's going out of his way every day to get "the only decent cold brew in [insert city here]," he needs this for his own sake.
A Gift for the Man Who Wants to Jazz Up His Office Look
A pocket square is subtle way to add flair to a suit and is always acceptable for even the stuffiest of offices.
A Gift for the Man Who Loves Harry Styles
Congratulate him on his good taste with a Gucci tee.
A Gift for a Man With a Lot of Stuff
Whether he's going to Mexico City or just going to the gym, this bag will carry all of his stuff and look stylish.
A Gift for the Fancy Businessman
Understated sterling silver cufflinks will last him for years.
A Gift for the Man Who Is Always Cold
A scarf is a good gift for anybody. Especially when it's a classic plaid.
A Gift for the Preppy Man
Can't go wrong with a new polo shirt.
A Gift for the Outdoorsy Man
This lightweight backpack fits into a pocket-sized bag. Perfect if your motto is "Be Prepared."
A Gift for the Outdoorsy Man Who Already Has a Good Backpack
Blundstone's boots are made to withstand long hikes, but they don't sacrifice style.
A Gift for the Man Who's Hard to Shop For
Everyone needs a new sweater.
A Gift for the Man Who Loves Music
These UE Boom speakers deliver high-quality sound, can be carried from room-to-room, and are very durable.
A Gift for the Sophisticated Man
This slick zip up cardigan is easy to dress down or up, like the guy in the photo above who paired it with plaid trousers.
A Gift for the Man Who Needs Something Fancy
Band together with a group and buy this for someone you all love. It goes with absolutely everything and will last forever.
A Gift for the Man Who Likes to Stand Out
In a sea of boring sneakers and dress shoes, get him a cooler option.
A Gift for the Man Who's Intimidatingly Stylish
Buy this slime green coat for a hypebeast, and he will be yours forever.
A Gift for a Man Who Only Wants the Finer Things
Watches are tricky gifts, but this Hermès is sure to please anyone.
If you buy something through our links, New York may earn an affiliate commission.