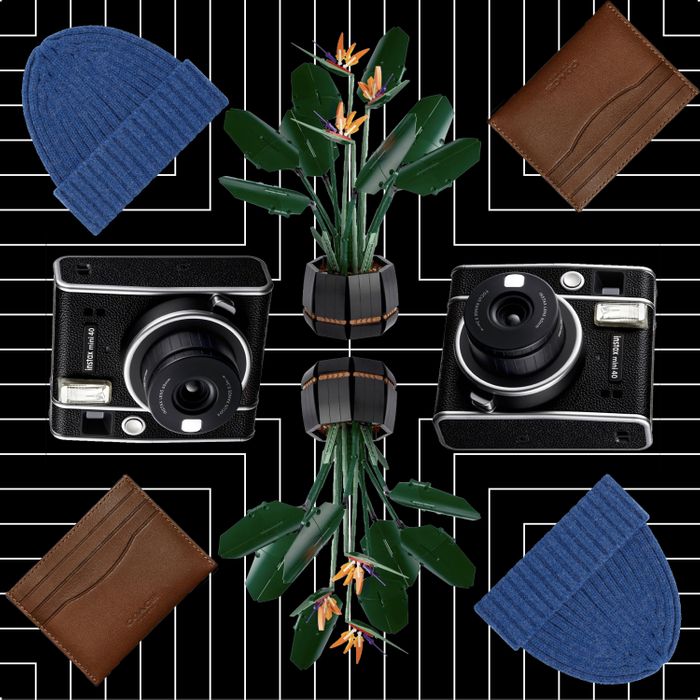 Photo-Illustration: The Cut; Photos: Retailers
So you need to buy a man a gift, and you're stumped. Maybe you haven't known him for long and you're not sure of his taste; maybe you've been dating him for a decade and you've run out of creative ideas. Maybe it's your dad, because we all know dads are impossible to shop for. Regardless of the man or the occasion, here are 37 of the best gifts for men, from a hat he'll actually wear to a high-quality speaker you can buy on Amazon for under $200.
For the Man Who's Stylish
Impress the man whose wardrobe is almost exclusively jeans and tees with this lightweight bomber jacket. Not only will it match almost anything, but it will also make any outfit instantly look better.
For the Man Who'd Like to Be Slightly More Stylish
These are great for a guy who wants to add just a hint of streetwear pizzazz to his outfit but, you know, not too much.
For the Man Who Loves Toast
This all-in-one toaster oven has five modes to toast bread to perfection for all his fancy loaves, sandwiches, and even his artisan pizzas. The sleek oven also functions as a standard toaster oven to heat up small dishes.
For the Man With a Lot of Stuff
Roomy enough to fit everything he insists on lugging around, this carryall is made of recycled water bottles.
For the Man Who Has Some Vices
Gift them a glass that can also hold their cigar, because why not? For only $25, our friends at Saks Fifth Avenue shared that this ergonomic cup has been one of their best sellers during the start of this holiday season.
For the Stylish Man Who Has Everything
Gift him this fabric shaver so he can tend to his closet full of knitwear. The gentle but tough shaver removes lint and fuzz from even the most delicate fabrics like silk and cashmere.
For the Man Who Loves to Build Things
You just found his new hobby: this kit. It includes over a thousand pieces for him to put together. When it's all done, he'll have a pretty piece of faux greenery. No green thumb required.
For the Man Who Takes His Coffee Seriously
This best-selling pour-over comes with a filter built in. If he's going out of his way every day to get "the only decent coffee in [insert city here]," he needs this for his own sake.
For the Man Who's Always in a Rush
Make his mornings a little bit easier with this all-in-one in-shower set that holds a toothbrush, soap, and razor. The silicone set sticks and stays on a smooth surface and the shatterproof mirror is also fog resistant.
For the Sophisticated Man
A signature scent is a gender-neutral thing. Replace his everyday fragrance with this sophisticated favorite from Maison Margiela. With notes of woody pink pepper, chestnut, and vanilla, you'll also want to borrow this unisex scent.
For the Man Who Loves Music
These retro-inspired Marshall speakers deliver high-quality sound, can be carried from room to room, and are so durable that they're water-resistant.
For the Man Who Loves the Beach
Gift him some stylish sunnies that will protect him from the UV rays. The lenses are anti-scratch, anti-sweat, and, most importantly, easy to remove so if he carelessly throws them in his beach bag, you know they'll hold up fine.
For the Man Who's Hard to Shop For
Everyone could use a new hoodie. Gift him this affordable option he can wear almost anywhere.
For the Man Who Just Moved
Replace the bar soap in his bathroom with this earthy duo. Scented with eucalyptus, magnolia, and wet wood, the soap cleanses and moisturizes with vitamin E and hyaluronic acid while the cream seals hydration in.
For the Man Who's a Pro in the Kitchen
Anyone who knows their way around the kitchen probably has this kitchen torch on their wish list. Spice up his cooking with this easy-to-use, adjustable, and refillable torch made for easily searing and toasting meals.
For the Man Who Loves to Binge-watch
Gift the cinephile in your life this mini-projector they can take on the go. It has two and a half hours of battery life and can be used indoors and outdoors.
For the Man Who Loves Tech
No messy wires here. He can stack, store, and charge everything Apple in this neat little case.
For the Aspiring Photographer
This instant camera comes with batteries, a hand strap, and more, so he can start shooting right away.
For the Man Who Needs a Skin-Care Routine
This skin-care kit has everything he needs to replace whatever three-in-one he's currently using. He can gently cleanse with the cult-fave Superfood cleanser, revitalize his skin with the caffeine-infused vitamin C serum, and seal it all with the whipped moisturizer.
For the Man Who Wants to Be a Little Fancier
Photo: Retailer
A pocket square can be a daunting sartorial addition for the uninitiated. Ease the process with this simple but elegant linen square.
For the Man Who's a Minimalist
Upgrade his love for the basic tee with this 100 percent cotton, graphic-print shirt from Soho favorite Saturdays NYC.
For the Man Who Needs the Essentials
You can't go wrong with classic cashmere. It's minimal and warm, and it matches almost everything.
For the Man Who Takes His Beer Seriously
Impress him and his guests with this set of modern beer glasses that are too cool to be tucked away in a cabinet.
For the Man With a Cold Head
A Uniqlo best seller for a reason. This knitted beanie is made of the brand's super-warm Heattech yarn and will remain a winter-wardrobe staple for years. It comes in four neutral tones that will match all his winterwear.
For the Man With a Bulky Wallet
It holds everything he needs and nothing he doesn't. His vaxx card may not fit, but neither will any miscellaneous receipts and papers that tend to pile up. We'll call that a win.
For the Man Who Needs to Learn How to Cook
Well worth the hype, this affordable Ninja will have him Googling air-fryer recipes all holiday break.
For the Man Who Takes His Cocktails Seriously
This set comes with a shaker, jigger glass, strainer, and bar spoon, so he can whip up the perfect old-fashioned or martini.
For the Man Who's Always Chill
A tee in relaxing olive green to match his cool, calm, and collected personality.
For the Man in Your Bed
He might not buy fancy underwear for himself, but he'll appreciate having someone else buy it for him. These Tom Ford boxer briefs are made of stretchy cotton jersey but won't lose their shape.
Another Stylish Sneaker Option
Fresh white sneakers are the safest bet there is. They're comfy, classic, stylish, and work well with anything.
For the Man Who Uses Your Body-Care Products
Gift him his own. This trio includes a moisturizing soap bar with nourishing oatmeal, body wash with cocoa and shea butters, and a whipped body butter for smooth, soft skin.
For the Fancy Businessman
If suits are a regular part of his 9-to-5 and his 5-to-9, gift him these minimal and understated cuff links. Made of sterling silver, they'll be a staple for years.
For the Outdoorsy Man Who Already Has a Good Backpack
Sorel's boots are made to withstand long hikes, but they don't sacrifice style.
For the Gadget-Loving Man
This handy device will both charge and sanitize a phone — so he'll never have to be reminded to wipe it down.
For the Man Who's Ahead of the Trends
He probably already has these Clarks Wallabees on his list, but even if he doesn't, he'll be thrilled to get these boots, which are poised to be the next men's status shoe.
For the Sporty Man
Ease his sore muscles with this handheld massage gun. It features multiple heads and speeds that'll soothe knotted backs.
For the Man Who Appreciates Comfort
This serious upgrade on loungewear is a blend of cotton for a soft, plush feel. The luxe coat is made of recycled materials and is easy to wash at home. It's also gender-neutral, so we don't blame you for borrowing it.
This article was originally published November 10, 2021. If you buy something through our links, New York may earn an affiliate commission.