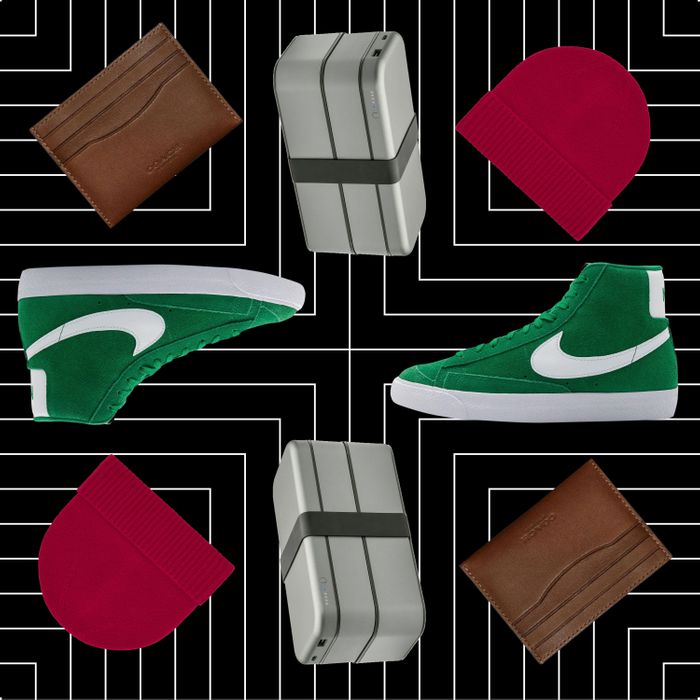 Photo-Illustration: The Cut. Photos: Retailers
So you need to buy a man a gift, and you're stumped. Maybe you haven't known him for long and you're not sure of his taste; maybe you've been dating him for a decade and you've run out of creative ideas. Maybe it's your dad, because we all know dads are impossible to shop for. Regardless of the man or the occasion, here are 35 of the best gifts for men, from a hat he'll actually wear to a high-quality speaker you can buy on Amazon for under $200.
For the Man Who Takes His Coffee Seriously
This best-selling pour-over comes with a filter built in. If he's going out of his way every day to get "the only decent coffee in [insert city here]," he needs this for his own sake.
For the Man Who Loves Tech
No messy wires here. He can stack, store, and charge everything Apple in this neat little case.
For the Aspiring Photographer
Not only do you get a camera, but it's bundled with film, a travel case, and more, so he can start shooting right away.
For the Man Who Can't Wait to See House of Gucci
Not for the shy, these chunky dad sneakers are emblazoned with the Gucci logo, so they'll make a statement no matter what he wears.
For the Stylish Man
This minimal but stylish cap is also made from a winter-appropriate blend of wool and flannel.
For the Man Who Needs A Skincare Routine
This everything skincare kit will replace whatever 3-in-1 he's currently using.
For the Man Who Wants to Be a Little Fancier
Photo: Retailer
A pocket square can be a daunting sartorial addition for the uninitiated. Ease the process with this simple but elegant linen square.
For the Man Who's a Minimalist
An upgrade on the basic tee, this graphic-print shirt from streetwear brand Carrots is made of 100 percent cotton for everyday wear.
For the Man Who Needs the Essentials
Photo: Retailer
This scarf from Daily Paper is made from stretchy, soft cotton. It's minimal and warm and matches almost everything.
For the Man Who Takes His Beer Seriously
Impress him and his guests with this set of modern beer glasses that are too cool to be tucked away in a cabinet.
For the Man Who's Always Wearing Sweats
Photo: Retailer
Upgrade his everyday sweats with this pair in a cashmere-wool blend he can easily dress up or down.
For the Man Who Loves the Vintage Look
Photo: Retailer
Stylish without being too trendy, these retro pine-green suede sneakers are the pop of color his wardrobe needs. They'll pair just as well with jeans and a button-down as they will with sweats and a tee.
For the Man With a Cold Head
Classic for a reason, this knitted beanie made of supersoft cashmere will remain a winter-wardrobe staple for years. It comes in nine colors, so picky shoppers can grab a neutral tone or an offbeat hue.
For the Man With a Bulky Wallet
It holds everything he needs and nothing he doesn't. His vaxx card may not fit, but neither will any miscellaneous receipts and papers that tend to pile up. We'll call that a win.
For the Sophisticated Man
Ralph's Club, the new men's fragrance from Ralph Lauren, is a sensual, woody scent crafted exclusively from the highest-quality natural ingredients. Sleek, sophisticated, and stylish.
For the Man Who Needs to Learn How to Cook
Well worth the hype, this affordable Ninja will have him Googling air-fryer recipes all holiday break.
For the Man Who Takes His Cocktails Seriously
This set comes with a shaker, jigger glass, strainer, and bar spoon, so he can whip up the perfect old-fashioned or martini.
For the Man Who Hates Pants
These classic sweats are great for the active guy. And when paired with the right sneaker and a T-shirt, they'll still look pulled-together.
For the Man Who's Now a Bread Head
The Bronx-born culinary collective Ghetto Gastro collaborated with the kitchenware brand Crux on a stylish line of cooking implements. If he hopped on the bread train since the beginning of lockdown, this machine will make the process a whole lot easier with 15 preset programs, two loaf sizes, and three crust colors.
For the Man Who Wants to Look Like Steve McQueen
Warby Parker aviators are a good gift for people who spend a lot of time in the sun, people who like the '60s, people who want to support a company that does some good in the world, and pretty much anyone in between.
For the Man Who's Always Chill
A tee in relaxing olive green to match his cool, calm, and collected personality.
For the Man in Your Bed
He might not buy fancy underwear for himself, but he'll appreciate having someone else buy it for him.
For the Man Who'd Like to Be Slightly More Stylish
These are great for a guy who wants to add just a hint of streetwear pizzazz to his outfit but, you know, not too much.
Another Stylish Sneaker Option
Fresh white sneakers are the safest bet there is. They're comfy, classic, stylish, and work well with anything.
For the Man With a Lot of Stuff
Roomy enough to fit everything he insists on lugging around.
For the Man Who Uses One Soap for Everything
Help him graduate from three-in-one soap with this set of three bath products.
For the Fancy Businessman
Understated sterling-silver cuff links will last him for years.
For the Outdoorsy Man Who Already Has a Good Backpack
Sorel's boots are made to withstand long hikes, but they don't sacrifice style.
For the Man Who's Hard to Shop For
Everyone could use a new hoodie. Choose from several color options to match his personal style.
For the Man Who's Ahead of the Trends
He probably already has these Clarks Wallabees on his list, but even if he doesn't, he'll be thrilled to get these boots, which are poised to be the next men's status shoe.
For the Gadget-Loving Man
This handy device will both charge and sanitize a phone — so he'll never have to be reminded to wipe it down.
For the Man Who Loves Music
These retro-inspired Marshall speakers deliver high-quality sound, can be carried from room to room, and are so durable that they're water-resistant.
For the Sporty Man
Ease his sore muscles with this handheld massage gun. It features multiple heads and speeds that'll soothe knotted backs.
For the Man on the Naughty List
A satin pajama set from Playboy would do the trick.
For the Fancy Man
A black belt goes with everything, but the hint of Burberry stripes is a subtle flex that a fancy guy will enjoy.