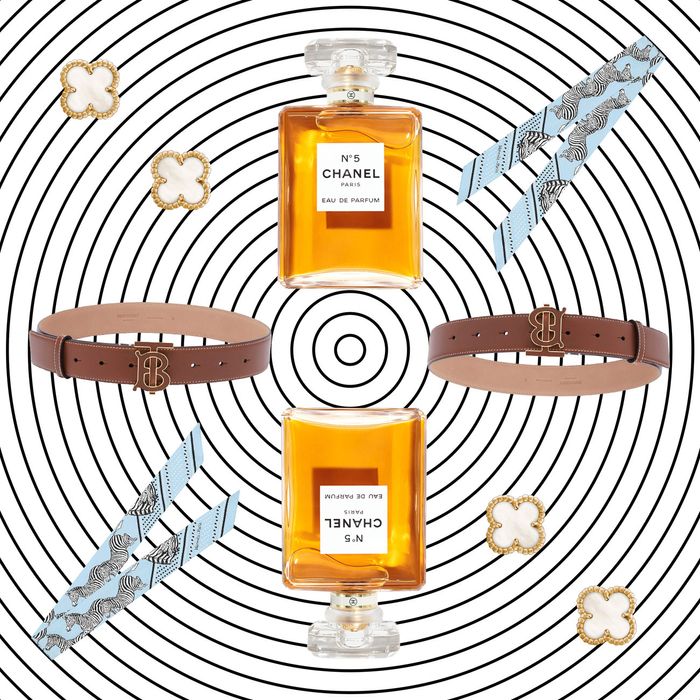 There are many types of moms, but arguably the hardest to shop for is the Fashion Mom — you know, the kind who owns a bookcase full of Vogue back issues and likes to kick back at the end of a long day by scrolling Matches. Below, we've curated 21 Mother's Day gifts for the Fashion Moms in your life, from a dreamy Givenchy shirtdress to a classic Chanel fragrance. They come in all prices, but we've got a budget-minded list here too.
For the Chef Mom Who Serves Looks
Even if she has a mandoline, a sous-vide, and an immersion blender, she probably doesn't have pasta and an apron from Dolce & Gabbana.
For the Mom Who's a Boss
A sharp silk blouse from Vince is something any boss mom will appreciate.
Available in sizes XS-XL.
For the Mom Who Always Smells Nice
It doesn't get richer than Chanel's classic scent, which is both floral and citrusy.
For the Mom Who Loves Heritage Labels
You can't go wrong with an Hermès silk scarf.
For the Sweetheart Mom
If you've ever described your mom as "just precious" or "the absolute sweetest," this necklace is a good fit.
For the Mom Who Is Desperate for Summer
Now that we're all sheltering in place, Birkenstock's recent evolution to fashion shoe makes more sense than ever.
Available in sizes 5-9.
For the Mom-to-Be
No matter how far along she is, she'll glow in this flow-y emerald dress.
Available in sizes 0–3.
For the Lady Who Lunches
The pearl-silver combination makes this bracelet feel like it was lifted from Audrey Hepburn's jewelry box.
For the Mom Who Loves Logos
Last summer, Burberry added a T for Thomas — Mr. Burberry's first name — to its logo, updating it for the first time in 20 years.
Available in sizes XS–L.
For the Mom Who Misses Walks in the Park
A spritz of this blend of lily of the valley and pear — floral and fruity! — will instantly transport her to a stroll outside, without the pollen.
For the Mom Who Wants the Perfect White Tee
An elevated version of a staple (and it's on sale!).
Available in sizes XS–L.
For the Mom Who Likes to Get Noticed
The silver snake print is eye-catching from half a block away.
For the Mom Who's a Rock Star
Some moms have a secret past life where they were cooler than you. These sunglasses will be a chic reminder of those days.
For the Mom Who's a Gifted Decorator
If she takes pride in every detail of her home (or even if she doesn't), she'll appreciate a shiny centerpiece.
For the Mom Who Appreciates the Finer Things
The only act more decadent than moisturizing your face with high-end skin cream La Mer is moisturizing your body with it (something J.Lo is said to do).
For the Mom Who's a Free Spirit
These sandals can be dressed up or down. The subtly bohemian leather flower adds as much personality as a great heel — but it's a lot more comfortable.
Available in sizes 5-11.
For the Mom Who Loves to Soak Up the Sun
A lightweight sun hat will keep her comfortable and protected. Plus, the ribbon tie will keep it in place.
Available in sizes S-L.
For the Fearless Mom
This stud-inspired ring from Cartier has an edge.
For the Mom Who Loves Tailoring
A Givenchy shirtdress is a statement piece that whispers instead of shouts. And it's something she'll wear for years and years.
Available in sizes 2-6.
For the Minimalist Mom
With its minimalist aesthetic, this bag is for those moms who always keep things clean and tidy.
For the Super-Feminine Mom
Because your mom truly deserves the best things in life.
If you buy something through our links, New York may earn an affiliate commission.