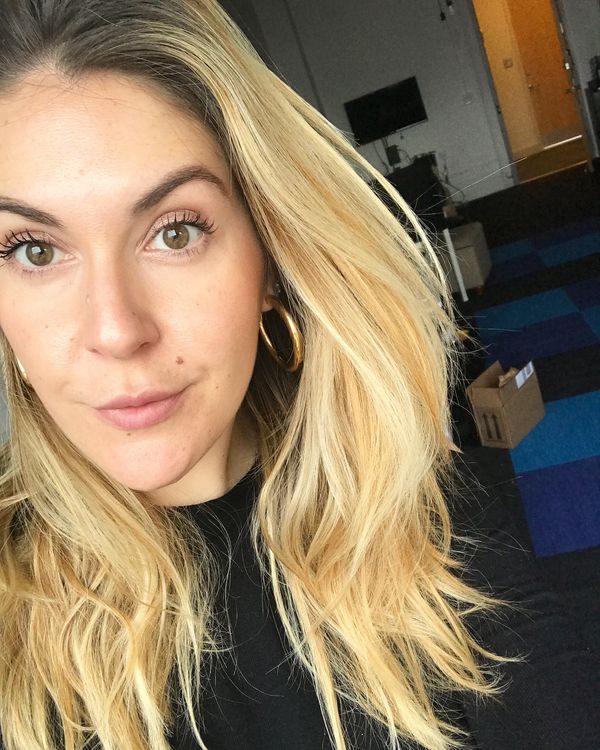 Want more skin care? Join our Facebook Group, the Beauty of It All.
Rachel Liverman comes from a long line of estheticians. Her grandmother, Catherine Hinds, founded the first accredited esthetics school in the country, the Catherine Hinds Institute of Esthetics, in 1979. Forty years later, Liverman is heading up her own skin-care destination, Glowbar, alongside co-founder Neha Govindraj. The 30-minute facial Tribeca spot follows the same philosophy the CEO applies to her own skin-care routine: Keep it simple. "So many people are harming their skin by using too many products that are stripping their skin and leaving them feeling sensitive," explains Liverman. "In reality, the majority of us do not have sensitive skin."
Liverman concentrates on four areas in her own routine: Cleansing, toning, moisturizing, and protecting, all of which she learned from her grandmother and mom's straightforward approach to skin care.
She offers one piece of advice: "Believe your mom when she says to wear your SPF! Not only does the sun speed up fine lines, but it also causes pigmentation. When you turn 30, it presents itself, and it can be really hard to monitor." Read on for her "miracle serum" that avoids the retinol uglies, her favorite drugstore moisturizer, and her favorite $9 fragrance-free toner.
Cleanse
"My philosophy is that anyone over 25 or with dry skin should be using a cream cleanser, because it's less stripping. I am partial to this one by iS Clinical. It's got the best milky consistency, isn't hard to get off, and the story behind it makes me proud to use it. They created Cream Cleanser, (botanically formulated), which does not need water to be removed, for the troops, so they can take care of their skin even when they don't have access to water. Although you don't need water to remove it, it's a personal preference for me to still do so."
Tone
"I started using this as my morning toner over a year ago because I knew I didn't need anything strong. I don't wear a lot of makeup so my cleanser does most of the work. It is important to me that my toner is alcohol-free so as to not take away any hydration from the skin. My skin feels instantly refreshed thanks to the aloe in the formula. Also, I love that this is fragrance-free because I am super, super sensitive to scents."
Moisturize
"This is my favorite part of my routine because I think this is really what is making all the difference in my skin's health. I apply two pumps of Environ's miracle serum, Environ C-quence Serum 4. The thing I love most about Environ is their step-up system, meaning you start with their lowest dosage of vitamin A (which avoids the retinol uglies) and slowly increase to their top tier, which is level 5. I am now on level 4 in the C-quence serum line, and my skin has never looked better. My fine lines have been at bay so much so that I haven't gotten Botox in over nine months. My skin tone and texture is also drastically improved, and I rarely get a pimple."
"Typically, I just use the Environ Youth serum since it doubles as a moisturizer, but when I know I need a bit more moisturizer, I use Cetaphil's hydrating facial hydration lotion, which I'm a huge fan of. Cetaphil is one of my favorite drugstore brands because it is gentle, has over 60 years of research and development behind it. Plus, it is often times dermatologist-recommended (and it doesn't cost a fortune!)."
"My friend posted two years ago that her mom has been using this eye cream since she was 30 and doesn't look a day over it since. That was a pretty compelling testimonial so I gave it a shot. Ever since, I've been really into it because of it's creamy texture, which absorbs really well. There is nothing I hate more than a product that doesn't play nice with others and this is wonderful. I put my concealer over it and it doesn't pill!"
SPF
"Elta MD is the absolute best SPF I have ever used. I use the tinted version of their UV daily because I like any help I can get with my complexion. It doesn't add any color at all but just helps eliminate any redness I may have. I love that it is oil-free and non-comedogenic, meaning it won't clog my pores. It is great for anyone but especially wonderful for people who are acne and breakout prone. Lastly, it plays well my makeup and tinted moisturizer. Seriously, a 10/10. Wearing SPF is so important to me because I have melanoma in my family, but also because one in five people get diagnosed with skin cancer by the time they are 70. It's so important that myself and Glowbar raise awareness about this and encourage each other to wear SPF 365 days a year."
If you buy something through our links, New York may earn an affiliate commission.