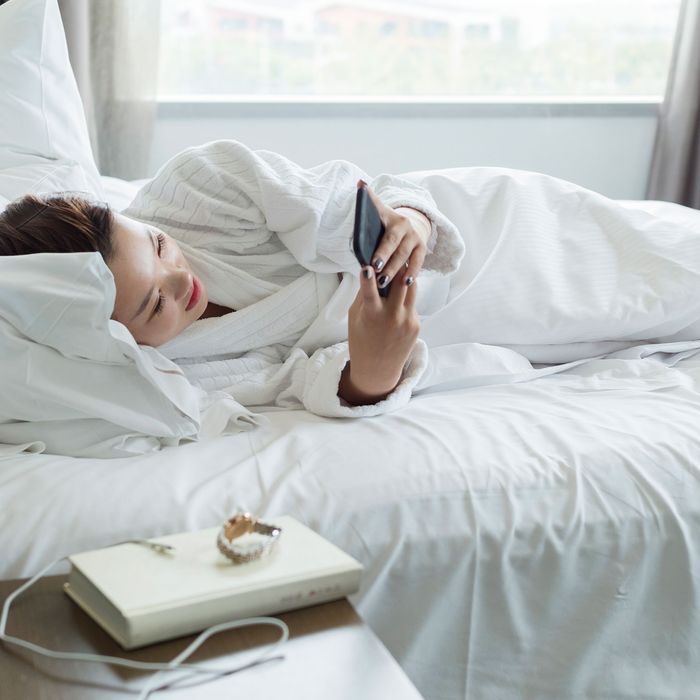 Sometimes you want to send the woman you love (or just like a lot, or just think is hot) an adorable "good morning" text, but the creative juices just aren't flowing. It's okay, we understand, and we have you covered. Here, 32 sweet options for a "good morning" text your lady is going to appreciate.
Romantic Texts
1. Good morning, my love. Do you remember any of your dreams?
2. I hope you're feeling more well rested than I am this morning. I couldn't fall asleep last night because I was thinking about how much I love you.
3. Good morning, baby. I know it's raining outside, but my head is full of sunshine thinking about you.
4. You know in the first Sex and the City movie, how Big had second thoughts about getting married to Carrie after the conversation he had with Miranda? I would never do that to you. He was a coward. Good morning.
5. I hope you have a great day today, baby. You deserve all the best the world has to offer.
6. I can't believe you put up with me on top of everything else you have to deal with as a woman in this world. It's insane. I'm not sure why you do it, but thank you and good morning.
7. I wish I could have your period for you just once. Or, actually — no, I wish I could take it over forever. I'm sorry, baby. Have a good day.
8. Good morning, babe. I can't believe you exist. You are more than I could have ever hoped for, and I can't believe I get to know you and love you.
9. Babe, you know what I was thinking about last night while I couldn't fall asleep? The first time we met. I had no idea my life was about to change forever. You are wonderful.
10. I love you.
Sweet and Funny Texts
11. Knock-knock. (You say, "Who's there?") Your sweet love. (You say, "Your sweet love who?") Your sweet love: Me! Good morning!
12. You know what I can't stop thinking about this morning? How I wish I could have stayed up with you last night and had a Real Housewives of New York marathon.
13. Babe, I wish I was there to wake you up with breakfast in bed. I'd hold a cinnamon roll right under your nose and yell, "WAKE UP!!!!!" Just kidding. I would do it normal. Good morning :)
14. Beep boop beep boop. That's "Good morning, I love you" in computer language. Or wait, no — it's, "Beep boop beep beep." My bad :) Anyway, beep boop beep beep.
15. Did you know that when a male penguin falls in love with a female penguin, he finds her the smoothest pebble he can to present to her as a gift? I read that somewhere. If I were a penguin, I'd find the smoothest pebble on earth to give to you. Good morning.
Song-Lyric Texts
16. "Good morning, baby. I thank God I'm alive to greet you with the sun." (Wale, "The Bloom")
17. "I've got nothing to say, but it's okay. Good morning, good morning." (The Beatles, "Good Morning Good Morning")
18. "Good morning, good morning, love. It's my favorite love song. I waited all night long for morning. Good morning, love." (John Legend, "Good Morning")
19. "Good morning, starshine. The earth says hello." (Oliver, "Good Morning Starshine.")
20. "You lift my heart when I fly. Good morning, good night. It's a brave new world dawning, a lover's fantasy." (Janelle Monáe, "Look Into My Eyes")
21. "Good morning. Welcome to the thing called life. Good morning. Don't you let it pass you by." (Will.i.am, "Good Morning")
22. "Good morning, miss." (Madness, "House of Fun")
23. "Good morning. I love you. You're singing. I see you. You're smiling, and lying, your hair in a spiral." (Pinegrove, "Spiral")
24. "They call me Doctor Worm. Good morning. How are you? I'm Doctor Worm." (They Might Be Giants, "Doctor Worm")
25. "Good morning to you. I hope you're feeling better, baby — thinking of me while you are far away." (The Zombies, "Care of Cell 44")
26. "Good morning, good morning. Sunbeams will soon smile through. Good morning, my darling, to you." ("Good Morning," from Singin' in the Rain)
27. "Good, good morning. So good to see you weren't just a dream of mine." (Grateful Dead, "Easy to Love You")
Quotation Texts
28. "I know I am in love with you because my reality is finally better than my dreams." —Dr. Seuss
29. "Write it on your heart that every day is the best day in the year." —Ralph Waldo Emerson
30. "Morning without you is a dwindled dawn." —Emily Dickinson
31. "I swear I couldn't love you more than I do right now, and yet I know I will tomorrow." —Leo Christopher
32. "It is a serious thing, just to be alive on this fresh morning, in this broken world." —Mary Oliver