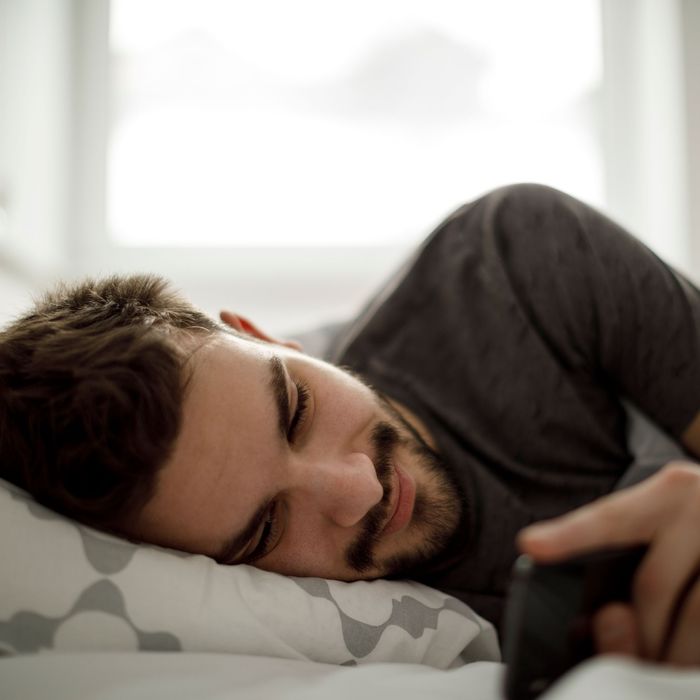 Photo: damircudic/Getty Images
Do you want to send a special guy a romantic good-morning text, but you're stumped about what to say? So many of us have been there. No need to worry, though; we've put together a bunch of great options that are sure to get him smiling. Just choose which one speaks to you the most, and get texting.
Romantic Texts
1. Even though we can't be together, I'm happy I get to be with you every night in my dreams.
2. I can't wait to wake up in your arms again.
3. I love you more with every passing day.
4. Wake up, babe, it's time to greet the day knowing that you have a fantastic partner (me) who thinks you are just the greatest.
5. Good morning to the handsomest man alive.
6. I'm so grateful that I get to wake up and know that I have you in my life.
7. Good morning, my sweet love. I hope you have the great day you deserve.
8. I woke up thinking about how lucky it is that we've found each other.
9. I can't wait to see you later.
10. I stayed up too late watching reality TV, but watching it made me particularly grateful to have such a calm, nurturing, and supportive partner. Thank you and good morning.
11. Good morning, you're hot.
12. I'm going to have a cup of coffee soon and I'm looking forward to it, but I wish I were having it with you.
13. I wish you were here. I would make cinnamon rolls (if I had the ingredients).
14. You are my favorite man. Try to remember that all day.
15. I wish we could hang out today. Maybe you should quit your job and just hang out with me all day every day for the rest of your life?
16. It might be raining outside, my love, but you fill my heart with sunshine.
17. Good morning, babe. Please have a good breakfast.
18. I wish I were there to hit the snooze button with you.
19. Wake up, baby. The sun is shining, the birds are singing, and you are hot!
20. Just want to say good morning and I love you.
Funny Texts
21. Good morning, babe. I wish you were here (so you could make me coffee).
22. Who has two thumbs and the power to teleport into your bed? I don't know. Not me, unfortunately!
23. Babe I miss you so much this morning that I almost want to listen to an episode of your podcast.
24. Babe, I want to break up. Your morning routine. With this sweet text! I love you!
25. Knock knock. (Who's there.) Me. (Me who?) Me, THE PERSON YOU DATE, DUH, GOOD MORNING!
26. Did you know that seahorses are monogamous with their life partners? So cute. I'm glad you and I are like seahorses. (RIGHT?)
27. Babe, if you were here, I'd make you whatever breakfast you wanted as long as it was a bowl of cereal.
28. Are you tired? Because you've been running through my mind all night and also it's very early in the morning, I hope this text didn't wake you up.
29. Someday we'll be together. Until then, here is a nude photo. Oops, sorry. It's not sending. Hold on. Wait. Okay, did it work? Hmm. No. Okay, well, anyway. Good morning!
30. BEEP BEEP. It's a good morning delivery! BEEP BEEP BEEP. One extra large good morning for you, hot and fresh!
Quotation Texts
31. "I love you." "I know." — Star Wars V: The Empire Strikes Back
32. "I love you and I like you." — Parks & Recreation
33. "I wish I knew how to quit you." — Brokeback Mountain
34. "Nothing can ever change this love I have for you." — Sam Cooke
35. "To get the full value of joy you must have someone to divide it with." — Mark Twain
36. "I would rather share one lifetime with you than face all the ages of this world alone." — J.R.R Tolkien, The Lord of the Rings: The Fellowship of the Ring
37. "The best and most beautiful things in this world cannot be seen or even heard, but must be felt with the heart." — Helen Keller
38. "I wanna tell the world about you just so they can get jealous." — Future, "Turn On the Lights"
39. "The best thing to hold onto in life is each other." — Audrey Hepburn
40. "I wanna be on you." — Anchorman
41. "Love recognizes no barriers. It jumps hurdles, leaps fences, penetrates walls to arrive at its destination full of hope." — Maya Angelou
42. "Morning without you is a dwindled dawn." —Emily Dickinson