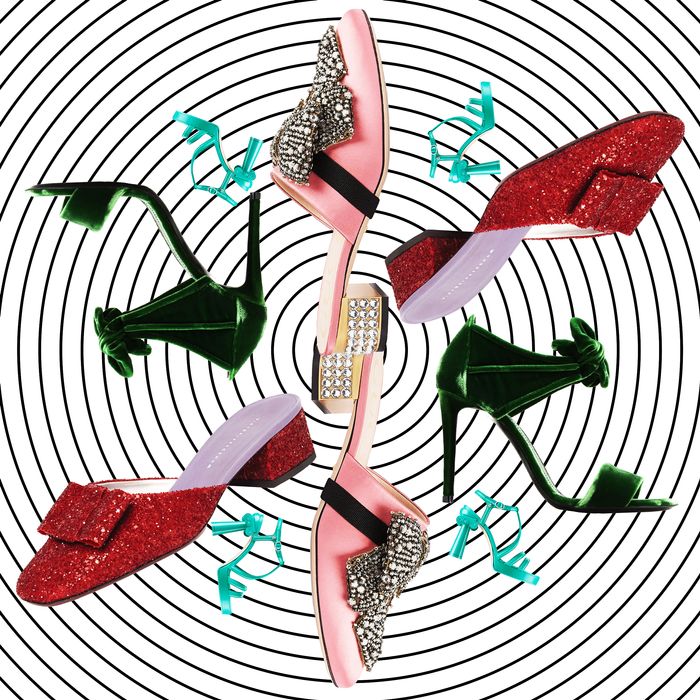 As far as over-the-top gifts go, you can't beat a pair of stunning shoes. The feeling you get when you unwrap a crisp box and gently peel back the tissue paper to reveal the heels of your dreams — well, there's a reason it's a movie cliche. Of course, dream shoes require a dream budget, but ogling is free. With that in mind, come window shop with us as we scroll through some of the most deliciously fancy shoes the internet has to offer.
Between the rich velvet in two colors and the streams of rhinestones, these might be the most opulent shoes you can actually dance in.
Original Price: $780
Because You Love Rhinestones
Even the biggest color-phobe can appreciate these cheerful rainbow dots.
In New York, it's puffer-body season, but these would look great with a caftan on a yacht somewhere warm.
A Classic Pair of Party Sandals
Wear them to holiday parties for years to come.
Because Who Doesn't Want Ruby Red Slippers?
Perfect for clicking those heels while using Kira Kira.
Combat boots are always cool, but white ones with an asymmetric black lace that goes up the side are even cooler.
Emerald green velvet will still look striking well after the holidays are over.
Leave it to Céline to come up with a slingback that doesn't feel corporate.
If You Love Pretty Things
It doesn't get more lovely than pearls in a sweet bow.
These have a square toe and exaggerated tongue that are far more dramatic than your standard classic heels.
For the Cowboy-Curious City Slicker
The graphic white-and-pink details aren't exactly the stuff of spaghetti Westerns.
Should you want to simplify these pink mules, the giant bow can slip off.
The Influencer-Approved Pair
Because you love deep diving through Instagram shoe hashtags.
When You Care Most About Impressing Yourself
Sometimes you want to look down and go damn, I look good.
The Luxurious Classic Choice
If you have the cash to drop and want a pair of sensible boots in delicious leather, please buy these. You won't regret it.
Because Shoes Should Be Fun
And no one has more fun than Karl Lagerfeld.
If you buy something through our links, New York may earn an affiliate commission.