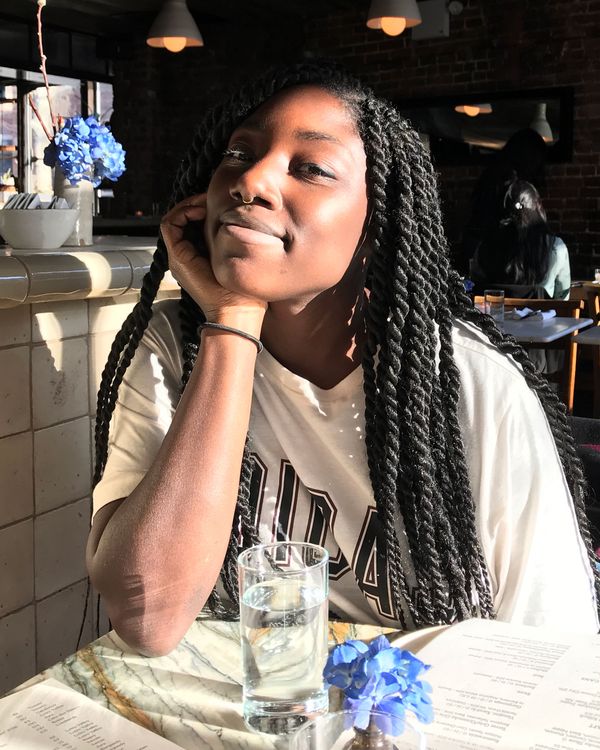 Photo: Courtesy of Nikita Richardson
Want more skin care? Join our Facebook Group, the Beauty of It All.
Nikita Richardson is the first to admit that when it comes to her skin, she's luckier than most. The food writer, who works with the Cut's sister-site Grub Street, has the type of blemish-free complexion that causes strangers to stop her on the street. But Richardson's routine is focused on fighting eczema and dermatillomania, also known as skin-picking disorder.
"[Dermatillomania] comes from an obsessive-compulsive desire to have smooth skin, which means you end up picking off a scab for temporary relief, and then picking it again when a new scab forms," Richardson says. This can cause dark marks from hyperpigmentation. Her best piece of advice is to moisturize and then moisturize some more: "A surgeon once told me you should never let scars dry out. Keep them moisturized, leave them alone, and they'll fade on their own." And a therapist turned her on to the cardinal rule of skin care: Prevention is better than a cure.
Below, a look at the lip balm she uses to ensure her lips "never, ever" dry out, the drugstore moisturizer that generates random compliments from strangers, and her go-to Trader Joe's sheet mask.
"A few years ago, I walked into a Sephora and this nice lady gave me all these moisturizers to try out (I have no idea what the moisturizers were anymore). I came to enjoy the routine of moisturizing after I brush my teeth in the morning, but I wasn't going to pay an arm and a leg to do it. So, I use this stuff, and it took my skin from really great to fantastic by evening out my skin tone and playing up my skin's natural highlights. All those random compliments from strangers started after I started moisturizing."
"I've always wanted to be the type of person who put Pond's cold cream on before bed every night. Pond's just seems very adult to me, but I think I'm too young and *shrug emoji*. The B3 in this helps prevent water loss so it keeps your face hydrated. I occasionally put this on at night because I'm not as serious about it as I am about the daily day moisturizer."
"Surprise, surprise! TJ's makes a bomb mask that smells like cucumbers. It has hyaluronic acid in it for moisture. Full disclosure: I recently had a group of friends wear them during a hang out and they all found it to be really harsh, but I can take the tingle. The next day, my skin glows. I probably use this mask every month or two."
"My friend Amelia, who is the coolest mom I know, has a tattoo sleeve and put me onto using high SPF sunscreen to protect my 11 tattoos, seven of which are regularly exposed to sunlight. So during the summer, I spray this on every single morning before I leave. It's turned me into the rare black person who brings sunscreen to the beach and yells at her fair-skinned friends about putting it on. I'm not trying to look wrinkled out in these streets! (Also, don't smoke!)"
"I randomly picked this up in CVS a few years ago and I'M NEVER GOING BACK. It is so thick and rich and lasts for hours. I keep one on my nightstand and one in my bag at all times. I've pretty much become an evangelist for this stuff and will tell anyone who listens about its magical properties. There are other versions of this out there, like in a tin can, but get this one specifically."
Photo: Courtesy of Glossier
"The whole no-makeup makeup movement really worked out for me, because I'm scared of putting on a lot of makeup and messing up a good thing. So, on the rare occasion I wear a 'full face,' my makeup routine consists of an empty tube of brow gel, mascara, liquid eyeliner, and Vaseline lip therapy. And sometimes, if I'm really feeling myself, I'll use this lightweight concealer in shade G2 as a faux highlighter because sparkly highlighter is too much for me. This makes my cheekbones and under eye area glow a little."
"TJ's back at it again! As a kid, I suffered from eczema. Then it went away. Then it returned with a vengeance the winter before last. I almost died of itchiness. But I found this and I kid you not, it cured my eczema. I haven't had an outbreak since, and I hope I never return to that horrible place again. I always put this on right after my showers, which I keep short and to the point because prolonged soaking dries my skin out. You gotta moisturize while your skin is still damp, people!"
"Until I started using these, I was really bad at removing my makeup. Now I'm not. My friend's girlfriend, who's an extremely talented makeup artist, recommended them to me and I haven't looked back."
If you buy something through our links, New York may earn an affiliate commission.