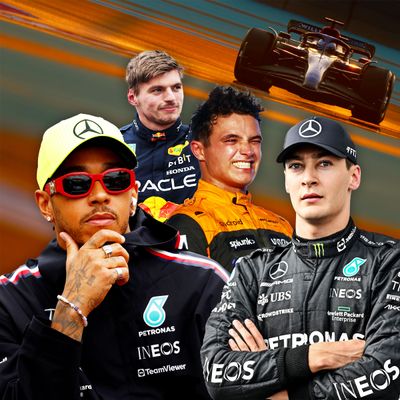 Photo-Illustration: by The Cut; Photos: Getty Images
Perhaps you've come to the messy little arena that is Formula One by way of Deux Moi blind items, which have recently increased in both frequency and Swiftian intensity. Perhaps you've arrived in the pettiest corner of the sporting world due to the short-lived rumors that strawberry jam enthusiast Shakira had taken up interest in Mercedes driver Lewis Hamilton. Or maybe you're here because you saw Anne Hathaway stun Alpha Tauri driver Daniel Ricciardo, dressed in head-to-toe Thom Browne at this year's Met Gala, by telling him and his megawatt smile that she's a really big fan. Either way, against all odds, you've suddenly found yourself Googling gleaming race cars and the men revving their engines, and I want you to know that you're not alone.
Quite the contrary, actually. You've crossed the starting line right on time.
Largely a Eurocentric institution, F1 is still wrapping its tentacles around the U.S. market, evidenced by this week's inaugural Las Vegas Grand Prix, where the sport has taken the Strip hostage by constructing a race track smack dab in the middle of the city and its towering casinos. All of which means that it is primed to welcome a horde of new American fans into its arms — and no, you don't have to be a Bud Light–slinging "woo" boy to be included in that embrace. Although the old-school F1 was marketed exclusively to men and their daddies and their granddaddies with tobacco sponsorships and the image of gruff masculinity, the psychological benefits of sports fandom belong to everyone, and that means you. Let's get that dopamine, baby.
Whether you're a Max Verstappen apologist (F1's talented deadpan villain), a team principal objectifier (there's a reason Ginger Spice married Red Bull team principal Christian Horner, okay?), or a fashion fan enchanted by the paddock's transformation into an haute couture catwalk of its own, there's a place in Formula One's starting grid for you.
Now, kindly start your engines as we take a lap around the track of elementary F1 fandom and get you suited up for your first race.
First, Know the Rules
On your path from novice to superfan, some grizzled Alfa Romeo obsessive will try to convince you that F1 is a complex and technical sport with high barriers to entry. Do not listen to the gatekeepers! There are ten different teams, each with two drivers, for a total of 20 drivers racing at any given moment (unless they crash, which for Ferrari's Charles LeClerc is to be expected). Over the course of the season, there are 23 races, each of which takes place in a storied international city like Montreal, Silverstone, or Budapest. Each Grand Prix, or race weekend, consists of three days: practice, qualifying (which determines the starting lineup for the race), and race day. After three rounds, the driver with the fastest lap around the racetrack during "quali" will start at the front of the pack, or "pole position," on race day.
On race day itself, the drivers will zoom around the track for as many laps as it takes to get to 190 miles and typically record speeds of over 220 mph. In order to "podium," drivers must place in the top three. Points are then determined based on the order the drivers finish in: First place gets 25, second gets 18, and so on. The drivers who don't make the top ten, sadly, get zilch. By the end of the season, the team with the most combined points will win the Constructors' Championship, while the driver with the most individual points will take home the Drivers' Championship. See? Relatively simple. The smaller details — pit stops, tire changes, and passing rules — will come with time as you start tuning in for live races.
Watch Netflix's Drive to Survive 
To cement your F1 fandom and familiarize yourself with the top-level story lines of the sport, start with Drive to Survive, a soap opera masquerading as a Netflix docuseries. No, really: Athletically proportionate men, each with a flaring temper and a hero complex, get pissy with one another on and off the track as they fight to claim the title of "Fastest Man on Earth" at the risk of disaster and ego death. While there are, ahem, five seasons to catch up on, that's really just child's play for those of you who guzzled down 54-plus hours of Love Island U.K. this summer, not counting the supplementary content on TikTok. The series won't get you caught up on the sport's current happenings, but it'll take you right up to the start of the ongoing season and leave you with a more-than-adequate education on the sport's warring teams and top dogs — Red Bull, Mercedes, Ferrari, etc. — and its golden boys, including Mercedes's British cupcake George Russell and McLaren's doll-faced Lando Norris, whose tightly wound curls occupy a special place in my heart.
Though not without its problems — representation of women in the show, as in the larger industry, leaves much to be desired, and the excessive wealth on display while drivers and their entourages yacht around the harbors of Monaco often come off as tone-deaf to fans who can't afford basic GP tickets — the series is masterful in its ability to drop unassuming binge-watchers into the high-octane, once-solipsistic world of motorsports. Rather than leading with a SportsCenter-style encyclopedia of stats and rankings (not to worry, F1's got a glossary of the specialist terms thrown around in live race broadcasts), the show centers all of the telltale dynamics that make sports and their Herculean athletes eternally fascinating: conflicting personalities, enduring underdogs, Achilles' heels, dorky humor, and, in my opinion, Ricciardo's effortless turn as F1's Miss Congeniality. Before you know it, words like chassis, DRS, and G-force will begin to permeate your subconsciousness, and you'll be wandering around your house commanding your partner to "push, push" through those evening chores.
Hit That Follow Button
Keeping tabs on F1's current drivers as they're whisked around the world on private jets is an integral tenet of this sport's fandom. Enter at your own risk: Administrators of both driver and team accounts have embraced internetspeak and troll culture, and they are known to bait the fangirl community with incessant thirst traps and unwanted (Taylor's Version) Instagram edits.
While driver handles function closer to pristinely packaged brand pages than off-the-cuff diaristic accounts, they more than make up for their corporatization with behind-the-scenes WAGs content, James Bond–esque fashion ads, and an abundance of melodrama. Perhaps my favorite content genre? The depressive "Did Not Finish" or "made a fatal personal error during the race" apology-tour post. Naturally, each driver account has spawned dozens of fan accounts that fill in the cracks of the official content with Bigfoot-style paparazzi shots of LeClerc — who closely resembles a designer test-tube baby — getting swarmed by teenage girls at the airport. What are you waiting for? Your up-close-and-personal parasocial relationship with beloved drivers like Alpha Tauri's firecracker Yuki Tsunoda awaits: It's just you, Yuki, and 1.8 million other adoring fans.
Dive Into the "Fangirls" Community
If DTS serves as an effective entry point to begin your fandom journey, the incisive and sometimes whimsical content erupting from the handles of female content creators will keep you securely seated in the grandstands. As creator Toni Cowan-Brown (better known on TikTok as F1 Toni) has repeatedly stated, much of the recent American fervor around the sport can be attributed to the waterfall of content from these creators, ranging from educational and historical tidbits to driver interactions, critiques of Mercedes team principal Toto Wolff's ability to take selfies, and the thriving thirst economy. Cowan-Brown in particular has consistently taken the sport's ethically ambiguous practices to task, raising questions of "sportswashing" and gender inequality as a fierce advocate for women drivers and team employees working in the paddock.
If low-stakes pandemonium is more your flavor, Two Girls 1 Formula, a digital fan community platform responsible for award-winning George Russell meme-generation, recently dropped a merch collection that features designs of Ricciardo's and Hamilton's tattoos on sweatpants, as well as a crop top allowing fans to brand themselves as a "Ricciardhoe." They also christened the upcoming Vegas GP as "Las Slaygas" and put together a reel of the drivers acting "slutty" in Singapore. For content that veers toward the lifestyle, fashion, and astrology matrix, check out SheLovesF1's Mikaela Kostaras, who champions the girly-coded slogan "being delulu is the solulu."
Scroll Through F1 TikTok
Once you've got all your content-creator follows in check, launch yourself down the rabbit hole that is F1 TikTok: largely silly content, but nonetheless endearing and often horny. The fan edits by random accounts put any branded social-team content to shame, and the more you consume, the more the algorithm will serve you clips of Tom Holland discussing his own F1 fandom, photos of Ferrari's Carlos Sainz's back muscles, girthy driver necks, heartwarming (and perhaps, homoerotic?) hugs between drivers, and Ricciardo's rendition of Y.M.C.A. Not a horrible way to waste brain cells if you ask me.
And Finally, Download These Podcasts
Got an hour to kill on your morning commute? Throw on an F1 podcast and fill your ears with the intellectual musings of "vroom, vroom" experts. Start with Donut Racing Show, a funny and informative updates show hosted by two titans of the industry, motorsports journalists Elizabeth Blackstock and Alanis King, with Nolan Sykes. Both history buffs and long part of the small but growing contingent of women journalists in the automotive industry, Blackstock and King also co-wrote Racing With Rich Energy, which chronicles the bizarre story of the British energy-drink sponsor that nearly left F1 team Haas bankrupt in 2019.
Follow that up with Choosing Sides: F1, in which F1 journalist Lily Herman takes a prospective fan from zero to Ferrari-pilled over the course of its first season. (Herman also writes the F1-culture newsletter Engine Failure, one of the most detailed offerings on the market for keeping up with the ins and outs of drivers', and their girlfriends', lives off track.) Last but not least, chase everything down with F1R the Girls, in which three F1 fanatics and best friends parse their own automotive hot takes while interviewing the likes of McLaren's Oscar Piastri and Williams's Logan Sargeant.