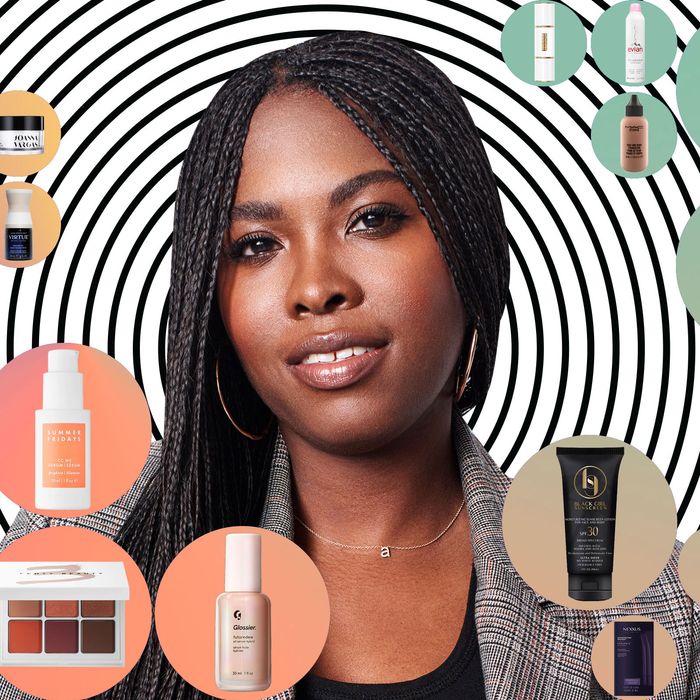 Photo: Myesha Evon; Image by the Cut
What beauty products do you buy over and over? On The Beauty Group, a Facebook community co-founded by the Cut and the Strategist, beauty obsessives chat all day long about the products they love — the ones so good, they'll make you hit that little "auto-refill" box at checkout. So we decided to turn the question to some of our favorite beauty pros.
If you were watching the Academy Awards red carpet, you probably saw former Cut cover star Zazie Beetz make her Oscars debut in a sequined black Thom Browne two piece — which the actress joked she had to be sewn into — and an Eartha Kitt–inspired hairdo. The 'do was dreamt up by celebrity hair artist Lacy Redway and was specifically chosen to highlight Beetz's natural texture.
There are "so many" different variables when choosing a hairstyle, notes Redway, whose longtime clients also include former Cut cover women Laura Harrier, Tessa Thompson, and Lucy Boynton. The type of event, climate, outfit, and angles in which the subject will be photographed are all considered, but above them, personality matters most. And the most effective way for the hair artist to bring out her clients' natural personalities lies in collaboration to "create intricate shapes or transform textures in ways we didn't typically see them on a mainstream level." Ultimately, she's just trying to celebrate everyone's individuality, and she wants her clients to weigh in. "You add value to the world and the people you're lucky enough to touch in a lifetime by being yourself," she points out.
Of course, it helps that Redway is wildly talented. The artist can see a hairstyle that inspires her and automatically know which of her clients it's best suited on. As she notes, "I can give five clients braids, curls, or an updo and they will all look different because all of their personalities are different — the art is in the details and the finishes or the looks for me."
Redway's absolute favorite beauty products, the ones she uses to the very last drop, include three hair essentials: Virtue's Healing Oil ("to help maintain my strands"), Nexxus's Keraphix Oil Treatment ("designed to help you with any hair damage you're experiencing"), and Harry Josh's Makeup & Setting Clips ("they do the job without leaving harsh creases and lines in my hair"). The self-described "creature of habit" also travels with her Fenty Beauty Snap Eyeshadow Palette, M.A.C. Foundation in shade N9, CoverGirl Sculpt Bronzer, and Pat McGrath Highlighter & Balm Duo, which she's been recently using to create a glossy-eye look as part of her goal to master eye makeup — and especially winged liner — this year.
Read about all of Redway's hair, make-up, and skincare must-haves — including the essential sunscreen for black women, the rose night cream that makes her skin feel like soft "butter," and her "tried-and-true" perfume of choice — and make sure to join The Beauty Group for exclusive discount codes to shop her picks.
If you buy something through our links, New York may earn an affiliate commission.