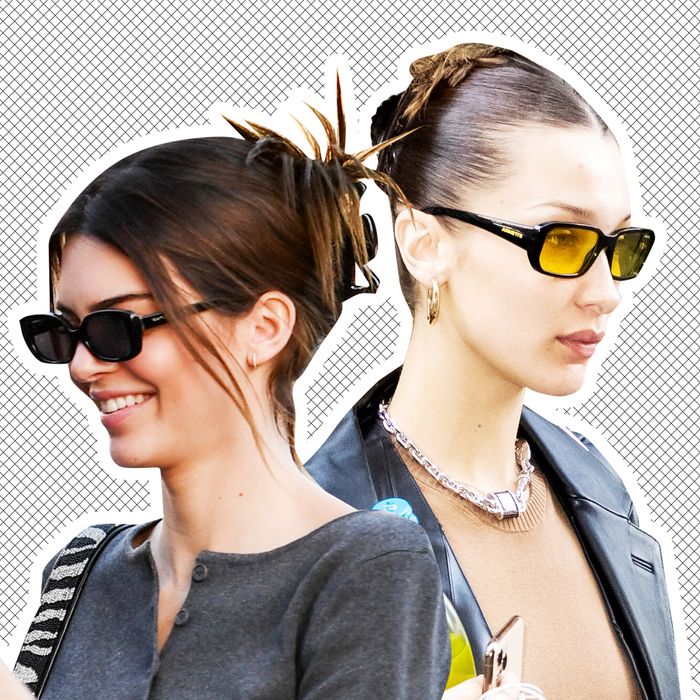 It's hard to remember now, but in the year before coronavirus struck, sticking things in your hair was a burgeoning trend. When we weren't decorating our heads, we were padding our skulls to appear more powerful. But times have changed. Now, simply rinsing your hair and leaving it wet counts as a runway style.
This shift to low-maintenance hairstyling calls for reliance on a more utilitarian hair accessory. One that can handle hair all on its own, without tiresome wrist-twisting, hair-looping, or the help of multiple clones. One that takes no more than a millisecond to affix to a head. One that Bella Hadid has been campaigning for the past two years. That hair accessory is the sensible, no-fuss claw clip.
Like every hair accessory that's ever existed, the '90s claw clip was due for a comeback, and that time is now. The masses have been grappling with longer lengths that need shaping, bangs that need trimming, and bothersome stray strands that get caught in the ear hooks of face masks. A claw clip swiftly frees your forehead, neck, and shoulders of all your grown-out, unwashed, unbrushed hair in a singular chomp that makes a pile of hair look delightfully retro.
The claw clip's softer, stretchier cousin, the scrunchie, does something similar, but claw clips are better at encouraging you to get stuff done when need be. Switching from a scrunchie to a claw clip is like changing from sweat pants into leggings. They're still casual and easygoing, but their relative rigidity is a little more motivating. The structure encourages you to do your daily doomscrolling sitting upright in a chair, rather than laying horizontally on a bed, and the sleekness encourages you to venture outside do some conversing, whether that's with a horse, or a baby who stopped for a quick selfie.
There's no wrong way to wear a claw clip. They can turn wagging ponytails into secured buns or keep your bangs in check during breezy walks. Clip one on the top of your head with a hoodie to honor Harry Style's former eye-skimming curls, which were quite fond of the accessory. Haphazardly pile all your hair into the jaws of a jumbo claw and see what happens. Let the dual rows of teeth gently scratch your scalp to feel something again.
If you can't find any of the claw clips you wore in the '90s because you stepped on them all, here are eight modern-day replicas to consider.
Classic claw clips that look just like the ones you snapped back in the day, at a price you could afford with your allowance.
This hand-cut and polished tortoise-shell clip from France looks and feels more grown-up than the plastic ones of yore.
This extra-sturdy clip teeth with extra spaced-out teeth was made for sectioning and securing thick, curly hair (and lots of it).
Perfect for bang-wrangling, turning ponytails into obedient buns, and half-up-half-down situations.
A more modern take that creates some nice negative space on fourth- and fifth-day hair.
A long, slim claw that makes even the messiest of buns look sophisticated.
An ode to your Vans that comes with long, grippy teeth and a rounded body to better fit your hair twists.