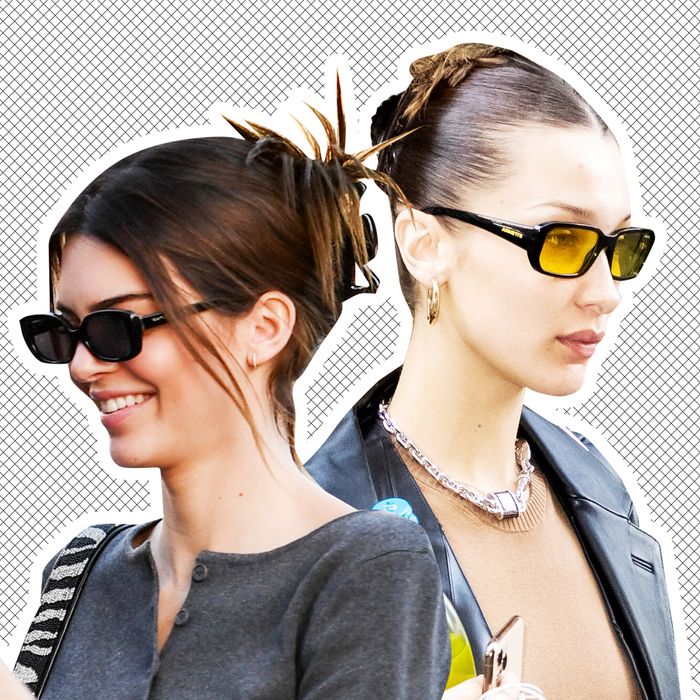 For more of the Cut's favorite fashion, beauty, and home finds, sign up for the weekly Cut Shop Newsletter.
It's hard to remember now, but in the year before the coronavirus struck, sticking things in your hair was a burgeoning trend. When we weren't decorating our heads, we were padding our skulls to appear more powerful. But times have changed. Now, simply rinsing your hair and leaving it wet counts as a runway style.
This shift to low-maintenance hairstyling calls for reliance on a more utilitarian hair accessory. One that can handle hair all on its own, without tiresome wrist twisting, hair looping, or the help of multiple clones. One that takes no more than a millisecond to affix to a head. One that Bella Hadid has been campaigning for the past two years. That hair accessory is the sensible, no-fuss claw clip.
Like every hair accessory that has ever existed, the '90s claw clip was due for a comeback, and that time is now. The masses have been grappling with longer lengths that need shaping, bangs that need trimming, and bothersome stray strands that get caught in the ear hooks of face masks. A claw clip swiftly frees your forehead, neck, and shoulders of all your grown-out, unwashed, unbrushed hair in a single chomp that makes a pile of hair look delightfully retro.
The claw clip's softer, stretchier cousin the scrunchie does something similar, but claw clips are better at encouraging you to get stuff done when need be. Switching from a scrunchie to a claw clip is like changing from sweatpants into leggings. It's still casual and easygoing, but the relative rigidity is a little more motivating. The structure encourages you to do your daily doomscrolling sitting upright in a chair, rather than lying horizontally on a bed, and the sleekness encourages you to venture outside to do some conversing, whether with a horse or a baby who stopped for a quick selfie.
There's no wrong way to wear claw clips. They can turn wagging ponytails into secured buns or keep your bangs in check during breezy walks. Clip one on the top of your head with a hoodie to honor Harry Styles's former eye-skimming curls, which were quite fond of the accessory. Haphazardly pile all your hair into the jaws of a jumbo claw and see what happens. Let the dual rows of teeth gently scratch your scalp so you can feel something again.
Not all hair claws are created equal, though. More often than not, if you're like us, your hair is just too powerful for the claw and you experience a version of the arcade claw-machine game: an empty promise of a fuss-free hairdo. To make sure that never happens (and if you can't find any claw clips you wore in the '90s because you stepped on them all), here are 19 modern-day replicas guaranteed to keep a tight grip on your locks and guaranteed to look good while doing it.
You've seen these all over TikTok and I'm here to inform you they are worth the hype. They are the perfect size to hold your desired look in place. Ours are always secured in the strap of our purses and tote bags.
A more modern take that creates some nice negative space on fourth- and fifth-day hair.
Classic claw clips that look just like the ones you snapped back in the day, at a price you could afford with your allowance.
Perfect for half-up-half-down situations.
This hand-cut and polished tortoise-shell clip from France looks and feels more grown-up than the plastic ones of yore.
I'm happy to report that it gets the job done and looks great, so if you have some extra money to spend, consider this option. Maybe it will even be discounted for Nordstrom's upcoming half-yearly sale.
This extra-sturdy clip teeth with extra spaced-out teeth was made for sectioning and securing thick, curly hair (and lots of it). Our senior fashion writer, Emilia Petrarca, swears by it.
We're still not over all things checkered.
A pack that has enough hair clips for half-dos and updos.
This Black-owned accessories label makes an array of hair clips that are both lightweight and stylish. From scrunchies to headbands, it has it all, but we're partial to these claw clips, which look great paired with your summer frocks.
Known for their innovative take on accessories, Yvmin founders Xiaoyu Zhang and Min Li have created a hair claw that looks out of this world. Since the platinum-plated brass hair clip looks like (and is) a work of art, you should consider it an investment piece.
This mega clip will easily hold all your hair (no matter how thick) and look amazing while doing it.
"This claw clip is probably one of my favorites on the market right now," says content creator Devin Arielle. "I been an Emi Jay girl for years but this clip was the icing on the cake. I am big on jewelry as an accessory of my outfits and this silver clip just adds to any outfit." It's heavyweight, making it the perfect accessory for any hairstyle and type. Need a style tip? Arielle suggests hair spraying the ends of your hair to really add to that punk element.
If you're looking to splurge and add some pizazz to your look, this mini Miu Miu clip will do the job at equal parts cute, functional, and high fashion.
"While performing my weekly SSENSE scroll last week, perusing for something I definitely don't need but really, really want, I discovered Sophie Buhai's shell-shaped claw clip. Immediately, I knew the marine-inspired acetate number had to be mine," says Marie Claire's style editor Emma Childs. "It's quirky and cute, but, most importantly, it's practical. As soon as summer hits, expect to see me strolling around downtown, dressed in something flowy and made of linen, with this beautiful piece clipping my beachy waves out of my face."
Coming in a 2-pack, these handcrafted clips from haircare brand Crown Affair are made with hair health in mind to keep hair in place without any kinks. We're imaging them for braided hairstyles, to clip at the end of pigtails, or even to hold hair back while doing your makeup.
This was the most talked about clip amongst our experts. Just like Arielle, content creator Isa Sung is a huge Emi Jay fan, especially since she loves an accessory with a sparkle. Cut Contributor Brooke LaMantia also has this clip and gets complimented on it all the time. Who doesn't love a hair accessory with their name on it?
This pack of mini-clips are perfect for keeping bangs at bay, or playing around with different hairstyles. "In light of spring coming around, there is something about tiny clips, two on each side of the head to be exact, that has me feeling girly," says Arielle. I don't know about you, but we want to give them a try.