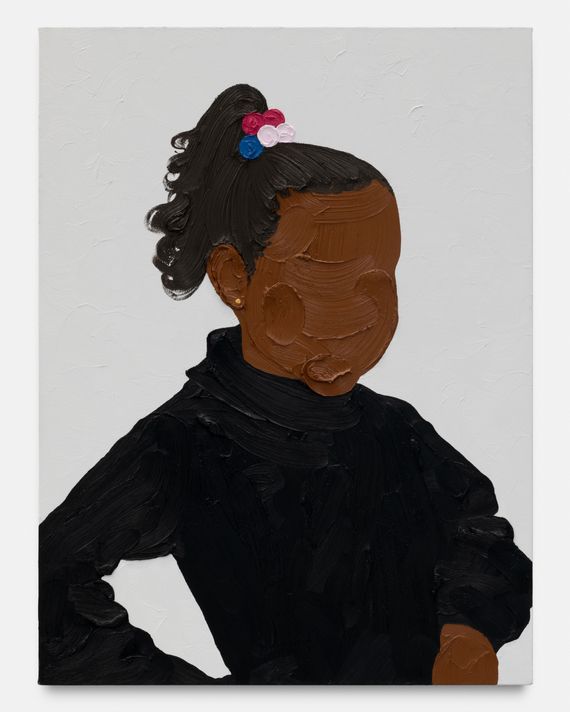 Butters,
2021; Oil on canvas.
Art: Shaina McCoy
This article was featured in One Great Story, New York's reading recommendation newsletter. Sign up here to get it nightly.
Deanna Denham Hughes still remembers the jingle that ruined her life. "Just for meeeee," she sings, drawing out the last syllable before she breaks into a self-conscious laugh. "It's like this little hip-hop beat." In the ad, for Just for Me hair relaxer, Black girls wearing big earrings rap about "body and shine" and flip their silky hair in slow motion. Denham Hughes wanted to be just like them when she was a '90s kid, and that meant she had to tame her thick, immovable Afro.
From the time Denham Hughes was 5, several times a year she would sit at the kitchen table with a towel around her neck while her mom worked Just for Me cream into her hair. Her mother, a Jamaican immigrant, was sensitive to judgment and wanted her children to be presentable. Denham Hughes didn't want to stand out either. Once, as her relaxed hair was growing out in the third grade, she wore it in two-strand twists and a classmate called her Medusa. She went back to Just for Me. The relaxer smelled like gasoline and gave her scalp a burning sensation; Denham Hughes would leave it on until the pain became unbearable. That way, she knew it was working. After her hair was rinsed and dried, she'd stare in the mirror, unable to keep her hands off her head. "I just wanted to wake up and pop out of bed like, 'Oooooh, here I aaaaam,'" she belts out in an operatic voice, throwing her arms to either side.
A natural performer, Denham Hughes can summon a cheerful mask no matter how she's feeling on the inside. Lately, she has been depressed, detached from her family, and unable to sleep after undergoing six rounds of chemotherapy for stage-three ovarian cancer. When she was first diagnosed in March 2022, Denham Hughes was confused. She had no family history of the disease. She was 33 and otherwise healthy. Why had she gotten a cancer most commonly found in postmenopausal women? A possible answer emerged in the fall. Denham Hughes was scrolling through Instagram when she saw a video of a bald woman claiming her cancer was linked to chemical hair straighteners. It sent her down a Google hole where she found articles about how relaxers are associated with increased risk of certain cancers, fibroids, and infertility. "I was betrayed," she says, wiping a tear from behind her glasses. "I shouldn't have ramifications at 33 from a product I used at 5."
Over the past 11 months, hundreds of women like Denham Hughes have been linking their health issues to hair straighteners on the heels of new research from the National Institutes of Health. In October, a study that followed 30,000 women over the course of a decade found an association between straightener use and higher rates of uterine cancer. Frequent users had a roughly 4 percent chance of getting the disease by age 70 compared with about 1.6 percent among those who had never used the products — in other words, more than double the risk. The paper's lead author, Alexandra White, an NIH epidemiologist who studies environmental risk factors for cancers, says she was surprised by the data. "In my area of research, we're used to seeing a 10 percent risk increase," she says. The study, which she wrote with five colleagues at the NIH's National Institute of Environmental Health Sciences, built on previous research that had linked hair straighteners to breast and ovarian cancers.
White's most recent study did not find a causal link, and she says it's possible her subjects developed cancer because of other factors. But her report notes that chemicals frequently found in straighteners, including parabens, phthalates, and metals, can be absorbed through the scalp. These endocrine-disrupting substances can bind to or block hormone receptors, creating imbalances in estrogen and progesterone that can lead to breast and gynecological cancers. Some straighteners also contain formaldehyde, a known carcinogen, which can be released when heat is applied in salons. Black women use relaxers at the highest rate of any group, and they are also nearly twice as likely as white women to die from uterine cancer, one of the largest racial disparities for any cancer.
Lawyers, a group more comfortable than epidemiologists with drawing definitive conclusions, saw an opportunity in White's research. Days after her report was published, Ben Crump, a high-profile civil-rights attorney in Florida, was the first to file a lawsuit claiming a client's uterine cancer had been "directly and proximately caused" by hair relaxers made by brands including L'Oréal and Strength of Nature. (A L'Oréal spokesperson said the company believes the allegations have neither legal nor scientific merit. Strength of Nature, which makes Just for Me, did not respond to requests for comment.) Crump, who does not shy away from hyperbole, called the situation a "public-health crisis" in an interview with NBC. "It's about trying to tell every Black and brown parent out there that we should not continue to try to conform to European standards of beauty by having our hair straightened with these chemicals," he said. Law firms have flooded social media with solicitations: "Curious if you're eligible to file a hair straightener lawsuit?" writes Oppenheim Law. "We offer a free quiz to help you find out."
More than 1,200 people are now suing more than a dozen cosmetics companies, alleging negligence, wrongful death, and other harms. Each plaintiff's complaint differs in the specifics — one had a double mastectomy, another underwent six months of chemotherapy only for her uterine cancer to spread to her liver — but their central allegation is the same. They claim that these brands know their relaxers contain harmful chemicals, yet rather than warn consumers, the companies deceptively highlight "natural," "botanical," and "ultranourishing" ingredients on their packaging. The case has ballooned into multi-district litigation with a growing number of plaintiffs going before one federal judge in Chicago. "We anticipate thousands more complaints to be filed," says Tiseme Zegeye, Denham Hughes's lawyer. "We will seek jury verdicts of millions of dollars in damages."
To make it easier for people to join the case, the judge recently approved a shortform complaint on which plaintiffs can tick off the products and allegations relevant to their situation. The longform complaint roots the history of hair relaxers in slavery and the Jim Crow era. Masters often gave higher social status to enslaved people with straighter locks, allowing them to work in the house rather than in the fields. In Louisiana, the lawsuit notes, texturism was codified: The Tignon Law, passed in the late 1700s, forced Black women to cover their hair with scarves "as a way of signifying they were members of the slave class, even if they were free." It became clear to Black people that "the straighter and less kinky their hair was, the better a life they could have," the complaint reads. They scrambled for solutions, like heating metal combs on stove tops to help flatten their strands. By the 1900s, manufacturers were producing the earliest of the cream relaxers to take advantage of this desperation.
More than a century later, White says more research is needed into how the ingredients in chemical hair straighteners affect the body. When I ask whether it's strange to see a case that draws actionable conclusions from her work, she answers "yes" and laughs. "I feel like this conversation is just beginning from a research perspective," she says. But for Adana Llanos, an epidemiologist at Columbia University who studies cancer, the existing research communicates clearly enough that "these products are the problem." "I do wonder, At what point do we say it's time to intervene?" she says. "The FDA regulates drugs and medical devices. We use personal-care products more than we use drugs."
The FDA does not approve cosmetics before they hit store shelves. Instead, it trusts companies to follow federal laws that require them to post safety warnings and list ingredients on personal-care products, which can't include any "poisonous or deleterious substance." But brands don't need to disclose ingredients that make up fragrances or flavors, meaning some harmful chemicals may not appear on the label. That places the burden largely on the consumer to figure out which products are safe to use. The FDA's information page about "Hair Smoothing Products That Release Formaldehyde When Heated," for example, suggests that people read the label or ask their salon professional to figure out whether a relaxer contains chemicals that could give them cancer.
In January, Denham Hughes learned that a year's worth of follow-up care for her cancer would cost almost $8,000. She paced through her house sobbing, not knowing how she would afford it without adding more work on top of her full-time job. Someone should have to pay for the fact that she might have inadvertently poisoned herself, she thought. Denham Hughes remembered seeing Facebook ads for a lawsuit against companies that make chemical hair straighteners. She searched for law firms, settling on one that connected her to a nurse right away. Later this month, Denham Hughes plans to file a complaint asking for a jury trial and unspecified damages. "I gave you not only my life but my money," she says, "and now I'm dealing with one of the worst things that can happen. You should own that."
Curiously, at the same time that health concerns about chemical hair straighteners are going mainstream, a pro-relaxer movement is growing. On TikTok, searches for #relaxersareback and #naturalnomore turn up how-to videos of women spreading petroleum jelly on their temples and combing product into sections of hair. They are defiant, posing with captions like "Creamy crack, I'm back" and trolling their critics — known as "natural warriors" or "the relaxer police" — by posting ironic trigger warnings. Influencer Courtney Monet seems to revel in the drama her pro-relaxer content stirs up. More than 4 million people watched a video she posted in which she gets her hair chemically straightened at a salon. "Imagine hating yourself so much u risk ur HEALTH for straight hair," one user commented. Monet addressed the haters in another video: "@ people leaving cancer comments i get relaxers less frequently than some of y'all drink and smoke so let's all just calm down." One beauty writer named this attitude the "F — it, it'll grow back" movement, but the backlash against natural hair is more nuanced. For those with the thickest locks, going natural is time-consuming and costly given all the products they have to apply. Some thick-haired women feel excluded, or judged for being anti-Black, if they use relaxers. A Refinery29 writer called for a "hair autonomy" movement in which Black women's choices of hairstyle carry less weight: "Whether it's kinky or straight, long or bald, does our hair have to matter so much?"
Growing up in Georgia in the 1990s, Jenny Mitchell didn't feel she had options when it came to styling her hair. Straight locks were synonymous with being "well kept." Generations of women in her family had used relaxers, so she and most of her six sisters followed suit. "Their hair was always nice and pressed," she says over Zoom from Missouri. "You want to be like your elders." The 33-year-old smiles wide when she thinks about gathering with her gaggle of siblings in the living room that turned into a salon. She remembers ripping into the Just for Me box when she was as young as 8. It came with a cassette tape of the brand's jingle, which she and her sisters would play for fun. "You're looking at the commercial, you're singing, and you're just bouncing your hair, flicking it side to side," she says. "It just made us feel good." Mitchell looks nothing like the brand's hyperfeminine poster girls now with her buzz cut, eyebrow slit, and baggy black T-shirt.
Just for Me was the introduction to hair straighteners for many young Black girls in that era. Neon block lettering on the package boasted a no-lye conditioning relaxer that was supposed to be a gentler alternative. (Research has found that no-lye formulations are not any safer.) Yet Just for Me has made some of the most toxic products available. The brand's shampoo, used to rinse out the relaxing cream, had the most harmful chemicals out of 32 personal-care products tested by Breast Cancer Prevention Partners in 2018, including four carcinogens. A study led by a Harvard epidemiologist found that childhood perms and relaxer use are also associated with getting a period at a younger age. Llanos, the Columbia epidemiologist, says the longer the exposure to relaxers, the greater the potential harm to reproductive health. "Even if the intention was not to harm young Black girls," she says, "that's what happened."
Mitchell continued to use straighteners while serving in the military throughout her 20s and after finding out she had uterine cancer in 2018. "It's not like I started smoking cigarettes and you see the warning on the label," she says. "There was never a thought of, Maybe I shouldn't. That just never crossed my mind." If she had known about the health risks, she says, it would have changed her calculation. She has always wanted kids, but her cancer treatment required a hysterectomy. "I've lost my ability to carry on my dream," she says. "That void will forever be with me." Mitchell felt blindsided a few years later when she saw a morning-news item about the link between relaxers and uterine cancer. That day, she called Ben Crump. She was the first woman in the case to come forward publicly and file a complaint.
Sierra Claiborne, another plaintiff, can't accept that biological kids may not be in her future. The 36-year-old has been getting her hair straightened since she was 12. She loved being able to switch up her look: tucking her locks in a wrap, letting them loose in braids, or tying them up in a sleek ponytail. "I think that's just the beauty of being an African American woman," she says while getting braids at a salon in Baltimore. "You can do what you want with your hair." She studied cosmetology and styled hair for six years, inhaling the fumes from the relaxers she used on other women. She never learned about toxic ingredients in school, and none of the products she used had warnings. Now Claiborne wishes she had done more research. "Had I known back then what I know now," she says, "I wouldn't have been messing with that stuff." Claiborne stopped using relaxers after her hair began falling out a few years ago. Her periods were frequent and heavy at the time; she passed clots that were almost the size of her hand. A doctor diagnosed her with endometrial cancer in 2020 and said she would need a hysterectomy. "I feel incapable," she says, "like less of a woman." She sought a second opinion in June and got the same advice but still can't bring herself to go through with the procedure. "I basically try to bury myself in work to not think about it," she says. "As a little girl, I dreamed of having a family."
Denham Hughes gave birth twice before she found out she had cancer. When I visit her Atlanta home in late July, her daughters are sprawled on the living-room couches, faces buried in their respective screens. Their mother, wearing bright-red glasses and a T-shirt from her favorite manga series, dips French-toast strips from Burger King into maple syrup. "Coming off of the cancer treatments, her diet had to change pretty significantly," her soft-spoken husband, David, chimes in. "French toast just happened to be one of those things" that makes her feel okay. It's the kind of wholesome scene that Denham Hughes finds difficult to appreciate since her diagnosis. After months of stomach pain last year, she booked a doctor's appointment. The gynecologist couldn't find her uterus at first. It showed up on a later ultrasound, blocked by a large mass. Her uterus, ovaries, Fallopian tubes, and appendix all came out in emergency surgery, leaving a big scar from her breast to her pelvis. The subsequent cycles of chemotherapy left her weak and nauseated. She poured her feelings into "chemo paintings," one of which shows the back of her bald head, her arms draped protectively around her two daughters.
The cancer cells were zapped. But Denham Hughes's doctor told her they would probably return every few years, ideally as a "speed bump rather than a roadblock" in her life. She and her family recently bought a new home with a marble kitchen island and a large basement that has room for an art studio. They were able to afford a down payment thanks in part to a signing bonus from her new job as a senior program manager at Crunchyroll, a platform for anime and manga. And yet Denham Hughes remains consumed with worry. Do her benefits provide enough life insurance to support her family in the worst-case scenario? Will she have the energy to get through a housewarming party? "Death doesn't feel like a faraway, distant thing," she says. "I don't know if I'll ever see my grandchildren."
Denham Hughes still struggles with the side effects of her treatments and medications. She stands in front of her bathroom mirror, wiping off her makeup. "Right here hurts the most," she says, circling a cluster of red dots on her T-zone with her finger. "And my chin." She has developed a new compulsion to pick at her skin until it's raw, a habit she attributes to the cocktail of medications she now takes to keep depression at bay. She's already going through menopause thanks to the hysterectomy; her psychiatrist prescribed an antihistamine to help her sleep off the hot flashes, but it gives her vivid nightmares. In the winter, Denham Hughes started having dark thoughts: A funeral would be cheaper than the medical expenses. That way, I wouldn't burden my family. She could barely get out of bed and felt detached from her kids. When she and David booked a trip to the Bahamas to celebrate their tenth anniversary in March, Denham Hughes was so exhausted that she spent most of the time in a wheelchair. "Everything just hurt," she says. "I was shaking all the time."
A year after finishing chemo, Denham Hughes's natural hair is just a few inches long. She wears braided extensions piled high in a ponytail with an occasional gray piece woven through like tinsel. Denham Hughes shows me a picture from her wedding, in which her straight hair is pulled back in a low bun framed by a white bow and a gauzy veil. For her special day in 2013, she wanted to look like the white women on her Pinterest boards. It was one of the last times she used a relaxer. She experimented with wearing her hair natural and let it dry in a fluffy cloud. "It just felt happy," she says. "My hair wasn't angry; my scalp didn't burn; there were no weird smells." That she had come to love her natural hair makes her diagnosis feel even more cruel.
Denham Hughes and her husband have tried hard to protect their daughters from relaxers. When their eldest was born, they plastered her nursery with images of princesses and fairies wearing natural hair. "I wanted her to know that everything about her was just as it was supposed to be," she says. "It just really felt important for her to love herself more than I loved myself growing up." Every so often, David rigs YouTube's algorithm by deleting his daughters' watch history and playing shows that feature Black girls with natural hair. For the most part, it has worked. On the day I visit, the couple's 9-year-old is wearing her braided extensions with shocks of bright pink in long pigtails. Their 4-year-old has her hair tied in one poof on top of her head and another toward the base of her neck, pom-pom style.
As we're browsing Denham Hughes's Pinterest boards, now filled with images of Black girls in box braids, twists, and curly bobs, the youngest comes skipping into her mother's office. She's almost at the age Denham Hughes was when she started using relaxers and lately has been itching to experiment. A few weeks ago, she pointed to an image of a white girl with a straight bob on a computer screen. "That's the hair I want," she said. When Denham Hughes encouraged her to embrace her curls, the 4-year-old worried that people at school "might think she's ridiculous." Now, she pulls the girl onto her lap and asks which hairstyle she'd like to wear. "Um," she says, wriggling out of her mother's lap and walking toward the door. "Smooth hair."
More From fall fashion issue 2023
See All