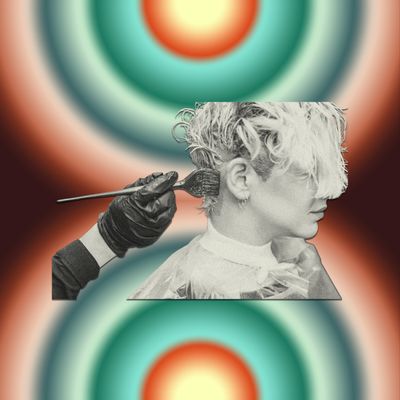 Photo-Illustration: The Cut; Photo: Getty Images/iStockphoto
Salons are places of escapism and pampering, and nothing ruins that feeling faster than money talk. That's probably why many don't display their prices prominently, which can be frustrating if you're on a budget — especially when you ask someone at the front desk about hair-color costs and get a vague answer like "Services start at $100." Thing is, they're not trying to give you the runaround. Hair color is not as cut and dry as, well, cuts. That can make budgeting hard, and if you are like me and starting to look at your 2023 spending (maybe your grocery bills are ridiculous or you're trying to save some money because your job isn't secure), coloring your hair might be on the chopping block. But it doesn't have to be. Here are some ways to address it. First, if you're open and honest with your colorist, they'll be able to work with you to come up with a plan that takes into account the fact that you're on a tighter budget.
"Call, text — however we normally communicate, get in touch and let me know what's going on," says Jacquetta Taborn, a master colorist in New York City. "I've been doing this 25 years, and I've seen loyal clients through recessions, housing loss. I'm always willing to work with them." If you don't have a close relationship with your colorist or a way to contact them directly, just call the salon and ask to speak with them before your next appointment. In preparation for that chat, come up with a yearly budget of what you can afford and share that number with your colorist so they can work backward to devise a plan.
I realize this may be embarrassing, especially if your budget is, say, half of what it was in 2022. But in my experience, colorists tend to be really good at these types of tricky conversations. (Think about all the things clients tell them while sitting in their chairs — this is a profession that favors empathetic people who can be discreet.) Plus your colorist will appreciate having numbers to work with. "A good colorist wants to be able to give you options," says Genna Still, a color specialist at Spoke & Weal in New York City. It's not always going to be as simple as, You used to come every two months for X, Y, Z color, now you're going to come every four months. 
Depending on the results you want and the color you have, they may suggest transitioning from a highlighted look to a more uniform shade and coming as frequently but paying less each time. Or, Still says, "If you usually get highlights, maybe I'll suggest keeping it bright around the hairline but loosening the foils around the crown so the color grows in softer," and you don't have to come as frequently. "If you lighten your hair, I might move you from a solid blonde to more of a balayage," a hand-painting technique that grows in subtly, allowing you to squeeze in extra time between appointments.
Even if you think your hair color is straightforward and there's not going to be a solution, you may be surprised. Let's say you have dark hair and are used to going once a month for a single process to cover your grays: "If you only shampoo once a week or every other week, I might be able to transition you to a demi-permanent color that fades out rather than growing out," says Taborn. No matter your texture, "the less you shampoo, the more slowly it fades, so it could be an option."
Is it possible you'll need to be flexible with your look? Yes. (You'd be hard pressed to find a colorist who can keep your black hair an icy blonde until 2024 on a tight budget.) But the worst thing you can do is make changes, such as doing it yourself (did we learn nothing from the pandemic?), without informing your colorist or going to a different salon that charges less. "It's like going to the dentist and trying to tell them you floss and then they take one look at your teeth and can tell you're lying," says Still. "We always know."
It's not even that your experimentation bothers your colorist all that much; it's that you may be setting yourself back moneywise. "My job will never be hard because I always have a fix," Taborn says. "But the fix comes with a fee." In fact, corrective color — which may include multiple dye-removal processes as well as a treatment to prevent breakage in addition to the new color — can run two or three times the cost of a typical appointment.
That's not to say you aren't allowed to do some things yourself to save money; your colorist will just want to be involved in the process. For example, if you want to keep your hair red (the shade fades fast because the dye molecules are larger than other colors and don't penetrate the hair deeply, so they're more susceptible to rinsing out), your colorist may suggest a color-depositing conditioner. (Still likes the ones from Biolage ColorBalm as well as the Davines Alchemic color-depositing conditioners, which New York City colorist Jenna Perry has told me she's a fan of, too.) Or they may give you the okay to dye your roots at home every now and then (I sometimes use the dpHue Root Touch-Up Kit along my hairline at the two-week mark to buy myself more time before I need to go back to the salon).
If your look isn't easy to do at home, your colorist may be able to suggest a temporary color to hide regrowth (I like L'Oréal Paris Magic Root Cover Up). There are also at-home gloss treatments. "They create a seal between the colored hair and the shower water, so it can stretch out the time between visits," says Taborn. "If you're using a clear gloss, you're not going to mess up the color you have." L'Oréal Paris Le Color Gloss in Clear is a great inexpensive option.
But whatever you do, don't arrive at your next appointment without the money to pay for the service you booked. Many colorists, especially in New York City, work as independent contractors, so they're not paid hourly by the salon. If your colorist blocks off four hours to give you a full head of highlights and a blowout and then you sit down and request a few balayage pieces around your face to save money, they earn less. But if you talk to them in advance, they might be able to book someone else so their chair isn't sitting empty for two hours. It's just the right thing to do. After all, your colorist shops for groceries, too.
Jennifer Sullivan answers all your beauty-related questions with practical advice and zero judgment. Send your questions to AskABeautyEditor@nymag.com. (By emailing, you agree to the terms here.)