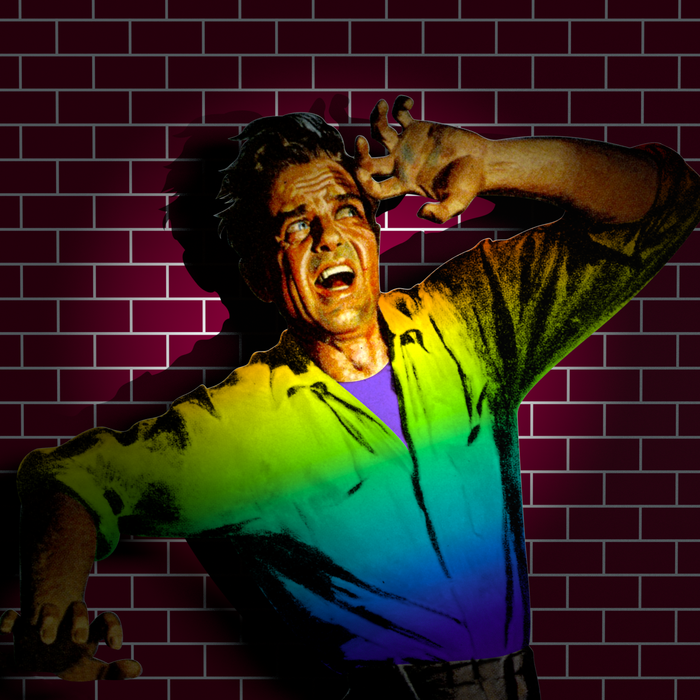 Illustration: Pedro Nekoi
This column first ran in John Paul Brammer's Hola Papi newsletter, which you can subscribe to on Substack.
¡Hola, Papi!
About a dozen times in the last two weeks, I have dreamt that Amy Coney Barrett is homophobically berating me. I feel absurd typing this, but I've lost dozens of hours of sleep and many REM cycles to this woman. 
She calls me a fag, tells me that my homosexual lifestyle is evil, and sometimes shape-shifts into one of my middle-school bullies. The worst part is that I wake up believing her. I lie in bed, in spooning distance of my partner, who I love, wondering if it is, in fact, unnatural and evil to be gay. By the time the sun is up I snap out of it, but in those hours between 1 and 4 a.m., I seem to lose myself in her world. 
How, Papi, do I get this woman out of my dreams?
Signed,
Haunted
St. Mary's Catholic School, the year 2000. Lawton, Oklahoma.
CRACK. I wake with my face buried in my arms, drooly cheek pressed to the sleeve of my wool sweater. I blink, raise my head, and as I do a pair of glasses sink down from my forehead to sit on the bridge of my nose. Sister Herman Mary stands above me with a ruler in hand, gazing down with the impassive fury of God. "Taking a nap, Mr. Brammer?"
"Wha …" I murmur as my classmates giggle. "Where am I?" The giggles, now stoked, turn to full-on laughter. I bolt upright and cover my mouth and nose with the neck of my sweater. "Stop laughing!" I shout. "You're spraying particles all over each other! Have you all lost your minds?"
"Particles?" Sister Herman Mary says Catholically. "What are you screaming about?"
"The virus!" I reason. "Have you Madeline-ass cartoon characters forgotten about the goddamn virus?" No one has seen Madeline. "In an old house in Paris that was covered with vines lived 12 little girls in two straight lines? No?"
Sister Herman Mary kicks me in the chest, sending me to the floor.
"How dare you take God's name in vain, and to punctuate such an obscure pop culture reference to boot?" she spat. "No one but you has actually watched Madeline, the cartoon produced by DIC, little gay boy. You're going to be saying Hail Marys for three days straight once Father Stafford hears about this."
"Wait," I sputter through the blood in my mouth from Sister Herman Mary's weirdly youthful, powerful kick. "What year is it?"
"It's quite obviously the year 2000," one of my classmates offers. "You are a fourth-grader like me and everyone else in this room. Has the devil entered your mind through one of your nostrils and set up a tent in there? That happened to my aunt. She was ranting and raving about 'Snapewives' and 'Peloton' for weeks."
"Wait. I'm back in the fourth grade?" I say. I stare at my hands, flex my fingers, seeking purchase on reality. "Oh my God, 9/11 hasn't even happened." Sister Herman Mary stomps me in the face with her pilgrim shoe, the ones with the giant silver buckle on them or whatever it is nuns wear. "What did I say about God's name?"
"Oh, sorry," I say. "Well, I must get back to 2020. I have a job to do. I have a column, see. It's called Hola Papi. It's for … the lesbians. Yes, the lesbians. I have a letter to answer. Amy Coney Barrett is bullying this gay guy in his dreams. She's being confirmed to the Supreme Court even though she got everyone sick. She got Donald Trump sick. So many people are sick. They closed the Cheesecake Factory …"
"Donald Trump?" Sister Herman Mary prods.
"Yes, the president," I say. "Do you know him from The Apprentice? Has that come out yet? He's the host of The Apprentice. Money, money, money, money!"
"MoooOOOoooney!" one of my classmates responds.
"Some people! Got to have it!" I respond.
"Hey brother! Can you spare a dime!" Sister Herman Mary belts. "Well, that certainly is 'For the Love of Money,' by Jay-O. It has nothing to do with business magnate Donald Trump, I'm afraid. Mr. Brammer, are you feeling well? Are you ill?"
I throw my arms around Sister Herman Mary's knees. I bawl into her habit. "It hurts," I say. "Sister, it hurts so bad."
"Now, now," she says. "You just need to pray, my child. Come, take my hand. Let's head to the basilica. We can kneel down in the pew together."
"It really, really hurts."
"I believe you."
"I want it to stop hurting."
"It will. You just need to pray."
You just need to pray.
You just need to pray. 
You just need to pray.
Just pray.
Just pray.
Pray.
Hail Mary, full of grace, the Lord is with thee.
Blessed art thou amongst women.
And blessed is the fruit of thy womb, Jesus.
I'm terrified of spiders, Haunted. In my experience, dreams germinate in the subconscious. To make sure I don't dream about spiders at night, I think very explicitly about spiders before falling asleep. Perhaps fears don't like being confronted so directly, because when I do this I don't dream of spiders, their crumpled-up bodies and weirdly white underbellies. Goodness, I'm shivering.
I still have nightmares, but of a much more manageable sort. Like sitting in a math class or being chased around my house by Yolanda Saldívar. The real world is a frightening place at the moment. Of course it would slip into your dreams.
But we do have some degree of control, especially when it comes to our own brains. We have the option of dragging our fears out from the shadowy corners, staring them in the face and saying, "Enough."
Madeline was a pretty good show.
Con mucho amor,
Papi
Originally published on October 21, 2020.
This column first ran in John Paul Brammer's Hola Papi newsletter, which you can subscribe to on Substack. Purchase JP Brammer's book Hola Papi: How to Come Out in a Walmart Parking Lot and Other Life Lessons, here.