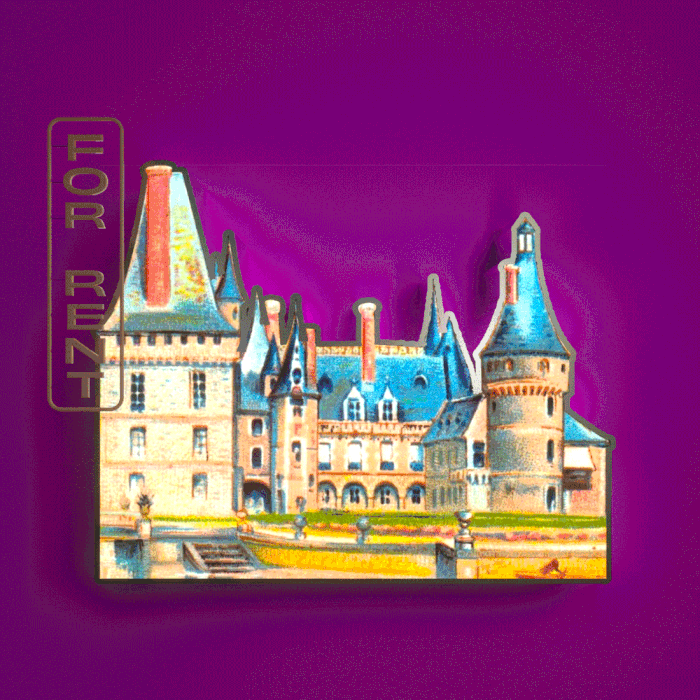 Illustration: Pedro Nekoi
This column first ran in John Paul Brammer's Hola Papi newsletter, which you can subscribe to on Substack.
¡Hola, Papi!
Me and my two male lovers are in a happy polyamorous relationship. We've been living in the same city for two and a half years, but we all know it's time to make a change. 
We are financially secure and live together in a small apartment, but all of us have an itch for more freedom and adventure. One of us, we'll call him John, wants to move closer to his family in Seattle. He's hesitant to leave if we don't move closer to his family. My other partner, who we can call Craig, has the far-fetched idea to buy a castle and move to Scotland. Both him and I know this is a lofty goal; we can't afford a castle! However, the urge is strong. I even have Scottish heritage! 
The idea of moving is definitely daunting, but we all know it's time to make a change. Additionally, I am the most successful in my career, so it's assumed that I will be paying the majority of the cost of the move. However, I'm not sure this is the right idea for me, and I want more of a say in what we do if I'm to pay the majority of the costs. 
We need to move, but it's causing a rift in our relationship. I don't want this to end, and can see the three of us being life partners, so we need to find a solution, and quickly. Help!
Signed, 
Castle Hunters
Hey there, CH!
A lot going on here. I'm finding it hard not to fixate on the Scottish castle thing. When you say you have Scottish heritage, do you mean, like, royalty? Are you storming a palace to take your rightful place on the throne? Do the Scots cry out for their true ruler? Are you certain your polycule will survive the palace intrigue? Are we dressed for this?
I apologize, it's just we have a pretty reasonable option on the left, that being a closer move to Seattle, and then we have a castle in a foreign land. This is what happens when you spend too much time on Zillow. They show you a bunch of depressing, average two-bedrooms with that sad gray floor that's everywhere these days, and then you start entertaining insane alternatives.
Just for kicks, I looked into prices for Scottish castles. Turns out, there's a website called Castleist (sadly, not a sponsor of this column) that specializes in… castles. I can't in good conscience tell you to buy a castle when all poor John wants is to be closer to his family. What I can do, however, is go shopping. Some would argue it's what I'm best at.
When you say you're the breadwinner here, CH, I hope you mean a lot of bread. Like, you better be bringing home the whole bakery if we're seriously considering the castle lifestyle, because these digs aren't cheap. This one here is going for the very reasonable price of £3.75 million. The outside is grand and the inside brings the fun.
Plenty of room for the polycule here, as well as guests. There are battlements for your archers in case you need to repel an incoming threat, and an abundance of corridors to pace around in at two in the morning while you contemplate betrayal. And look! There's a billiard room!
If that's a bit pricey, then we can take a look at this fixer-upper I found for the low, low price of £130k. It's billed as a "restoration project," so, you know. Some red flags.
I also have to imagine there's going to be some ghost wailing at night. I can practically hear the wails through these photos. Some witch definitely brought ruin down upon a noble house here. But hopefully it's nothing that a fresh coat of paint and some sliding barn doors can't fix.
Anyway, love Craig's enthusiasm, but why don't we do a starter home first? We can work our way up to a castle. I think if you're paying for most of it, then you do get most of the say. The housing market is pretty rough at the moment, and we're dealing with a substantial investment here, which makes this a pretty good test to see if this relationship can be practical in the long run.
Alas, life is rarely castles and rolling green hills. It's more often mortgages and cardboard boxes. But a sturdy relationship will be around for both the exciting things and the banal. In this situation, it's less about where you move, CH, and more about how you move.
Can your partners recognize that you're the one with the bigger say here? Can Craig put aside his palatial dreams in favor of, say, a sensible bungalow? Will John settle for nothing less than Seattle? These are all things you need to sit down and discuss as a team, and if that crumbles the relationship, well, maybe it was a pipe dream to begin with.
But with any luck, CH, you'll soon be taking shifts on Zillow looking at houses. It's a stressful, mundane affair, like many things in life, which is why we have friends and partners to make it easier and, dare I say, even fun. Craig can probably make it fun. Craig sounds… colorful.
See you in the housing market! I am not taking prisoners.
Con mucho amor,
Papi
Originally published March 13, 2023.
This column first ran in John Paul Brammer's Hola Papi newsletter, which you can subscribe to on Substack. Purchase JP Brammer's book Hola Papi: How to Come Out in a Walmart Parking Lot and Other Life Lessons, here.