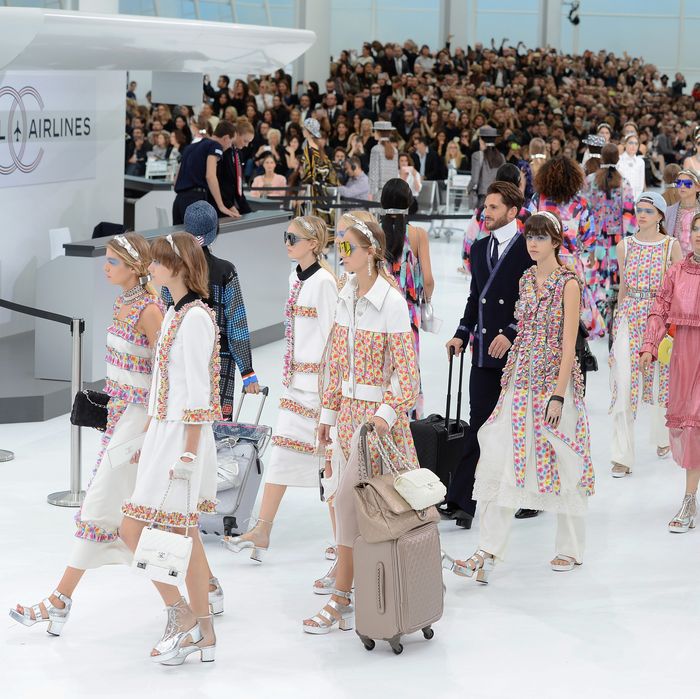 If only the airport was this luxurious.
Photo: Dominique Charriau/WireImage
Get It Together is your weekly guide to organizing your entire life.
The Wednesday before Thanksgiving is one of the busiest travel days of the year. If you're anticipating fighting the crowds at the airport only to be squished into an overpriced, uncomfortable seat, we feel your pain, and we're here to help. There are a few things that will make your journey more tolerable, from a neck pillow that'll help you fall asleep fast, to earphones that drown out crying babies. Scroll ahead to shop our favorites.
We've raved about Away's suitcases countless times, and for good reason: they're lightweight, affordable, and feature a built-in battery so you don't have to jostle for an outlet. If you're looking to get one in a fun color, their new collab with Gray Malin is especially eye-catching.
Nearly 2,700 reviewers on Amazon can't be wrong: This is truly the best neck pillow. I've used mine on countless red-eye transatlantic flights while seated in stiff economy seat, and I'm out like a light before we even take off. When I land, I wake up refreshed with zero neck cramps.
A Light-Blocking Eye Mask
Wear it with your neck pillow, a warm scarf blanket, and noise-cancelling earphones to properly block out the world.
Because airplane blankets are disgusting.
A Giant, Cashmere Swaddle
Rather wrap yourself in something more luxurious? You'll want a giant, super-soft cashmere scarf.
Warmer and more comfortable than your standard yoga pants.
Yes, these have a reputation for being something old people wear. But when you've deplaned to find your ankles have turned into donuts, you'll wish you bought a pair.
So you don't get swollen feet but you do get cold toes? Try these thick socks, made from a fabric that imitates the plushness and warmth of fur.
Noise-Canceling Headphones
Block out nearly all sound, including that guy snoring next to you.
Or Noise-Cancelling Earphones
Just as sound-muffling, but they plug into your ears.
Packing and unpacking both suck, but if you have handy cubes, you'll be able to optimize luggage space and get it all done quickly.
Wrinkles are unavoidable. This will refresh your clothes in no time.
If you buy something through our links, New York may earn an affiliate commission.