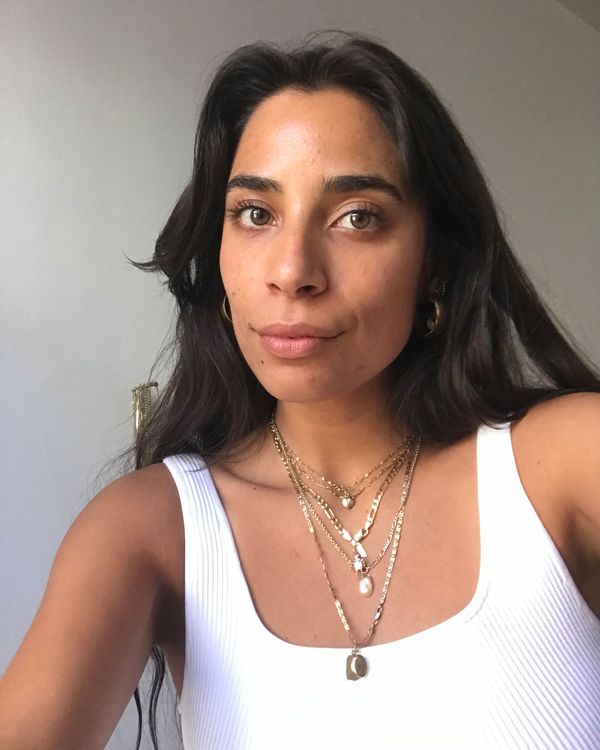 Photo: Courtesy of Bianca Valle
Want more skin care? Join our Facebook Group, the Beauty of It All.
Bianca Valle became interested in skin care out of necessity. "Growing up, I always had a lot of acne and a very bad picking habit so I turned to products to help me," says the holistic nutritionist, part-time model, and zine editor. "After years of trial and error, I have come a long way with my skin, but it is by no means where I think it could be." After all, as she says, skin care is a journey, not a destination.
Of course, as a nutritionist, Valle's glow is the result of more than just products. In fact, she's always cautious of relying entirely on a multistep routine. She advocates listening to your body before adding products to the mix. "Right now I'm dealing with stress breakouts which no product can fix — just meditation, rest, and low caffeine intake. I have to tell myself less is more with my skin."
When she is looking for new products, Valle turns to those with brightening components like vitamin C. She says, "As a brown gal, I need all the hyperpigmentation help I can get." Take a look below at her favorite exfoliating toner, the "clean" cleanser she likes best, and the tool that she relies on to de-puff her face.
Bianca's Morning Products
"In the morning, I try not to wash my face because I feel as though washing it more than once a day dries it out. So, I just use Biologique P50 lotion toner on a cotton round to take the build up off my face from the night before. I found out about P50 through word of mouth — everyone raves about it, so I thought I would give it a go. Since using it, my skin has gotten a nice, tightened look to it. There was a two-day adjustment period where my chin started to peel a little, but nothing too dramatic. The rumors are true, though: It does smell pretty funny."
"Then I apply an oil or an oil serum that has a thicker texture. I actually don't use a moisturizer everyday. I really like the way oils balance my skin, but on the days when I do need a little extra boost, I use Dr. Jart's Ceramidin Cream. It's superlight and doesn't clog my pores.
Currently, I like the Joanna Vargas Rescue Serum because it's not as thick as an oil but leaves a shiny residue. I think the key to glowing skin is using an oil on your face during the day. I like a little shine because it catches the eye."
"After my oil, I put on SPF. I really like Supergoop!, but my all-time favorite is Shisedo WetForce. I have been using it for years and love the white cast it leaves on my face. I really enjoy a white cast from my sunscreen because it acts sort of like a primer and evens out my skin tone. I am olive-skinned and have hyperpigmentation all over my cheeks and chin. The Shiseido sunscreen has a surprisingly covering effect on me."
Biana's Evening Products
"In the evening, I am currently washing my face with Osea's Ocean Cleanser, which is made up of all clean ingredients. 'Clean' beauty has many meanings and layers, but when using a clean product, I look for ingredients that are nontoxic to humans and the environment. I like Osea's cleanser at the moment because it doesn't leave my skin feeling tight or dry after a wash."
"Then I apply a drop of rose hip oil. Rose hip oil doesn't clog my pores, and I find it very moisturizing. It is also a perfect companion for a gua sha session. Rose hip oil is pretty gentle and can help your tool glide across your face with ease and without stripping the skin's natural barrier."
"Mount Lai has my favorite tools! Gua sha is an amazing face massaging method great for anyone looking to naturally sculpt their face. I tend to hold a lot of water in my jaw, like many of us, and after a session of pulling the water from my jaw using my tool, I look a little less swollen."
"When I have inflammation from breakouts, I reach for my Generation Clay pink clay mask, which eases puffy, big pimples. I found this product on the Free People Movement site, gave it a try, and fell in love. I like that it is always moist, and I don't have to add water to make the mask mixture. It will bring down swelling (after I pop, yikes!) in 20 minutes."
"I hyperpigment like crazy, and these guys really work. The microneedle technology is meant to penetrate the skin and promote cell renewal. They do the trick if you use them consistently, so get ready to wear them overnight — and sometimes out to run errands. (Well, I do that, but you don't have to.)"
If you buy something through our links, New York may earn an affiliate commission.