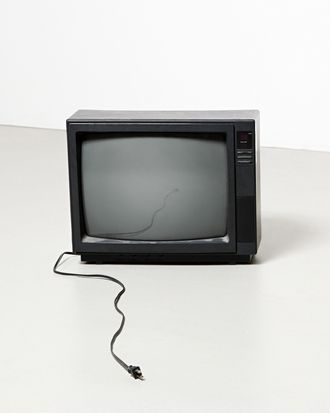 Photo: Image Source/Getty Images/Image Source
With both the Writers Guild of America and SAG-AFTRA striking for fair compensation, increased residuals, and better working conditions, Hollywood is in a deadlock. Most shows and movies have stopped production, and that's likely to remain the case for several more months, at least: Deadline reports that the Alliance of Motion Picture and Television Producers — which represents the big studios like Netflix, Amazon, Disney, Warner Bros., and others — might not even restart talks with the WGA until close to the end of the year in an effort to wear down striking workers. We're in for a long entertainment dry spell, and it's time to get creative (and show some solidarity). The Cut has assembled a humble list of suggestions to get you started, or, at least, distract you from longing for the next season of Yellowjackets.
1. Crochet a bikini. 
Without new episodes, your mind is now free to attain fine-motor skills, like crocheting or the art of French-bread-making. I'm learning how to crochet a bikini for Labor Day weekend and taking a cooking class to perfect my croissant technique. —Lindsay Peoples, editor-in-chief
2. Take a very long walk. 
And why not make it a hot-girl walk? We've all got the time.
3. Catch up on non-Vanderpump Bravo. 
If diving headfirst into Scandoval sounds exhausting, a classic cooking competition might be your perfect drama fix. In light of Padma Lakshmi's exit from the franchise, it's a great time to watch all the seasons of Top Chef from the beginning, if anyone hasn't done so yet. —Danielle Cohen, blogger
4. Or enter the villa. 
Every summer, a close friend extols the benefits of Love Island to me: It's endlessly juicy, it's on pretty much every night, and it's full of hot new bombshells, many of whom have Essex accents. If you're all caught up, reruns are just as rewarding. I see this time as an opportunity to rewatch the first five seasons of Love Island (and season eight <3). —Katja Vujic, social-media editor
5. Make a DIY sorbet. 
We may be in the era of the viral Ninja CREAMi, but a good old Vitamix is just as transformative. I'm making smoothies and sorbet. I just got a Vitamix and my life has changed within just one week. —Brooke Marine, senior culture editor 
6. Do an Instagram purge. 
We're all prone to spending this entertainment dry spell scrolling endlessly through social media, so it's as good a time as any to clean up your feed. Start by unfollowing your enemies, and keep going till it's strictly food and cute animal content.
7. Speaking of cute animals: Adopt a dog.
Don't underestimate how much time (and your phone's photo storage) you could spend watching a pup do absolutely nothing. Napping. Sitting on the couch. Staring out of a window meaningfully but probably not at all. It's like having a baby, I imagine, without the threat of having to one day put them through college. —Jen Ortiz, deputy editor 
8. Make said dog a Halloween costume. 
In years past, my dog has been Superman and a piece of salmon sashimi for Halloween. But this year, I want to veer away from a ready-made costume and turn him into Mario or Toad. All that sewing will last me through the fall, especially considering the fact that I can't sew. — Bindu Bansinath, staff writer
9. Wear less and go out more. 
How many times have you canceled plans to lounge in pajamas and scrape the bottom barrel of Netflix content? Might we suggest finally leaving the house? It's a principled stance against the streaming giant, if nothing else. A simple mantra: "I will be wearing less and going out more." — Tarkor Zehn, producer, In Her Shoes. 
10. Get a library card.  
I'm going to finally get a Brooklyn library card two years after switching boroughs and get back to the magic of walking to the library to pick up a stack of novels. —Catherine Thompson, senior power editor 
11. Sleep. 
It's good for your skin. Catch up on all the hours lost waiting up for midnight episode drops.
12. Bring back sourdough. 
We were all bread-heads once. We can all be bread-heads again.
13. Revisit the Criterion Collection classics. 
You don't need an HBO subscription to have a perfectly good movie night. I'm putting my Criterion membership (and DVDs and Blu-rays) to use. —Brooke Marine, senior culture editor  
14. Join a community garden. 
If you can't volunteer, it's as good a time as any to start subscribing to produce boxes. Get down with an heirloom tomato galette, or stuffing and frying up some squash blossoms. It's therapy.
15. Pay a visit to your bookshelf. 
And if you're looking for a recommendation: I recently ripped through Olga Dies Dreaming, and it reminded me how good it feels to get super into a good book. —Danielle Cohen, blogger
16. Or build a bookshelf. 
A crafty and practical life skill for when your collection of unread books inevitably piles up.
17. Have a little ferry field trip. 
You could go to Staten Island for some Pete Davidson–approved pizza, but you also don't have to venture far. I'll be going to Governors Island (who doesn't love the ferry …). —Brooke Marine, senior culture editor 
18. Learn to shuck an oyster. 
While they're intimidating to open by yourself, think of all the happy hours you'll host once you have the knife skills.
19. Line-dry your clothes. 
It prevents wrinkles and shrinkage and requires no quarters at all. If you're strapped for time, the climate-change-induced heat waves are, unfortunately, sure to get the job done quickly.
20. Nap in the sun. 
I feel like I've spent way too much time inside this summer, so I'll be reading (and, just as important, napping) in the sun any free hour I get from here on out. —Brooke LaMantia, shopping writer 
21. Join a sub-Reddit for your favorite show. 
And if none of the above is helping your TV withdrawal, might we suggest joining or lurking on a sub-Reddit dedicated to your favorite show? You and several thousand strangers can swap theories, commiserate, and pore over the same Easter eggs for months on end.