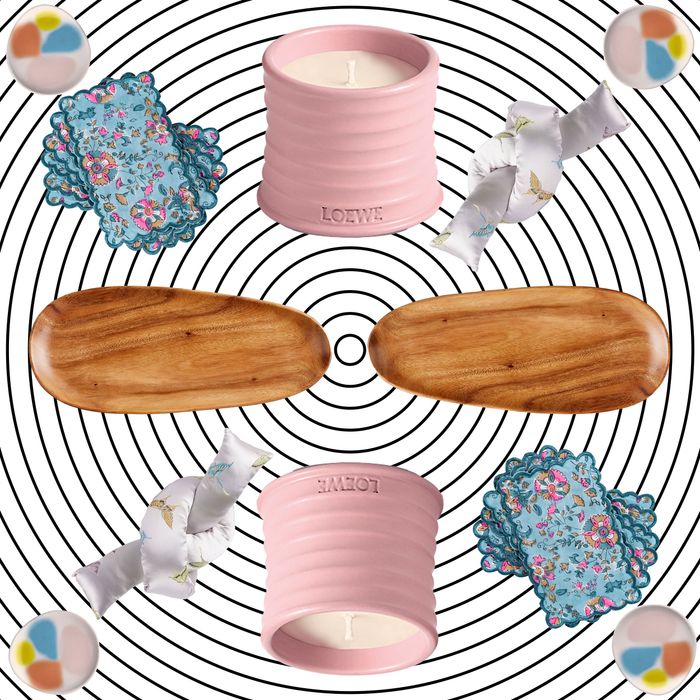 Photo-Illustration: by The Cut; Photos: Retailers
For more of the Cut's favorite fashion, beauty, and home finds, sign up for the weekly Cut Shop Newsletter.
Raise a hand if you have friends with impeccable taste and even nicer apartments. Us, too. Whether it's the couple that just moved in together or your friend who successfully convinced you to try butter boards, you know their coffee tables are covered in books and they've managed to pull off a gallery wall flawlessly.
So what are the best home-décor ideas for their carefully curated homes? We asked the experts to weigh in. Author and interior designer Athena Calderone loves the thrill of finding a holiday gift for someone special and recommends discovering new artisans, ceramists, and vintage décor pieces on 1st Dibs, Chairish, Etsy, and even Instagram.
Once you've narrowed that down, a few other things to look for according to design entrepreneur and Colony founder Jean Lin are tabletop items, glassware, or textiles such as a throw or a quilt. "I like to find special items from independent designers and shops, which makes somewhat 'easy' gifts feel really special and bespoke."
What do all of those trinkets have in common? You guessed it: They are functional and practical. A tip that interior designer Kelly Wearstler also highly recommends: "Statement tabletop accessories like a chic lamp or a ceramic bowl are the perfect gift. They can be complementary, sculptural, and useful!"
There you have it: The interior-design pros have spoken, and below you'll find great selects for the mom whose house is always impeccable to the Gen-Zer who's always creating mood boards on Pinterest.
The Best Bet: Candles
An affordable but still luxe option is the Replica candle from Maison Margiela. The scents fill the room even when they aren't lit, and these minimal vessels fit any décor.
Photo: Courtesy of the Retailer
Jean Lin's favorite affordable option is the classic candle from Le Labo. Whoever receives this won't mind reusing the vase when they're done.
This favorite from Athena Calderone comes from Oliver Gustav. These candles are housed in colored glass jars they can later reuse.
"Everyone loves a scented candle but especially one in a unique vessel that can be repurposed as a decorative object when burnt out," Calderone shares. "There's something so poetic about gifting scent to someone you love or admire."
This Loewe candle is almost too pretty to burn. A favorite from Michelle Li, it adds just the right amount of color to their space.
Or gift this slightly more affordable and seasonal option instead. They'll love how good this candle looks in the amber jar and, of course, how good it smells.
For the Holiday Hosts
Yes, this is great for hot pots in the kitchen, but your design-inclined friends will really make the most out of this handcrafted trivet. It's the perfect centerpiece for a table; rest freshly baked goodies or even a candle here.
"As someone who loves to cook and hosts regularly, I always appreciate a beautiful bottle of olive oil." Calderone explains. "It is a small but very thoughtful gift. I'm currently loving the olive oils by Branche."
A multipurpose platter can be used for serving but can also be a tray for trinkets, if they prefer.
Get abstract with this stoneware plate that looks way pricier than it actually is. It looks cool on any coffee or dinner table.
Another option they might not even want to put food on — but it doubles as a great centerpiece.
Fun and functional. These teeny-tiny bowls are perfect for housing ingredients and toppings for serving or grabbing a midnight snack. When not in use, your giftee can stack them up and display them on their immaculate shelves.
Paper napkins just can't measure up to the elegance of embroidered ones. This vibrant set of cocktail napkins is sure to impress their guests and liven up a table.
Protect all their new tables and furniture with these coasters they'll be excited to bring out for guests.
Decorative Objects
"I like a design mobile. It's something I think people wouldn't buy for themselves, but adds an instant spark to any room," Lin explains. This rainbow mobile is an easy to way to brighten up a dull corner of their home.
This light recommended by Lin does double duty as mood lighting and an accent piece they can add in any room for a warm glow.
Wearstler suggests this multiuse marble tray that works as décor and a catchall for whatever they please — perfect for your friends with small apartments.
One thing they can never have enough of is blankets and throws. "My go-to gift items to give are my cashmere throws. There is nothing better than cozying up under a warm blanket on the couch in the winter, even in L.A.!" Wearstler explains. Her favorite throws are from Loewe and her own brand.
If they don't need a throw blanket, consider this knot cushion to add a bit of color to their neutral couch, chair, or bed. It comes in a range of colors and textures, but we're partial to this silver one.
Another thing to gift is a good book. "Whether it's a coffee-table book or a literary classic, they can be amazing sources of inspiration or escapes while learning something new," Wearstler says. Our pick from Phaidon looks great on a coffee table but also features innovative designs spanning centuries.
However, make sure to find something personal that suits the interests of your sophisticated friends.
Calderone loves to gift unique pieces like sculptures, but she knows as the holidays approach we might not have time to scour our favorite marketplaces. Taking that into consideration, her Crate & Barrel collection is filled with unique objects that can fit your friends and family's bookshelves or accent tables.
For the Amateur Florists
This offbeat pick from Lin features arm accents, and you can even add a tiny bag accessory for a few dollars more. Gift this with a bouquet of their favorite flowers.
Gift a vase that looks just as good empty as it does with their favorite flowers or plants inside.
Because they don't need another standard vase, gift this offbeat way to show off their favorite florals.
Adorn a desk or table with this little sphere that can be filled with a few flowers or plants.