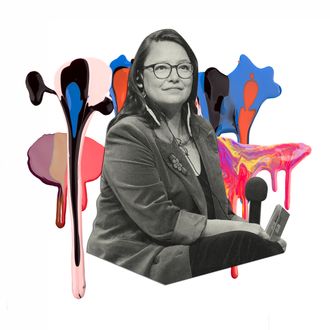 Photo-Illustration: by The Cut; Photo: Getty Images
Cree journalist Connie Walker has spent years reporting on cases of missing and murdered Indigenous women and girls, riveting listeners and earning accolades for her podcast projects. After spending the bulk of her career in public broadcasting in Canada, she launched Stolen: The Search for Jermain, a Spotify podcast that dove into the disappearance of Jermain Charlo, a young member of the Confederated Salish and Kootenai tribe who vanished from downtown Missoula, Montana, in 2018. For the second season, Stolen: Surviving St. Michael's, Walker investigated a story she only recently learned from her relatives about her late father and the abuse he endured at a residential school in Saskatchewan. Across Canada and the U.S., residential schools were reportedly responsible for hundreds of Indigenous children being ripped from their families, forcibly assimilated, and, in many cases, physically abused or emotionally traumatized (hundreds are also believed to have died at the schools). Walker and her team won a Peabody Award and a Pulitzer Prize for the deeply personal reporting that situated her family's story in the context of Canada's mistreatment of its Indigenous communities.
"That is not a small thing, to ask survivors to recount their experiences as children and what they survived in those residential schools," she says. "But our whole team understood the responsibility that came with hearing those stories, and we did our best to try to do them justice and help amplify their voices to tell their own stories." Stolen will return this winter for season three. Walker lives in Toronto with her husband, 11-year-old, and two cats; here's how she gets it done.
On her morning routine:
I am not a morning person. I'm a night owl, so I stay asleep as long as I can. I always wake up to a cup of coffee from my husband and then he shepherds our kid in terms of getting ready. Then we all walk to school together and talk about the day. I'm putting on sweatpants or throwing a sweater on to get out the door for that. School starts at 9:15. If I'm eating breakfast, most likely my husband, who works from home, is making something for himself and will make me a plate of whatever he's having. I work from home too, but he has a bit more flexibility in his schedule.
On a typical workday: 
We try to keep things confined to Monday to Friday, ten to six-ish. The days can be really different depending on where we are in production on the podcast. If we're in the field reporting, you start early in the morning. You're in the field all day doing interviews, traveling here and there. Interviews stretch sometimes late into the evening; you're getting back late to the hotel. When we're actually putting the episodes together, those days are also intense and long, but in a different rhythm. I usually don't have my first meeting until 10 a.m. I'm at my desk — mostly sitting, but I try to stand as much as I can — and I'm on calls with our producers where we're listening to tape together. Our team is entirely virtual. We're writing new episodes, editing the episodes that we already have in production, and listening to cuts. I pop downstairs to my basement studio and do some tracking and then run upstairs to upload the audio.
There's also a lot of listening I do while on a walk in the evening, or after my kid goes to bed, sometimes I'll listen to the latest cut and I'll get my notes in right away. I'm one of those people who often works into the night. But the older I get, the less capacity I have to work into the late evening. When I was doing a CBC podcast called Missing and Murdered, most of it was written between 10 p.m. and 3 a.m. Now I don't have that stamina.
On unwinding at the end of the day:
I'm a big crafter. The amount of crafting I do increases with the intensity of the work that I'm doing. I'm knitting a scarf right now. I'm also working on some beadwork, but my biggest obsession lately has been pottery because I can't do it at home by myself, I need to go to a studio. I am the kind of person that gets really into a craft — like when I'm doing rug hooking, I will get every rug-hooking notion and supply to last me a lifetime. I have so much fabric, I have so many baskets of yarn around the house. I also need to be working on multiple things at once. I'm like, Oh, I'm not in the mood to bead right now, or I want to watch TV on the couch, obviously that's best for knitting. I like watching a show that I've already seen before because I don't have to pay attention to it, so I'm watching Mad Men for the 57th time.
On the stresses and rewards of podcasting:
There's always an intensity heading up to launch. There's more room for creativity earlier on in the process. You have the most drafts for episode one, and that's partly because it's a really important episode and you need to work hard to get people engaged. But you also have the luxury of time. As you get closer and closer to launch, things ramp up a lot more. We've rolled things out weekly, so the production window shrinks and shrinks. The last episode for Surviving St. Michael's was produced and published within about a week, which is pretty tight. We had a roadmap, we knew which interviews would be in there. But in terms of putting pen to paper, it was essentially me and a co-worker locked in a room at the Gimlet offices and getting the draft together quickly so that we could all listen to it, make notes, and then revise, revise, revise, revise. One of my favorite things about podcasting is how collaborative the work is — getting to see how something can change through each iteration until you get to the point where you have to hit publish, whether you like it or not.
On decompressing while reporting a deeply personal story:
When I was reporting on Surviving St. Michael's, a lot of that was done back home in Saskatchewan. There was so much building up in terms of the intensity of the information that we were learning. I didn't have all of the stuff that I have at my house, but I got to go to a sweat lodge, which felt like the kind of release that I get from crafting. And being home with my family, sitting at my auntie's kitchen table and having coffee, that was really grounding to me.
On failure:
I've been lucky enough to try many different hats in my role as a journalist. I've worked in TV news, documentary, radio, digital, and now podcasting. I've failed many times in all of those areas. You fail and then you just do it again. I remember my first live hit. I was a local news reporter in Toronto and I was live on air for the six o'clock newscast for the first time. I was so nervous, and I wasn't well prepared. Suddenly the camera was on me, the light was on me, and it was go time. I don't know what I said, but I talked maybe for a minute and at the end of it my producer was like, "Whoa, that was rough." I remember feeling like, I never want to do that again. I'm gonna make sure that I keep trying and I do it better next time.
It's like that with everything. My first podcast was not that great, but there were things about it that I loved, and there were things about it that I knew that I could do better. Even with my crafting, I'm like, Here's a wonky cup I made, but I can still drink out of it. Then maybe the next one won't be as wonky.
On who helps her get it done:
I'm so spoiled. How I get things done is that I have the most amazing partner who is so supportive of me and my work. That's the only trick.
This interview has been edited and condensed for length and clarity.