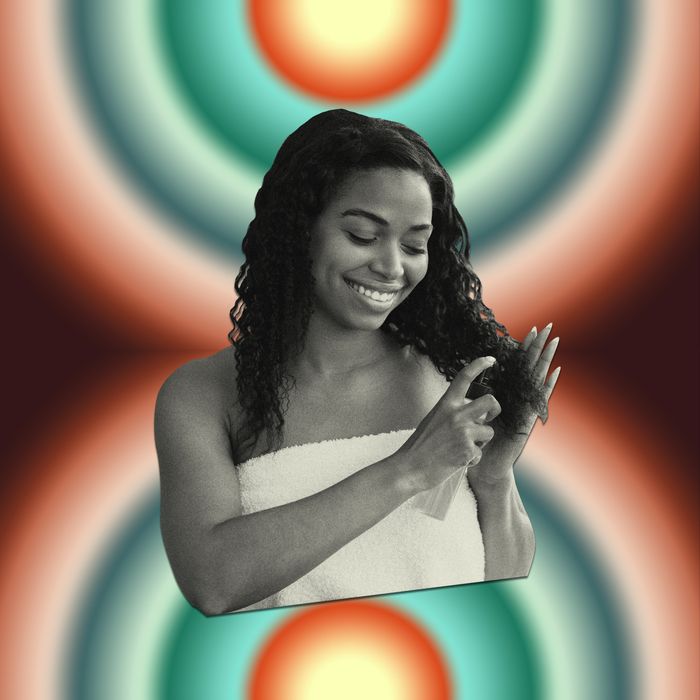 Photo-Illustration: by The Cut; Photos: Getty Images
Dear Beauty Editor,
After I had COVID for the first time, a year and a half ago, a crazy thing happened: My hair started to fall out. I mean a lot. I prided myself on my mane of thick, luscious curls, and I was peeling thick hairballs from my brush, vacuum, and shower. Gallon zip-lock bags a week, for six months straight. It was disturbing. My dermatologist said, "It will grow back," and it mostly has.
The challenge is: What products can I use to tame the frizz from 8 million re-grown hairs that stick up in the humidity or after a workout? They range from a few inches to six inches long. What should I do?
—At Least It's Growing Back
I read your email and was thrilled to hear you've gotten past the hard part of hair loss due to COVID-19. You're in the regrowth stage! And as annoying as those hairs in varying lengths may be, the good news is you have many styling options.
I spoke to a few hair stylists about your dilemma, and the one thing they all stressed is hydration. The drier your strands are, the more moisture they will absorb from the humidity in the air, causing each hair — from the baby ones to the six-inch-long strands — to swell up and stick out. "Curly hair needs a lot of moisture, and if it's dry, those shorter hairs are more likely to be frizzy and not cooperate," explains stylist Cassandra Olivia. She says the hydration process starts in the shower with a moisturizing shampoo and conditioner. I know some of the deeply hydrating conditioners can sometimes weigh hair down, but in your case that may be a good thing because they'll be less likely to stick up.
Next up, decide on a style. Until your hair rebounds completely, Olivia suggests skipping any look that requires blow-drying or flat-ironing. Sure, using heat on your baby hairs will work temporarily to have them act how you want, but in the long run, it will damage the hair cuticle and dry out your strands (leaving them even more prone to springing up all over). Instead, consider one of the growth-encouraging options below.
Mindy McKnight, the woman behind one of YouTube's most successful hair channels and the founder of Hairitage by Mindy, suggests a slicked style that doubles as a hydrating treatment. Start by coating your damp hair in a hair mask, then secure it in a tight bun or twist and leave it in until the next time you shower. Her Hairitage Mask-Querade Transforming Hair Mask dries with a matte finish, so if you use that, it won't look like you're masking all day. If you don't want to do a leave-in treatment, then I'd suggest slicking your style with Eco Style Olive Oil Styling Gel (I can't even count how many times I've seen that green tub in hair stylists' kits! It's a classic for a reason).
Whether you use a mask or gel for slicked styles, the right brush is vital. Paddle and detangling brushes have bristles spaced farther apart, so they may miss some of your wily new hairs, but boar-bristle brushes are densely packed and grab every little flyaway. I've had my Mason Pearson boar-bristle brush for a decade, and I think it was worth the original investment. But if I were buying a new brush, I'd probably go with one of the vegan versions: The nylon bristles in Briogeo's Vegan Boar Bristle Brush grab and smooth almost as well as pure boar, and it has the benefits of being cruelty-free and much less expensive.
If you want to wear your hair naturally curly, you'll need patience — and products. When your hair is damp, apply a curl-defining cream (Olivia loves Leaf + Flower Instant Curl Defining Cream because it locks curls into shape without making them feel sticky). Start with wet hair, rub the curl cream between your fingers to emulsify it, then rake your coated fingers through your hair to start the curl-clumping process. Once you see where the curls are forming, encourage the shapes (and coax the hairs that are misbehaving into place) by twirling the sections around a finger. "It takes time to do the curls individually, but you're essentially training them to go into the curl shape you desire, and then the product helps keep them there," Olivia explains. "Over time, you'll likely find that you don't have to finger-coil every curl. But many of my curly clients like to do it, as it gives them beautiful curl definition." Once you're done finger-coiling, stop touching your hair until it dries (you can air dry or use a blow-dryer with a diffuser from a few inches away). I know that process sounds time-consuming, but once your curls are dry, the multi-length hairs will look smoother and stay put.
If you still have some short hairs that are springing up, perhaps near your part or on the top of your head, a little hairspray should help. But there's a trick for applying it: Stylist Sarah Potempa, founder of the Beachwaver line, suggests spritzing the flyaways with hairspray (her Great Barrier Heat Protectant Hairspray is great for this) and then gently gliding the hairspray can over them to lock them in place. Using your fingers or a comb actually triggers a staticky reaction that causes short hairs to pop back up, but "the aluminum can is perfect for smoothing the hair down and helping the hairspray set," she says. "I use that trick on my clients all the time."
If you're not into the slicked-and-masked idea or the finger coiling, another option is braids. "They're great for hair going through stages of regrowth because they're protective, they give your hair a break from product and heat, and they're just so versatile," says Potempa. Whether you go with small plaits that are braided close to the scalp (such as cornrows) or larger braids that are loose or lie against your scalp (such as French braids or Dutch braids), the product you apply before braiding is important. A foam styler, like Beachwaver Braid Balm or AllDay Locks Braid Foam would be a good place to start if you have fine-to-medium-textured hair and not a lot of density. If you have hair that's thicker or coarser and/or there's lots of it, then look for something richer, such as Curls Blueberry Bliss Curl Control Paste, a Strategist recommendation.
Ultimately, it will take some experimenting to find the in-shower and post-shower product combination that works best for you, but if some of your new hair is already six inches long, you're off to a great start. If you keep moisturizing and stick to the growth-encouraging styles above, you'll return to your pre-COVID hair in no time.
Shop These Hair-Saving Products
Jennifer Sullivan answers all your beauty-related questions with practical advice and zero judgment. Send your questions to AskABeautyEditor@nymag.com. (By emailing, you agree to the terms here.)