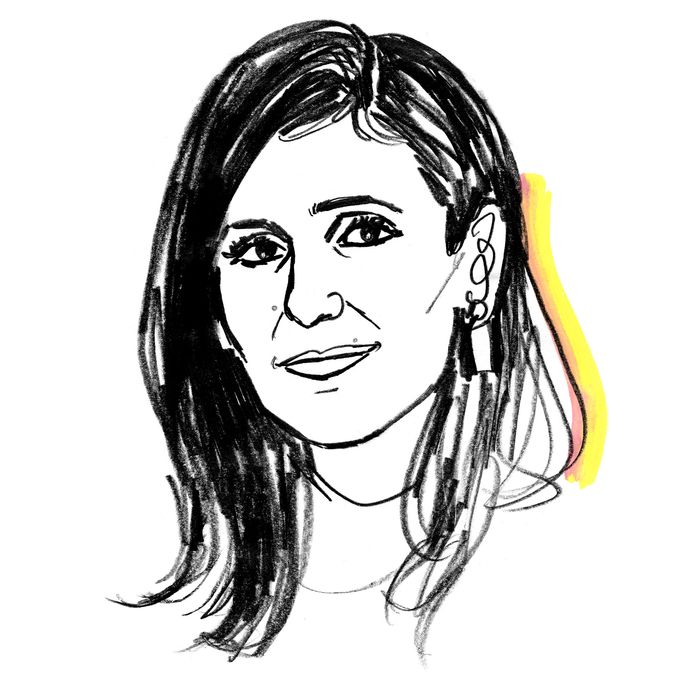 Illustration: Lauren Tamaki
Journalist and tech entrepreneur Laurie Segall always knew she wanted to tell stories. Originally from Atlanta, Georgia, she reported for her high-school newspaper and often chose to write about what she calls "corner stories," the interesting but overlooked people and subjects. She started her career as an intern at CNN, where she worked her way up to being senior technology correspondent and one of their most respected reporters, conducting exclusive interviews with highly influential people in the world of technology like Mark Zuckerberg and Tim Cook. In 2019, she left to begin her own media company called Dot Dot Dot, which covers the intersection of tech and humanity. She now balances running her business with her job at 60 Minutes+, a spinoff from the original series available on Paramount+. There, she has conducted interviews with members of QAnon and neo-Nazi groups, a safety risk she considers worth taking for her work and the country. She also just finished writing her first book, Special Characters, which will come out March 2022. She currently lives in Brooklyn Heights with her fiancé, Jon, and their plants. Here's how she gets it done. 
On her morning routine: 
I usually wake up about 6 a.m. I always start with coffee — I'm not 100 percent a human being without it. I'll either get up and make it, or go get it. Always an almond-milk cappuccino. I love to go for a walk. I live right near the water, and I'll listen to music. It's my mental-health routine, and what I do when I am at my best. Sometimes, when I'm traveling, the walk goes away and I'm inundated. But that is what I like to do. At Dot Dot Dot, we're doing a hybrid work schedule. I go into the office a couple days a week; otherwise I'm traveling or at home.
On traveling for a living: 
For 60 Minutes+, I'm on the road all the time in some of the craziest places. I'm in a long-term relationship with Terminal 4 at JFK. I do get an insane amount of work done on planes, because there's no distractions. This past year I was flying through empty airports. It's crazy how much more efficient my routine became. When the pandemic hit, I hadn't driven in 13 years because I didn't need to, living in New York. Suddenly, I had to drive six or seven hours to get to shoots and I was essentially relearning how to drive in New York City, which was interesting, to say the least.
On doing what she loves: 
I [originally] left my job at CNN to build my own business, but then 60 Minutes+ came along and it was something historical so I had to make that work because it was a dream as well. I work weekends, but I believe it's a privilege to do what you love. I could be in Jacksonville, Florida, at a QAnon convention [one day] and then the next week, I'm in Michigan covering protests for different militia groups. I'm incredibly editorially involved. I'm not just a face. I love doing the reporting and the writing and coming up with ideas with my producers, and really digging in.
With Dot Dot Dot, we're in development for quite a few shows, so we're constantly creating new content and audio. I've been reporting on technology for my whole career. When I left CNN, I knew I wanted to start a company that was devoted to something we weren't doing a good enough job of covering: the human impact of technology. It's been one of the most challenging and rewarding things I've ever done, but anyone who says launching a business is easy, I wouldn't trust.
On learning to delegate and accept rejection:
Asking for help is something I've learned the hard way. When I first launched Dot Dot Dot, I was hesitant; I've always been very independent. I hated the idea of bringing someone else in to help me stay organized, but I've had to add so much structure to my life. The busier you get, the more important learning how to ask for help, and surrounding yourself with the right people, becomes. And it's never the smartest person in the room who succeeds, it's always the most resilient and the scrappiest. A requirement of any job in journalism is being told "no" a lot. You can't be paralyzed by rejection, because it's such a necessary ingredient for success.
On work-life balance:
I'm a person who doesn't like to say "no." I've said "yes" my whole career, and that's what got me to the level I've gotten to. Learning how to create boundaries has been one of the hardest things for me, but is probably going to be the most important part of my job moving forward. It's an important thing to learn for anybody who's trying to do a lot and also wants to do it well.
On confidence: 
In my book, self-doubt is a big theme. Impostor syndrome has never 100 percent held me back, but I do think it's a very real feeling that a lot of women face. What I like to tell myself when I feel that way is that I have interviewed some of the most successful people in the world, some of the biggest billionaires who have shaped society. So many times after these interviews I can see in their eyes that they have self-doubt, like, Did I do okay? It's just such a human thing. As long as it doesn't paralyze you, I think it builds confidence the more you move past it and go through it. Everyone feels the same way, even and especially the people at the top of the top. You aren't alone if you feel self-doubt.
On growth: 
When I was leaving CNN, a job that I'd been at for over a decade, I became obsessed with this YouTube video of a rabbi talking about how lobsters grow. It's apparently the most uncomfortable thing in the world. Lobsters have to get very stressed out in order to grow, and they have to completely shed their shell. I couldn't stop thinking about this being my lobster moment. It was so stressful. I had so much self-doubt. I wasn't sure I could do this. But I knew that the only way for me to move forward and follow my dreams and do what I want to do, was for me to "shed this shell." I know that sounds so cheesy, but I hope I have a life full of "lobster moments." It's important to put yourself in situations where you are uncomfortable, for the sake of growth.
On the people who help her: 
I love to call my mom or my dad. I'm lucky to have such a great fiancé. The pandemic forced me to slow down a bit, even though it doesn't sound like it. I was lucky to stand still for a second and see someone who had been in front of me for eight years. We laugh a lot, and I love spending time with him. I have what I call my "New York Family," a group of people I see all the time, or have over for dinner. One is a neighbor who is 91 and from Cuba, and I'll take her out for brunch every couple of weeks. Those are the things I need. I'm incredibly busy, but I have all the time in the world for the people I love.
On her evening routine: 
I'm usually working on something at my kitchen table in the early evenings. Later, my fiancé and I will eat and watch television together. I love Law & Order: SVU and The One on Netflix. I try to disconnect and stay off my phone at that time. I used to love staying up late, but I've converted to a morning person. Between work for 60 Minutes+ and Dot Dot Dot, I'm exhausted by 10 p.m. and usually fully ready for bed. I am very rarely not asleep by 11.