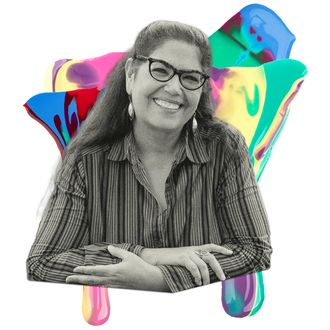 Photo-Illustration: by The Cut; Photo: Ted Hall
For three decades, Mona Susan Power has been championing Native American storytelling. In doing so, she's following in the footsteps of her famous activist mother, Susan Kelly Power, who helped found the United States's first American Indian Center in Chicago in the 1950s. The Standing Rock Sioux author earned a Harvard law degree and then an MFA from the renowned Iowa Writers' Workshop before writing her acclaimed 1994 debut novel, The Grass Dancer. But even with these accomplishments, Power, like many Indigenous individuals who carry the intergenerational trauma of our ancestors, was riddled with debilitating shame, depression, and complex PTSD. She retreated from public life and published sporadically in the ensuing years.
It wasn't until recently that the 61-year-old finally stepped into her, ahem, power. That embracing of self is evident in her most recent novel, A Council of Dolls, which takes cues from Power's own life and her family's tumultuous history. Longlisted for the National Book Award, the tome beautifully weaves together past and present to tell a complex story about Indigeneity, including the atrocities of boarding schools and forced assimilation that continue to haunt Native communities to this day. Power has also found her voice as a passionate advocate for mental-health awareness, sharing openly about her struggles to foster healing for both herself and her readers. She lives in St. Paul, Minnesota, with a money tree named Winnie that she has nurtured to two and a half feet tall. Here's how she gets it done.
On a typical morning:
I'm such an introvert, so I need at least an hour each morning to wake, muse, and prepare myself to step out into the world. I have my caffeine of choice, Diet Dr Pepper; I know it's chemical hell, but I've never liked coffee or tea. I'm not a big breakfast person, but I know it's important, so I make myself eat some fruit and granola. Then I have to play Wordle. If it's a day where I can do as I please, I'm probably getting up around 7 a.m. In comparison, in the past, I might have been going to bed at dawn. I didn't use to be a morning person, but I have become one.
On her wellness routine:
Daily exercise is a really important part of my life. I need to get outside, even during the winter, for at least an hour to do my little jaunt. Depending on what shape I'm in, that's either a trot, jog, or run for two to three miles a day. I cannot run on a treadmill for the life of me; the outdoors are where I feel most inspired. I'm lucky that my neighborhood has an abundance of trees, so it feels like I'm walking in the woods. Even when I'm traveling, I will map out a little jog route.
On her writing ritual:
Most of my life I wrote by hand, which made it a lengthier process because then I'd have to type up each day's output. Now, thank goodness, I type all drafts on my laptop and edit as I go. An important part of that process is reading the work aloud to listen to the rhythm of sentences and hear the dialogue. Because my projects always move through time, I have to do a lot of research before I begin the actual writing. When I'm in finishing mode on a book, I write for three to four hours a day. I'm so motivated at that point that it just pours out of me, and I hit my daily word count really easily.
I have a desk to pile things on, but I've never been able to work at a desk. Instead, I have this big old couch that I set up like a lounge. I've got these big pillows on my lap for my laptop and a pillow on the coffee table in front of me to put my feet on. I'm sure it would be better for my posture to work at a desk in one of those ergonomic chairs, but I need that comfort and safety. I have been very privileged and lucky in many ways throughout my life, but there was also a lot of trauma both at home and out in the world because my mother was an activist, which put us in hairy situations a lot. I'm always trying to gird my loins and protect myself in some way.
On overcoming self-doubt:
Part of my healing has been giving myself permission to go there. That was scary at first — not knowing what family or tribal members would think. But it turns out a lot of people need the stories I'm sharing. That doesn't mean it's not emotional. When I was writing A Council of Dolls, I was so immersed in the work that I wouldn't even realize I was crying at times. A moment in the book is drawn from real life. I had the biggest breakthrough in September 2019 on the night of a supermoon. All the work I had done to try to set down my shame suddenly manifested all at once. My heart, mind, and spirit finally believed that the shame I'd been hauling through life wasn't mine, and that toxic sludge just peeled off me. It was like a rebirth.
On the importance of authentic Native representation:
The person who can best tell a story is the person who lived it. That doesn't mean historians can't write about certain events, but it's not the same as writing from the inside. Even though I was an urban Indian born and raised in Chicago, I grew up with the cultural beliefs and traditions of the Yanktonai Dakota people. My mother was an incredible storyteller and raised me to understand that my life doesn't begin and end with me. We're part of a chain of lives, stories, and responsibilities.
Like many authors, I usually avoid Goodreads, but with A Council of Dolls, I have been reading the reviews. I'm blown away by how many people are saying, "Why don't we know the history of the Indian boarding schools? We should know this." I'm glad to be putting that story forward since it's not taught in our educational system.
 
On the Indigenous author who inspired her:
The light went on for me when Louise Erdrich started publishing books in the 1980s. I was living my mother's dream and had just graduated from law school, but I realized that wasn't my calling. That's when I decided to get serious about my writing. I have been writing since my earliest memory, but I didn't realize there was an interest in Native stories until I saw Erdrich's work. She is such a genius with this gorgeous language, beautiful storytelling, and wonderful humor. I really looked at how she manifested a writing career as inspiration for my own.
 
On the advice she'd give her younger self:
Not to give up my power. The trajectory of my professional achievements has not been a straight line, and I've experienced some major setbacks. A lot of that is owing to debilitating depression, but also this toxic inner script I inherited from my mother because of her Indian-boarding-school experience that completely obliterated her self-worth. If I made a mistake, it would heap acid onto whatever happened. If I accomplished something, it would whisper that I wasn't worthy of accolades and eventually would be exposed as a failure. Early on in my career, I was constantly giving away my power because I didn't feel deserving of anything good. I only recently learned to trust myself and changed that inner self-talk.
On her evening routine:
I'm going to be honest — I'm kind of a YouTube addict. I have all these channels I enjoy, like the scary '70s movies I grew up on. But with so much distress and heartbreak going on in the world, I find myself watching animal videos, like cute kittens, funny cockatoos, or those heartwarming videos where animals get rescued. When I was writing A Council of Dolls, I was working on this really emotionally challenging scene, then all of a sudden a bird flew into the scene. It was this cockatoo, Prince, who ended up in the novel. I joke that he was my fictional emotional-support bird. I don't read much at night, so I'll just glaze out on YouTube videos for an hour, then I'm ready for bed.
On who helps her get it done:
Even though she passed away almost a year ago and we sometimes had a fraught connection, my mother was the major influence in my life. But she had her own struggles, so over the years, I put together this amazing inner circle of kindred spirits who really helped keep me alive during dark times. I realized I deserve to have a team who truly believes in my voice and vision. Both my agent, Rachel Letofsky, and my editor, Rachel Kahan, are so brilliant, sensitive, and warmhearted. They know I want to have a platform to talk about mental-health challenges. Along with my publicity and marketing team, they always make sure I feel safe and don't feel exploited, which is really remarkable.