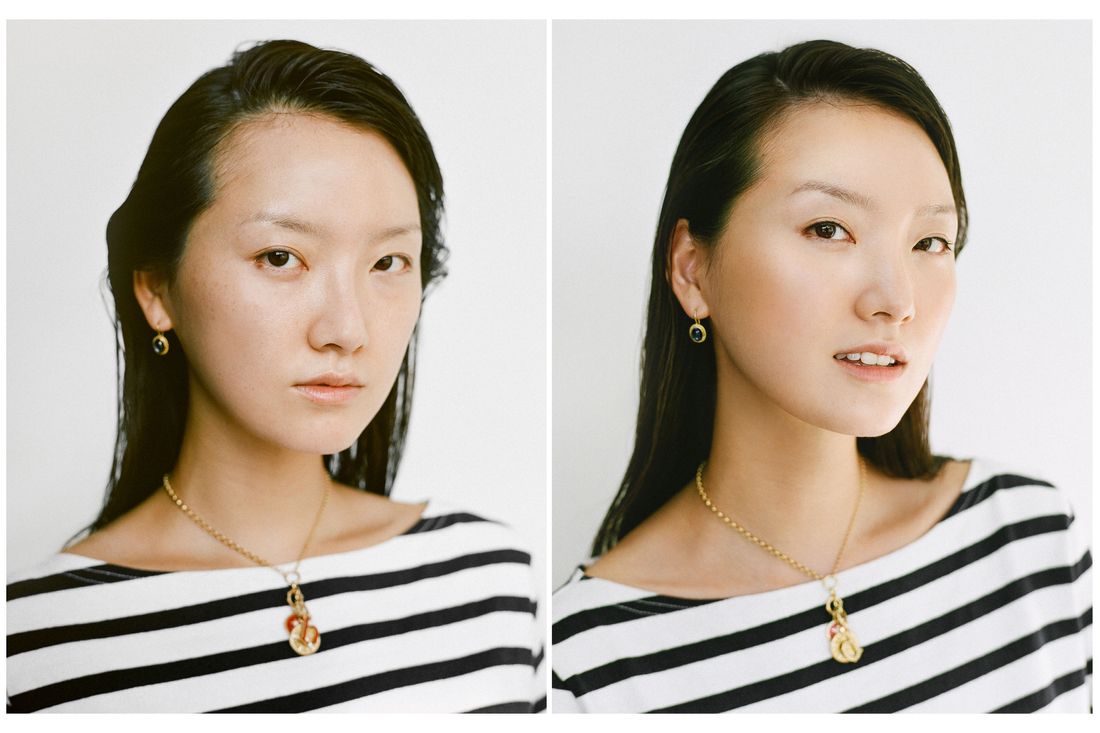 Nobody wants to hear "Wow, your foundation looks so skillfully applied!" What you want is "Why's your skin so good?" Below, celebrity makeup artist Nick Barose (whose clients include Lupita Nyong'o and Gugu Mbatha-Raw) shows us how to apply foundation in a way that looks truly natural — not cakey or shellacked. Here are his tips and tricks, broken down into easy-to-follow steps for our Pretty Simple series.
Watch the Video
Step One: Moisturize
Yeah, yeah, tell us something we don't know. Like every beauty tutorial you've ever read, the first step is to moisturize. It's a fact: Smooth, soft skin just looks better. Pat on moisturizer and let it sit. It should feel a bit like it's drying before you move onto applying makeup.
Step Two: Start With Your Eyelids. Yes, Eyelids.
There's one spot people frequently miss in foundation application: Their eyelids, which can frequently be a different color from the rest of the face. Dot a little concealer there and smooth it out. Barose is using NARS Radiant Creamy Concealer.
Step Three: Dot on the Foundation
Dot small circles of foundation (like Armani Beauty Luminous Silk Foundation) on the areas of the face which need the most coverage, like the center of the forehead, down the nose, chin, and the cheeks (close to the nose). You'll be blending it out so your whole face gets a light layer, but the dotted areas will get slightly heavier coverage.
Step Four: Blend It Out
Get a beauty sponge (Barose likes Thrive Causemetic Blend and Blue sponge) and wet it. (If it's not wet, it'll just soak up all the foundation.) Dip the sponge into each dot, use an up-and-down motion, and then blend it out toward the edges of the face.
At the jawline, you want to blur the foundation out a little more to avoid a harsh area of demarcation. Use the fattest part of the sponge and rub a little harder using a "wiping away" motion.
Step Five: Blot
Blotting papers are great, but buying them often can be expensive. Barose shares a trick he learned from makeup artist Sam Fine. Take a piece of tissue and separate it into layers. Taking one thin layer, blot around the T-Zone. You want to press up and down with a bit of pressure, letting the tissue lightly absorb oil.
Step Six: Apply Powder
Set your foundation with a bit of loose powder, like Laura Mercier Translucent Setting Powder. Concentrate it on the areas where you get oily, like the T-Zone. Since you used a luminous foundation, you want the areas that you didn't powder (like the top of your cheekbones) to remain glowy.
Step Seven: Mist Your Whole Face
To look extra luminous, spray a face mist. Mist in a circular motion all over your face. Repeat twice. It helps break down any heavy areas of the foundation that look cakey and makes it look more natural and luminous. Plus, it feels nice. Barose is using the Sisley Face Mist.
The Finished Look