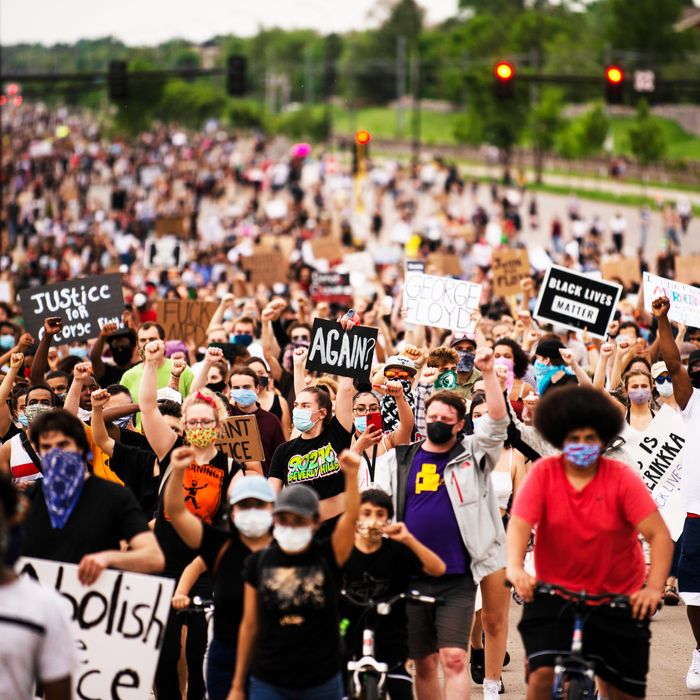 Photo: Stephen Maturen/Getty Images
You may have noticed some posts from our friends at the Strategist on the Cut. They'll be dropping in every now and again, sharing their expertise.
Since the start of 2020, jogger Ahmaud Arbery was murdered by a former police officer on a run in his neighborhood, EMT Breonna Taylor was shot and killed by police in her own home, David McAtee was shot and killed by police in Louisville, trans man Tony McDade was shot and killed by police in Tallahassee, and George Floyd was knelt on and killed by a police officer in Minneapolis. Now, these unjust murders have sparked nationwide protests against police brutality and white supremacy, all amid a global pandemic.
For many people, protesting right now poses an immediate risk to their health and safety: people of color continue to be systematically (and fatally) harmed during these protests, and there is still the threat of contracting coronavirus. There are countless ways to support the struggle against police brutality beyond protesting, including donating to bail funds and mutual aid networks or calling local legislators to defund the police and invest in alternatives to policing. But if you do decide to participate in a local protest, we've culled resources on how to do so safely, taking into consideration best practices for protecting against coronavirus and the potential of police violence.
Know your rights
Like the tens of thousands of people protesting against police brutality following Floyd's murder, you have the First Amendment right to assemble and express your views through protest. You also have rights when questioned or under arrest. And it's important to know them — especially given the police violence and arrests that have ensued during these (and countless other) nonviolent protests. Those rights, including the right to medical attention and freedom from excessive use of force, are outlined by the ACLU and Amnesty International, and have been turned into a legal resources infographic by Protest Aid.
When it comes to interacting with law enforcement, the National Lawyers Guild has a guide to citizens' and non-citizens' rights, and what to say (or not say). It's available in six different languages including Spanish and Arabic. In order to help those who are arrested right now receive legal support, the National Lawyers Guild has Legal Observers working on the ground in different cities; they recommend that folks find their area-specific jail hotline on social media, and write the number on their body in permanent ink before protesting. Since it can be overwhelming to keep all of this in mind, you can also bring a handwritten note card of your rights to the protest, or print out this protest-rights pamphlet from the ACLU of Northern California. If you are arrested, there are dozens of lawyers across the country representing peaceful protesters pro bono. You can find the contact information for a lawyer in your city here.
Follow protest best practices established by black grassroots organizers
Since protesting best practices, most of which are established by black and indigenous organizers of color, are meant to ensure protestors' physical safety and wellbeing, most tips apply as usual during the coronavirus pandemic. While being mindful of social distancing, it is essential to have a protest buddy or group, and plan ahead for situations where someone might get hurt or arrested. As the "(A)BC's Mini Guide to Protesting" zine suggests, it is helpful to designate group roles according to peoples' ability and comfort before protesting. One person can observe and record any violations of group members' rights, while another white member can plan to get arrested to minimize the physical risk against group members of color. Another way to protect yourself from violence is to keep an eye out for things that don't seem right, since white supremacists have been showing up to these protests, and look for undercover cops, who may wear "color of the day" armbands.
Pack a backpack
You'll want a backpack full of essentials and emergency supplies, including high-energy snacks, bottled water, cash and change to purchase any incidentals (in lieu of a credit or debit card that can be tracked), an ID, a hat, earplugs, signs, a couple days of any essential medication (in case you are arrested), and riot control chemical gear (which we'll get into below). Wear clothing that is comfortable, layered, and nondescript, including close-toed shoes, because, as Teen Vogue columnist Kandist Mallett writes, "Mass protests can be unpredictable. Always dress and pack for the possibility of a riot." Having multiple layers will cover identifying tattoos and better protect you from riot control chemicals, and a nondescript outfit makes you less identifiable. Since it is not always advisable to bring a phone (more on that below), it can be helpful to write down the phone numbers of emergency contacts on your body in permanent marker. All of these tips — and more — are illustrated in protest safety guides on social media, which are being shared by everyone from mutual aid funds to Congresswoman Alexandria Ocasio-Cortez and the NAACP. There's also a helpful guide to protesting during coronavirus on Vice.
Turn off your cell phone
It may seem counterintuitive, but do not bring your smartphone. If you're detained or arrested, the police can potentially obtain the data on your phone, and while you're on the grounds, they can also use your smartphone for surveillance and tracking. Police often use IMSI catchers, which are essentially fake cell phone towers that your phone thinks are real, in order to collect all the locations and IDs of everyone in range. They can also access your text messages and social-media accounts when you keep your phone on. Instead, coordinate a time and location to meet your friends and again, keep an ID card, cash, and a notecard with emergency contacts on in it if you don't want to write it on your body.
If you absolutely must bring your phone (for reasons better than "to take photos," which you should refrain from doing to keep from identifying your fellow protestors), turn it off or keep it on airplane mode. Should you have to turn it on to contact someone, like a lawyer, or videotape police brutality, make sure to take proper precautions before attending the protest. According to our colleagues at Intelligencer, that means encrypting your phone, turning off touch and face ID, turning off location services, and staying off social media. That's the easiest way to stay anonymous at the protest (aside from leaving your phone home) and protect your phone's data from being searched by the police if in custody. Surveillance Self-Defence also provides different guides on why this is important and how to better protect yourself from online surveillance.
Protect yourself from COVID-19
Because we're still in the midst of a pandemic, mass gatherings, such as protests, technically go against the CDC's recommendation to continue social distancing, and we'll likely see an increase in new cases in a few weeks, according to the Washington Post, if people don't take proper precautions as much as possible.
So if you plan to join a protest, make sure to do so safely and start by wearing a mask. Although wearing a non-medical fabric mask will not stop the spread on its own, it does help, especially if you're unable to adhere to social distancing rules. We've compiled a list of non-medical fabric masks for sale online, here, if you're in need, as well as some tips on how to tell which non-medical masks are the most secure. You should also consider wearing eye protection, gloves, and long sleeves on top of a mask (which can also protect you against tear gas) and keep your contact with strangers low. Only interact with the people you came with and make sure you don't hug or shake hands.
On top of limiting interaction, try not to yell. Screaming produces more particles with more force, and it increases your chances of infecting someone else nearby. Instead, bring noise makers, like horns, and hold signs. Your fabric mask will block the droplets as much as possible, depending on how tightly woven the material is, but it won't keep you completely secure. If you must engage with another protester, use hand sanitizer with at least 60 percent alcohol (you can find some in-stock options here), and wash your hands afterwards. Lastly, if you're sick or have a fever, don't go. You'll reduce the risk for everyone by staying away — and there are many ways to help from home (which we touch on below).
Protect yourself from police violence
Even if your goal is to peacefully protest, it is clear that these protests against police brutality have resulted in more police brutality: In recent days, officers have used riot control chemicals — including but not limited to Mace, pepper spray, and tear gas — and other dangerous police "crowd control tactics," like batons, rubber bullets, and even military-grade flashbang grenades against protestors.
In order to protect yourself against these violent tactics, it is helpful to bring basic first aid supplies and some protective gear. Milk, antacids, and baking soda diluted in water have all been recommended online as antidotes against riot control chemicals, but experts including Dr. Rohini Haar — an emergency physician, and a research fellow at the Human Rights Center at the University of California, Berkeley, School of Law — told Popular Science that there's no substantive evidence behind those approaches. "I would be very careful about advising anything other than just lots of fresh air and a lot of water," she says. New York City Action Medical, a group of volunteer medics that assist at protests, has many online street-medicine resources, including an infographic about how to flush your eyes with a sport tip-water bottle. They also posted a chemical weapon response zine, which encourages folks not to protest while wearing chemical-trapping oil-based products, including sunscreen and makeup, which can worsen the effects of riot control chemicals, or contacts, which prevent a complete eye flush. Frontline Medics, an indigenous, womxn-run community medic collective, also posted a pandemic-specific protest safety guide.
In general, and especially during the pandemic, practice consent by asking if you can administer aid to someone else before giving any kind of physical assistance; this ensures that they are informed of and comfortable with the course of action and your touching them. Also, as Isabela Escolona — a labor rights activist and spokesperson for Centro de Trabajadores Unidos en la Lucha in Minneapolis — explained to Time Magazine, riot control chemicals seep through fabric, rendering some masks and clothing unusable after being sprayed. Consider packing an extra mask and shirt in a sealed bag in case your clothes get contaminated.
When it comes to protective gear, helmets, elbow and knee pads can protect your body, and heat resistant gloves are helpful for picking up canisters of tear gas. Safety goggles or glasses can mitigate the harm of rubber bullets and chemicals. Since gas masks are the best form of protection, consider donating here to get young black activists on the front lines in Minneapolis proper gear. While dangerous, and potentially fatal, wounds from bullets and grenades require medical attention, you can keep in mind general first aid tactics, and riot-specific medical advice, too.
If you can't go out and protest, donate
For those who are immunocompromised or unable to attend the protests, you can still productively contribute to the movement. First, you can sign petitions and call representatives to demand justice. Second, if you have the means, donate to organizations. The Cut outlined a few that directly help the families of Ahmaud Arbery and George Floyd, as well as others that work to end racial injustices and police brutality across the United States (and you can find more information from Black Lives Matter, here). Consider also directly contributing to bail fund organizations, such as the Atlanta Solidarity Fund or the Louisville Community Bail Fund, to help protestors, and using resources like ActBlue, which helps you easily (and safely) split your donation to different organizations, such as Reclaim the Block, Black Visions Collective, and NAACP Legal Defense and Educational Fund. You can also directly donate to your community through Mutual Aid, which helps people within your community find the people and resources they need to work.
Before you donate, check in on the organization, as some bail funds are at capacity for donations and will help you direct your money to others in need. If you're questioning whether you're donating effectively, consult The Cut's guide. And moving forward, support Black-owned businesses and make sure you register to vote if you're 18 or older in time for the November election so your voice and ideals are heard.
The Strategist is designed to surface the most useful, expert recommendations for things to buy across the vast e-commerce landscape. Some of our latest conquests include the best acne treatments, rolling luggage, pillows for side sleepers, natural anxiety remedies, and bath towels. We update links when possible, but note that deals can expire and all prices are subject to change.