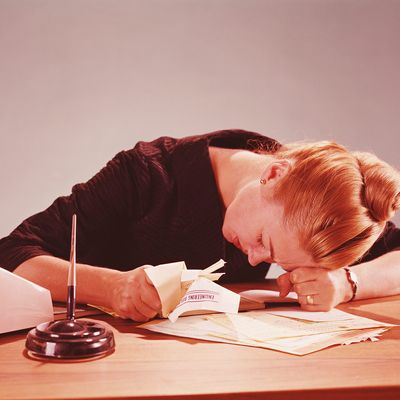 Get Ask a Boss delivered every week
What stresses you out at work? We gathered 15 real-life scenarios that readers have faced on the job, as written to the Cut's "Ask a Boss" advice columnist Alison Green. You may relate to their worries and frustrations, such as:
"I'm burnt out!"
"Do I even deserve this promotion?"
"Will I lose my job if I get pregnant?"
"I'm about to get fired!"
And: "My personal life is going to hell!"
Green has advice for each situation ahead.
1. 'My Personal Life Is Going to Hell!'
In the span of just a few months, this reader had a major surgery, moved to become an elderly relative's primary caretaker, and is now going through a divorce. She feels guilty that she's not working at her usual performance level.
"It's okay to cut yourself some slack," Green says. "I suspect you might not believe that, but it's true. You are human and you're going to go through times in your life that are harder than others. … Give yourself permission to not perform at the same level as you do when everything's going well." Here's how to talk to your boss.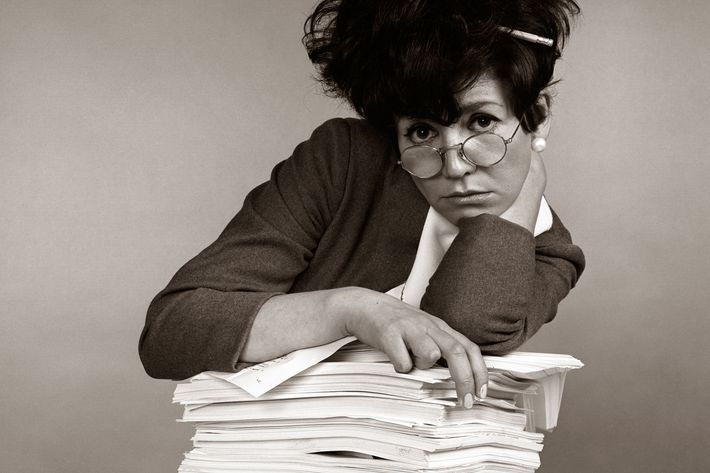 2. 'Is My Workload Insane, or Am I Bad at My Job?'
What's the difference between having an impossible workload, and failing? Which one is it? "I feel like I'm drowning," this reader writes. It's her first office job, but her manager says the busy season is normal — it's just what everyone has to do. Plus, her boss is bad at communicating expectations and deadlines.
Green says that in an ideal world, you should be able to talk to your boss about feeling overwhelmed, so you two can discuss what you're able to move off your plate — or discuss why she thinks you should be able to manage it all. Of course, it's possible this is a boss problem — when this reader asked about it, her manager just said she had to get it all done. But you can also try to prioritize better just for a week, and see if it helps. "Spend 15 minutes at the start and end of every day planning and prioritizing your work for the week to see if that makes things more manageable," Green advises. More here.
3. 'I'm Burnt Out. My Company Won't Hire Someone to Help Me.'
If your office is in crisis-survival mode — in this woman's case, for ten months after another employee's abrupt departure — maybe you're the one person who's holding it all together. Which is … unbearably exhausting. The woman loved her job; now she wants to quit.
First, for your mental health, remember that you don't have to put up with whatever people throw at you, Green advises. You can always leave if you want to. But before quitting, consider this: "You probably have a great deal of leverage right now, maybe more than you realize, because you're the person who's keeping things together," she says. Talk to your bosses. Green has a word-for-word script.
4. 'I'm About to Get Fired!'
A woman's boss told her she's doing a terrible job — and that she'll be fired if things don't change soon. The woman knows she's a disorganized person, but she isn't sure what to do after the conversation with her boss. "At this point, I don't know whether to focus on improving my performance, or on extricating myself in a way that doesn't destroy my dignity and sense of self," she writes.
To improve for the long-term, you need to seriously devote yourself to any kind of work-scheduling system. "Keep everything — literally everything — that you need to do recorded in there, even small items like an email you need to follow up on if you haven't heard back by Friday or your co-worker's request to stop by her office when you have a free minute," Green advises. More here.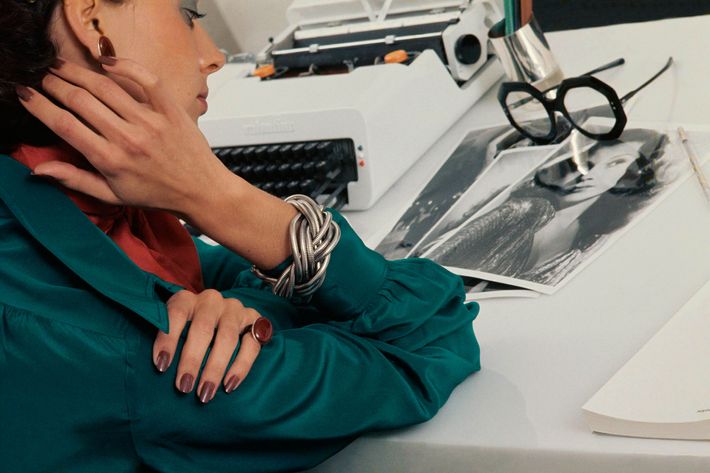 5. 'How Can I Get Over My Impostor Syndrome?'
A woman says she's incredibly successful in her job — she's been promoted nearly every year with a raise and received nothing but praise from her colleagues. Except … deep down she thinks she doesn't deserve it.
"You are so, so normal," Green says. "Talk to any professionally accomplished woman, and you'll nearly always hear that she has struggled with impostor syndrome at some point." These people include: Sheryl Sandberg, Sonia Sotomayor, Tina Fey, and Maya Angelou. Green has five steps for grappling with it:
1. Force yourself to look at the evidence.
2. Ask for feedback.
3. Fake it.
Two more steps with details here.
6. 'If I Get Pregnant, Will I Lose My New Job?'
This reader just started a new job that she loves. She also wants to start a family, but she has a medical condition that makes it difficult it get pregnant. Her worries are two-fold: She doesn't want all her doctor's appointments to make it seem like she's slacking off. But if she explains she's going to the doctor because she wants to get pregnant, will her boss stop giving her opportunities, thinking she'll leave soon anyway?
First, less is more. You can tell your boss you were recently diagnosed with a medical condition that will require regular doctors' appointments without mentioning pregnancy — your manager isn't entitled to that information anyway. "There's a reason that there are laws protecting pregnant women from discrimination at work," Green says.
Second, decisions about getting pregnant and timing are choices only you and your partner can make. "You were good enough to work your way into the job you have now, with all the opportunities that it gives you, and that means that you'll have a pretty solid foundation for your professional life once there's a baby in the picture too." More here.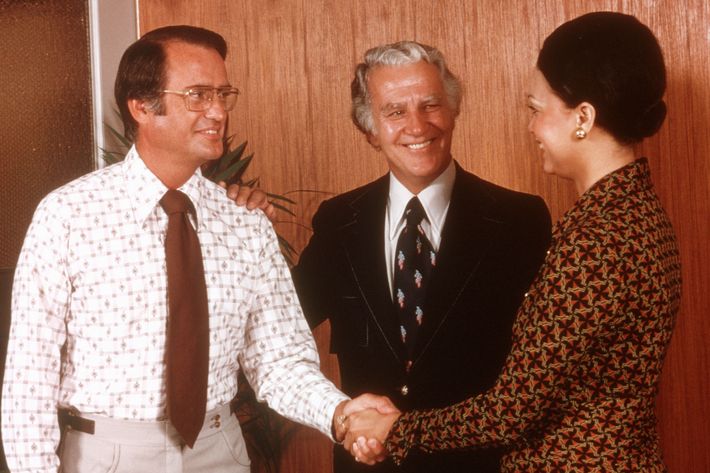 7. 'Do I Even Deserve This Promotion? Should I Turn It Down?'
Self-doubt in this case prompts two questions, according to Green: "Do you deserve the promotion, and do you want the promotion?" It's pretty likely that you deserve it. Think about your track record of achievement and try to understand why you're second-guessing. There are lots of questions to ask yourself.
8. 'I Care Too Much About My Job!'
This reader has cried at work and felt too angry to focus when a meeting doesn't go as planned. When you're too emotionally invested in your work — to the point of constantly stressing at your desk and to your family or friends after work — it helps to remember what you're being paid to worry about. If something is out of your control, then it's someone else's job to stress about that issue at your company.
"A good test is to ask yourself: Will this matter to the company or to me personally in six months? In a year? The vast majority of the time, the answer will be no," Green writes. "On the rare occasions that it's not, that's when you press the point." Here's why you can worry less.
9. 'Should I Feel Anxious If I'm a Boss?'
When a woman was promoted to a managerial role, the new territory made her feel incredibly anxious. She knows that everything is fine, but the stress doesn't go away. Is that just part of being a boss?
It's a common experience for new managers to feel anxious, at least if they're conscientious, kind people, Green says. Think of it like this: Before, as an employee, you had a lot of control over your own performance — now your success relies on other people. "The way you handle this is by … well, by managing well." Green has three steps.
10. 'Am I a Disappointing Boss?'
This woman's employee is fresh out of grad school and seems to expect way too much from his job: He's unhappy because there isn't always a lot of work to do, but as a middle manager, she doesn't have the authority to create more opportunities for him. How can she stop feeling guilty, and make him realize that the job is what it is?
"Lots of jobs just aren't that glamorous or exciting," Green says, especially jobs at the start of a person's career. You can tactfully readjust his expectations. Sit down with him and have a straightforward conversation. Start by asking him how things are going. Then say this.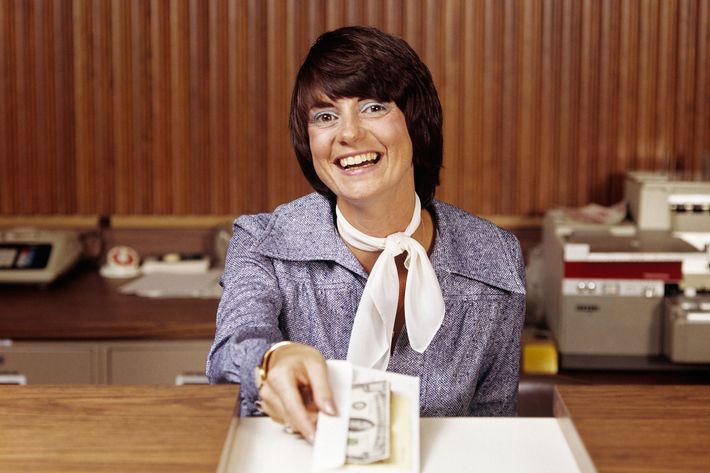 11. 'How Can I Be More Assertive at Work?'
If you're too nice all the time — if you were praised for being likable and good with people while growing up — it's difficult to confront someone at work if they're bothering you. For example: a man in this woman's office keeps calling her "baby girl," and all she wants to say is, "Actually, it's Jane." But each time she tries to speak, she freezes up.
"The crux of this is to figure out why calmly asserting yourself feels so rude to you," Green says. Which might require therapy, depending on who you are, she adds: "It really might be worth digging into some of the underlying beliefs here with a therapist, who can help you figure out where you picked up these beliefs and how you can get rid of them." Regardless, she has concrete tips for how to start asserting yourself right now.
12. 'When Should I Admit I Can't Do My Job?'
After a year on the job without feeling like you've progressed, is it ever okay to ask your employer for a more junior role? This reader says she's noticed her boss is increasingly frustrated with her work, even after they've talked one-on-one about her mistakes.
"Before you decide anything, talk to someone who knows your work," Green says. "Because the thing is, while it's possible that your self-assessment is accurate and you really aren't the right match for the role, it's also possible that you're far more critical of your own performance than anyone else is." Try this reality check.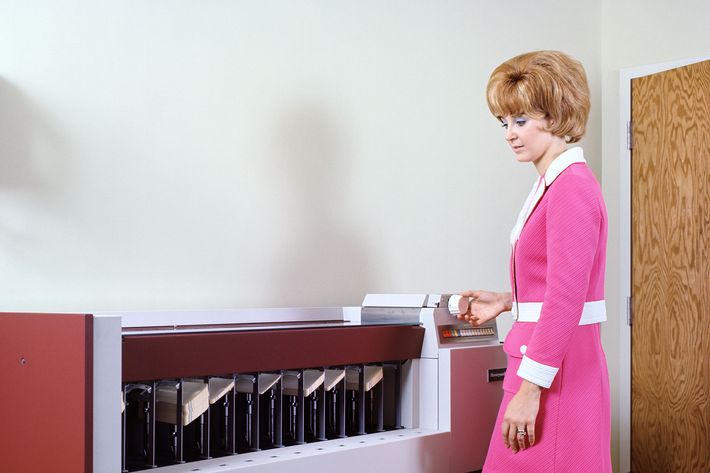 13. 'I'm So Lazy on the Job!'
A straight-A student who didn't have to work too hard in school now feels embarrassingly lazy and unmotivated at work. She worries someone's going to notice and feels guilty about it. How can she make herself work harder?
"Here's the thing," Green replies, "this isn't a moral failing on your part (which is how you're thinking of it — 'I'm lazy,' 'my work ethic sucks'); it's just an insufficiently developed skill. It's something you can learn." Here's how.
14. 'My Child Is Ill, Which Takes Me Away From Work.'
A single mom has a teenage son with severe anxiety and depression who requires her constant attention — for weekly doctor's appointments and school meetings, along with emergency calls so she can help him through panic attacks.
"I do have FMLA (Family Medical Leave Act) in place," she writes. "My question is, basically, how do I handle being the co-worker that people resent?" She keeps up with her workload and people are usually nice about her unpredictable absences from the office, but sometimes it shows.
"It's hard when you can't be the employee you want to be," Green says. "The best thing for your mental health might be to acknowledge that this is how things are for now. Not forever — but for right now." Here's how to deal with your co-workers.
15. 'I'm an Introvert, and It's Holding Me Back!'
At her law firm, this reader is insecure about being an introvert among gregarious co-workers. She does a great job, but she just doesn't love to chat. How do you learn to be social in an office?
"When you're an introvert in an office dominated by extroverts, I think you have two ways to go: You can find ways to 'perform' relationship-building that look like the methods your co-workers use but which will probably never feel totally natural to you, or you do things that feel true to you." Either or.
Get Ask a Boss delivered every week
Got something to Ask a Boss? Send your questions to askaboss@nymag.com.