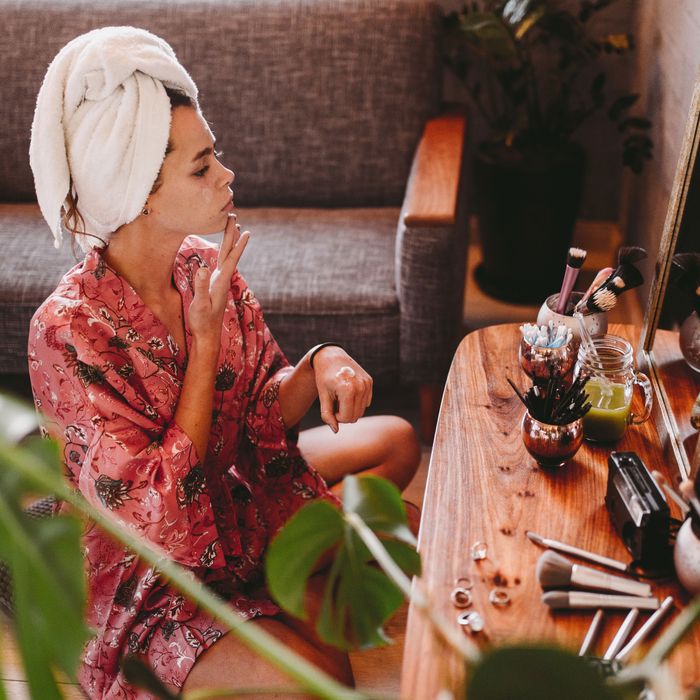 You've got this.
Photo: Carina König / EyeEm/Getty Images
Currently, we're unable to enjoy having the hands of a facialist touch our faces as we lie horizontally in a relaxing, aesthetically pleasing room, so there's no time like the present to try to teach yourself to properly touch your own face while sitting somewhat upright at home. If you don't want to schedule a virtual skin session with a celebrity aesthetician, no worries; we set one up with Joanna Czech, expert face-slapper and facialist to famous faces ranging from Sting to KKW, and asked her to fashion a DIY facial that can be done solo.
Conducting an at-home facial is a good opportunity to get reacquainted with your skin, break in your skin-care tools, and fully indulge in the products on which you've been stocking up. Below, Czech's instructions for an at-home facial that will have you feeling extra clean and extra relaxed, without going completely overboard, so adhere to Czech's golden rule for treating your skin: "Respect, support, and protect."
Make It a Night Date
There's a good chance a facial will take a little longer than your daily skin-care routine, so block out some time to do it big, preferably after the sun goes down. "Everyone's skin is different, but what we have in common? Thirty-seven trillion cells building our bodies, and cell energy is the most important thing. I do my facials at evening and at nighttime, because skin is the most potent and absorbent of everything during a state of relaxation and rejuvenation," says Czech. Think of it as plugging in and charging your skin overnight so the following morning it's better prepared to face the day and all the noise it brings (stress, pollution, you mindlessly touching it, your dirty phone constantly touching it, etc.).
Scheduling your facial, and the built-in deep cleaning that comes with it at night, also ensures you abide by another one of Czech's skin-care mottos: "Don't bring the streets to your sheets." You want to keep your pillows pristine.
Show Some Skin
You're probably wearing fewer articles of clothing than ever before, which is great, because your facial should extend beyond your face. "Skin care starts with the nipples and goes up to the hairline," says Czech, who doesn't want you to leave your poor, neglected neck and décolletage out of the fun. "We have 30 to 40 percent more oil-secreting sebaceous glands on the face than we do on our neck and décolleté," says Czech, which is why your neck tends to look way older than your face over time — the skin there is much thinner and drier. According to Czech, the jawline creates an almost perfect borderline between the more sebaceous and the less sebaceous. Now's the time to start crossing that border and heading south.
Cleanse Twice (or Thrice)
The first real step of your at-home facial is something you should be pretty good at by this point: cleansing. To elevate it to facial status, Czech recommends taking way more than eight seconds to wash by doing a thorough double cleanse. "Start the double cleanse by massaging with a pre-cleanse oil, which will soften sebum and dissolve oils with oil." Czech typically massages the pre-cleanse for 15 minutes, then follows it with a clay mask to detach the impurities for the second cleanse. "If you still have residue after removing the mask, you can follow up with a gel cleanser and remove that with a washcloth, which will leave you quite exfoliated already."
Exfoliate, Don't Extract
For some, wiping off cleanser with a washcloth will suffice in the exfoliation department, but if you're someone who really loves their scrubs, Czech says goes for it next, but look for something gentle that dissolves with water (her favorite is Reflekt's), and keep it to no more than once or twice a week.
By now, your skin should feel superclean, which should help you resist the urge to try extractions, the one thing Czech does not recommend trying on your own. If you need those facial vibes, try a mini steam session instead of digging into your face. Czech recommends brewing a pot of chamomile tea, and holding your face over the steam with a towel on your head to direct it to your face. "But don't do it for a long time. Never longer than five minutes — it's unnecessary. Heat in general enhances hyperpigmentation, and it's not great for everyone. I very seldom use steam during my facials unless I see very thick skin or comedones that are hard to extract with hydration alone. But again, I'd prefer you do a double cleanse and exfoliation instead of extracting."
Tone
You're done with cleansing. Now it's time to lay the foundation for your quest to getting dewy. "Toners were long misunderstood, and are still misunderstood, as a second step of cleansing, but it's actually the very first step of treatment," says Czech. "You want to follow any treatment that was used with water with a toner because water affects the pH of our skin, creating a more alkaline environment than we want. The ideal pH of human skin is 5.5, it is slightly acidic, so using a pH controlling toner can help bring back balance after your cleansing and your potential scrubbing."
Massage
Time to finally use any massagers like that face roller, pretty, blunt stone, or those glass blue balls you have lying around. "Massagers stimulate blood flow and bring more hemoglobin and oxygen into the tissues, so they are great for all-over stimulation and general toning of the facial muscles," says Czech. If you want more targeted muscle stimulation, like along the cheekbones for example, she suggests massaging with a micro-current tool. (If you're doubling up, start with a general massager and follow up with micro-current.) If you've invested in one of those serial-killer-chic LED masks, now's the time to strap that baby on so your skin gets the most out of the light therapy before you move on to thicker treatments.
Soak It All Up
Next, truly indulge in something from your stash of treatments, whether it's an extra-juicy sheet mask, a heavenly cream mask, or your favorite specialized serum. Whatever it is, Czech recommends tailoring it to what it feels like your skin needs most in the moment. "Don't do what your girlfriend does. That's one of the biggest mistakes — going for something that is in, or something that is trendy. Skin should be trendy, not skin-care. There are 60,000 lines on a monthly basis, and every other day, someone whips up another cream in a basement because they suffered from breakouts, or the mom's hairdresser heard this — all these strange reasons for all of it. You can go crazy. I believe in science; it's super-important in understanding this very complicated organ, so some whipped cream doesn't work, I promise."
Now's the time to finally do the research you've been meaning to do. To start, Czech recommends drowning out some of the noise by seeking out specific ingredients for your concerns, e.g., hyaluronic acid for dryness, vitamin C for dullness, and colostrum for sagging, fine lines, or wrinkles.
Literally Chill
Like good-skin owners Karrueche Tran and Adria Arjona, Czech is a huge fan of humble ice cubes, especially when conducting facials at home, because you can add them in wherever you'd like, like here, after your serum has had time to sit, to seal everything. To keep the cube from directly hitting product, Czech recommends wrapping ice cubes in eyeglass cleaning cloths. "The fabric is amazing — they're smooth and soft enough for delicate lenses, and they're not as clumsy as silk, which gets wet right away." You can also run bare ice cubes over your sheet mask to further de-puff, or make ice cubes out of tea (Czech likes chamomile cubes for soothing, black- and green-tea cubes for inflammation, and dandelion-tea cubes for de-puffing) and use them directly on the skin post-cleansing and pre-toning.
Moisturize and Get Your Beauty Sleep
Finally, seal in all your handiwork with your favorite moisturizer and any eye treatments and lip treatments that may fall to the wayside during your normal skin-care routine. Then seal all that in with some sleep. "Your body produces cytokines, which are proteins that regulate the immune system during sleep. You have to remember that your skin is two square meters when it's flat; your face is only a few square centimeters. Your skin is the whole body; 25 percent of our immune system is within our skin, so adequate sleep will make everything stronger against stressors, including the face, but vanity aside, it's all about a bigger picture. Use your at-home facial as the start to treating your whole body, not just the body parts."
Joanna Czech's Favorite Facial Products
Czech likes this gentle pre-cleansing oil that dissolves sebum as the first step to a double-cleanse, followed by the line's Hydrating Clay Masque to draw everything out and up to the surface.
If you need to follow up your clay mask with another cleanse, Czech likes this gentle, low-foam gel cleanser that won't leave skin feeling stripped.
Czech's favorite gentle face scrub contains rounded capsules that slowly dissolve with water. "You almost don't feel anything at all. It's very respectful to the skin, and that's very important."
This toner, more affectionately known as "Jesus in a Bottle," is Czech's pick for neutralizing the pH of skin post-cleansing.
Czech's namesake face-roller (which our beauty director believes is the best of them all) has taken up permanent residence on her nightstand and serves as her new Netflix companion.
For thirsty skin in need of moisture, Czech recommends this serum of ceramides, hyaluronic acid, and amino acids after your massage.
If your skin is looking dull, Czech recommends soaking up an antioxidant-packed vitamin-C serum like this lightweight one by 111Skin.
If you buy something through our links, New York may earn an affiliate commission.