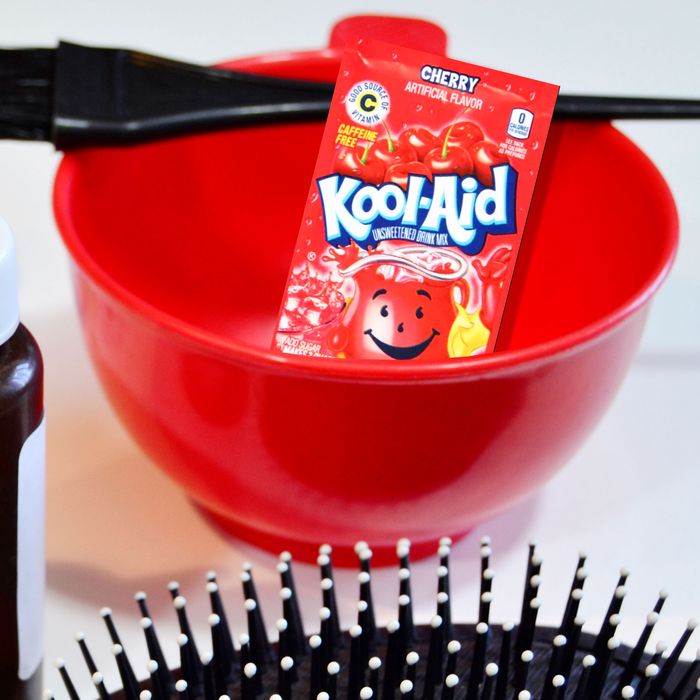 Oh, yeah!!!
Photo-Illustration: Getty Images/Courtesy of the vendor/Blanchi Costela
It may be tricky to get your hands on proper hair dye these days since people are panic-buying it. But what about getting your hands on some shelf-stable, fruit-flavored drink mix with an anthropomorphized pitcher on the label? With DIY dye jobs on the rise, now is a good time to appreciate the long-documented staining powers of Kool-Aid, which can temporarily punch up the color of hair like it does for tongues.
Kool-Aid's main ingredients include sugar, another type of sugar, and food dye, all things that are safe for your mouth, and thus, safe and non-damaging for your hair. Other pros? It's pretty cheap, smells way more delicious than traditional dye, can be drunk later unlike traditional dye, washes out if you hate it, reminds you of your simpler youth, and presents an excuse to say "OH, YEAHHH!" for hours on end. The only cons are that it may cause you to say "OH, YEAHHH!" for hours on end, but other than that, it's relatively harmless. Here's how to dye your hair with Kool-Aid at home.
1. Pick a Flavor, Any Flavor
2. Make a Conditioning Paste
3. Prep Your Hair and Paint It On
4. Wrap It Up and Wait
5. Rinse It Out
Once time is up, mosey back on over to your bathroom, remove your plastic contraption, and do a full rinse in the shower with water only — no shampoo, and no conditioner unless you immediately want to tone it all down. Continue rinsing until the water runs clear, and that's it. You should emerge with fruit-scented hair and a new color that will last a few weeks and slowly fade away over time depending on how often you wash your hair.
If you buy something through our links, New York may earn an affiliate commission.