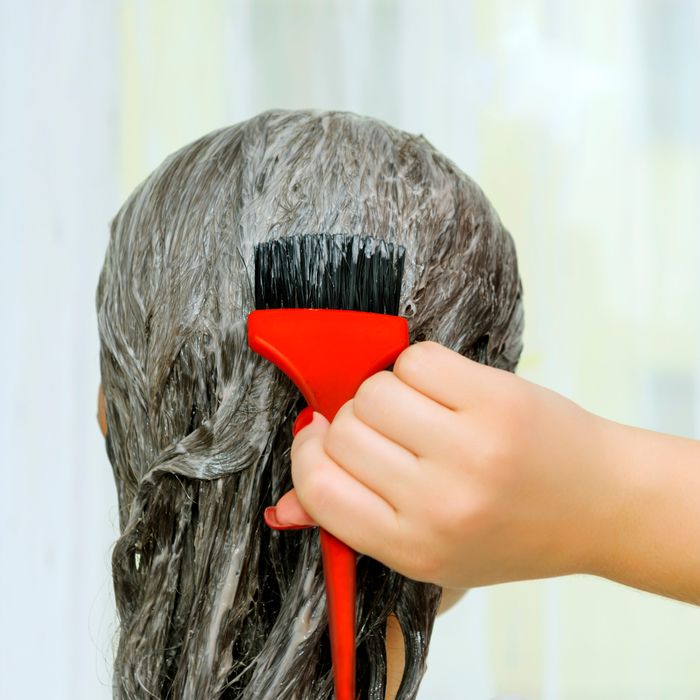 Photo: stock_colors/Getty Images/iStockphoto
Still thinking about switching up your hair color? There's a chance you may have to go it alone, as the fate of many salons hangs in the air. If touching up your roots or soaking your ponytail in Kool-Aid doesn't quite scratch the itch, you can take a cue from a lot of other people these days and try to dye your own hair at home.
Boxes of color come with instructions, but there are a few extra things that the pros want you know when taking the plunge. We asked celebrity hair colorist Nikki Lee of Nine Zero One salon, celebrity colorist and Redken brand ambassador Matt Rez of Mèche salon, and Schwarzkopf hairstylist Wendy Gutkin for guidance on how to dye your hair alone with minimal regrets.
1. Check Yourself
Before you attempt new hair color, take a minute to decide if an unsupervised, at-home hue change is in your hair's best interest. If you have extensive damage, heat-style extremely often, or are thinking about dabbling in bleach, you may want to wait until for an in-person appointment. Both Rez and Lee agree: Major color changes should be left to the professionals. Same goes for anything involving highlighting or foil work. "That's asking for trouble," warns Rez. But if you feel like getting into trouble, worst-case scenario, you can just shave it all off.
2. Pick a Color
The best way to avoid any guesswork? "Reach out to your colorist and see if they can put a color kit together for you," says Rez, who has been busy doing exactly that for clients. Otherwise, start by figuring out what color your hair truly is. "Are you a medium warm brown, a light cool blonde? Once you better understand that, selecting a color becomes less complicated," says Lee.
If you want this to be as low-risk as possible, she recommends staying within two shades above or below your natural shade (going darker is the safer of those two safe options), and never trust the smiley person on the front of the box. "The swatches on the side of the box will show you how the color you're choosing will turn out based on your current root shade," Lee added. Still struggling? Turn to your devices. Both Garnier and Schwarzkopf have fun virtual shade try-on pages.
3. Consider Your Timeline
According to Lee, most of the accessible, at-home colors you find in drugstores are permanent dyes, meaning you're stuck with your decision for the time being if you mess up. If you're just looking for something to tide you over until your next appointment, she suggests going for a semi-permanent formula that will eventually wash out over time. If you're looking to diffuse new growth or gray hairs with an all-over color change, Rez recommends demi-permanent color, which also washes out over time (but not as quickly as semi-permanent color) and only darkens color (rather than lifting it), which means less of an opportunity for you to end up with orange roots.
4. Buy More Than One Box
To ensure full coverage, both Lee and Gutkin say you need two boxes of color if your hair is shoulder-length or longer, very coarse, or very thick. You'll also want to make sure you have everything else to get the job done: gloves, a color brush, some nonmetallic clips, a nonmetallic bowl (metal will oxidize the dye and alter the color), and a timer, which can be your cell phone or AI personal assistant.
5. Do a Patch Test or Two
Once you have your formula, Lee recommends conducting a patch test on your skin to ensure you don't have an allergic or adverse reaction to the color, and Gutkin recommends conducting a patch test on a small section of hidden or trimmed hair to ensure you don't have any regrets about the color. "Patch testing is also a key step for working out timing with your hair texture," says Gutkin. "The finer your hair is, the faster the color will develop, meaning less time, but if you have coarse or dry hair, you can go by the recommended time on the box."
6. Consider Skipping the Shampoo
If you're going the demi-permanent or permanent route, Gutkin suggests picking a day to do the deed, then holding off on shampoo for a day or two so your scalp isn't squeaky clean right before dyeing your hair. "This will allow your scalp's natural oils to act as a barrier against irritation." You can also apply a little Vaseline or a thick cream to your hairline for extra protection.
7. Section and Strategize
Achieving even coverage requires some strategy. Start by parting your hair down the middle and sectioning your hair into four equal sections starting in the back, so you end up with two sections in front of the ears and two behind them. Gutkin says to begin applying dye at the roots first, "since the roots need the most color and processing time," and Rez advises really saturating them with color. "Then, apply dye from the back to the front to ensure the dye is sitting on the back of your hair the longest," Gutkin says.
According to Lee, the two areas that should be dyed last are the front hairline ("baby hairs could end up too dark if you start with them first") followed by your ends. "When you apply one shade all over your head, it can cause your hair color to look flat," says Lee. To avoid this and create some dimension with a single color, she recommends running the remaining dye through your ends in the last ten minutes of processing, so they look slightly lighter than the rest of your hair.
8. Sit for a While
After you've applied the color, let it sit uncovered for the allotted time in the instructions, or shorter, depending on the results of your patch test. As tempting as it is to put your hair up and out of the way, Gutkin says to avoid buns and clips once the dye is on. "You want to leave hair down until the timer rings to ensure the color rinses out evenly." Another way to encourage an even finish: sprinkle a little water on your head before rinsing and "mush it around with your hands" to avoid any harsh lines and streaks from setting in.
9. Condition, and Then Some
Be sure to conditioner after you rinse to seal the cuticle, and tweak your routine going forward to include weekly strengthening treatments and moisturizing hair masks. The recommendations below will help with hair that may be more fragile, dry, or porous than usual following the dyeing process.
Rez has been prescribing Redken's Extreme Bleach Recovery system to anyone who has bleached or highlighted their hair in the past, or has experienced any at-home flubs. There's a conditioning, strengthening rinse that helps with porosity, and this extra-nourishing leave-in starring the healing K-beauty ingredient cica.
If you want to continually boost your handiwork over time, Lee recommends Garnier's Nutrisse Color Revivers, which not only soften and smooth your hair, but also refresh your color to keep it looking nice until you can get back into the salon.
While plenty of hair masks focus on replenishing moisture before being rinsed out, this innovative spray focuses on strengthening overnight. The dry formula bonds to the natural proteins inside the hair fiber, helping to reinforce it from the inside, making it a solid pick for damage control post-dye.
If you want to replace your standing appointment with an at-home splurge, this legendary hair mask not only nourishes, but stretches your color a little bit longer until you can reunite with your colorist once more.