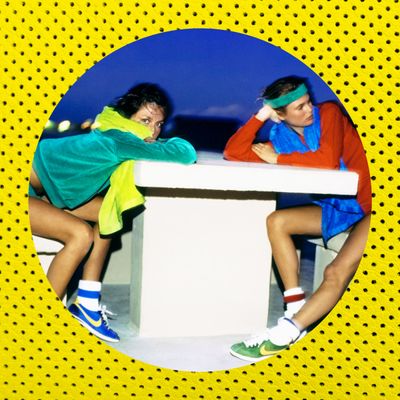 Photo-Illustration: by Stevie Remsberg; source images Getty
Isn't it the best compliment in the world when someone you like says you smell good? I think because smell seems part natural and part effort and part choices — great shampoo, nice pheromones, good combination. While I would like to tirelessly chase this compliment every day, I also believe that Americans shower too much. Our skin flakes up; our hair becomes desiccated; our water is squandered.
The postexercise shower seems imperative. But is it? Or is it only the appearance of the shower that's crucial? "In my role, it is super important to look as clean, fresh, and polished as possible," trainer and Health House instructor Annie Uttaro tells me. Like lots of instructors, she spends her days skittering from classes to personal-training clients to classes in different locations. It seems unfair that trainers are expected to both be at the height of fitness at all times and never appear to have recently sweat. Modern life has a series of impossible expectations for all of us, so let's open up the symposium on how to fake it.
Below, I pried Uttaro and six other busy trainers around L.A. for expertise: How do y'all fake showers? 
Hair
Hair is the flag of the nation of our body, waving around and formally indicating our official vibe. It also gets dirtiest in the most noticeable way. "Putting your hair into a bun or half-pony is a great disguise for dirty hair," Uttaro says, so you can stagger the style as your sweaty day goes on.
Dry shampoo, unsurprisingly, was mentioned by almost every instructor (two loved up on Ouai's). Then I heard a shocking pro tip from two instructors: hair oil. Charlene Smith, who leads a mechanized rock-climbing-simulation class at Rise Nation, says she does "a quick fluff of my hair, and Allpa peppermint hair oil to cleanse and refresh my scalp post-sweat, and I'm set." Katie Lunger, who created the butt-cult class Bünda, says she uses nice hair oil to chase dry shampoo. While this went against all my sweat-covered instincts, I trust Lunger, especially because Bünda doesn't have showers. I used her rose hair oil and saw immediately that my fuzzier post-jostling curls got very orderly.
Shay Kostabi leads classes at Bespoke Cycling DTLA and hosts the Fitness Career Mastery podcast. She has a very sneaky suggestion for hair: putting in dry shampoo before she works out to absorb the sweat as she goes along. Then, if a blow-dryer is available, she suggests aiming it at your roots to give the illusion of a blowout. And for the telltale whiff of clean, she dabs perfume into the ends of her hair. Kostabi uses Ambrette Rose by Musc et Madame ("I always get a ton of comments on it— clean or fake clean"). Love compliments! For the look, Kostabi employs the old, reliable iconic trickster scammer of hair styles: "A high top knot."
Face
Three instructors mention Simple Micellar wipes to clean your nice face, but others insist you must, at least, rinse off the sweat with water. Melina Nasab, who leads cardio and strength classes at Studio B and Health House, categorizes rinsing as "very important!" Then, she says you can just quick-spritz a face spray (she uses Kiehl's Cactus & Ginseng).
Lauren Kleban, the founder and CEO of LEKFIT, says that if she knows she can't shower, she uses a FaceGym training stick before working out "so I'm guaranteed to have a nice glow" and then a spray-on sunscreen (she likes Cosmedix). So many spray-ons! Are sprays really that much more efficient?
Body
For a classic fake rinse down, Sevana Draayer, a spin instructor at Ratio Cycling, praises the wet cooling towel that some places provide. If you're not at a spa-inspired-facility, you can also make your own fancy cooling towel with a regular-ass washcloth, cold-ass sink water, and some pretty-ass essential oil drops (Ratio uses Vitruvi's Boost). For a packaged version, Uttaro likes Zero K Wipes for their cooling effect. "This helps lower my body temperature, to stop sweating faster while cleaning any dirt, oil, and bacteria from the skin," she says.
Back to sensory trickery: Nasab has a habit of taking the shirt that she'll change into after class "and dousing it in a strong perfume. Byredo Flowerhead smells super yummy."
In all of these down-and-dirty details, I was surprised that no one explicitly mentions the body's most famous sites of original scent that they're wiping down or covering up. Or, I guess I understand this. Fraud and bodily mechanics are still taboos? When I asked Nasab, she first gushed, "Oh yes, I know all the tricks of how to get by without showering. Should I be embarrassed?"
In any case, no one I interviewed brought up the crotchal area. I was able to interpret between the lines ("unscented baby wipes" and "HyperGo Full Body Wipes" and "YUNI beauty shower sheets"). Kostabi insists: "Clean socks and underwear are always a must. I keep extras packed in my bag."
Kostabi also suggests changing into "something breezy that I don't have to squeeze my hot, sweaty body into, like a tailored jumper with heels. Simple is always better." Let your fabric cool you down: This revolutionized my strategy, as I was previously a dummy who peeled myself from tight pants (spandex) to tight pants (jean).
Less intuitive, but surprisingly helpful: Kostabi encouraged me to moisturize afterward (she likes La Roche-Posay Lipikar Balm, which she says absorbs fast and smells clean). I was surprised that once I cooled off from sweating, my skin really wanted lotion. Rise's Smith confirms: "After sweating, your skin becomes dry." Must be something about evaporation and aqua dynamics, which I understand.
And deodorant: disappointing number of sprays. My sensitive pits are too frightful. At least Draayer keeps Ratio stocked with Little Seed Farm's all-natural deodorant cream. Ratio uses biodegradable popsicle sticks, so people can fish it out and apply it with their fingers. This sounds fun to me, but I think I'm overly tactile, so I don't mind a few steps. And there are a lot of steps to faking a shower!
In any case, this is perhaps the point: Putting a lot of effort into faking something is a skill unto itself. It's not wholesome, but it's a talent!
Of course, when faced with the intricate details behind a scam, you might correctly assess: Huh. Such subterfuge. Isn't that expending a great deal of effort to approximate something that might not actually require that much effort to begin with? Why wouldn't they just do the thing that they're pretending to do? Well, because some places don't have showers and water is precious and most hair doesn't want to be washed every day and you don't have to do all of these steps! We can pick and choose the level of scam we want to pull, each and every day, and we're lucky for that.