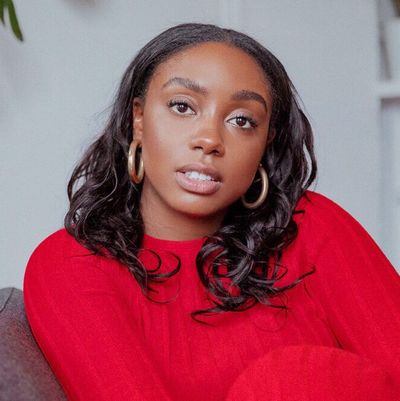 Around this time last year, I went slightly crazy trying to get my skin in tip-top shape for my wedding day — and it worked. But now that my hormones have settled and my acne has improved, I've become obsessed with how to get rid of acne scars. As a woman of color, I get very dark scars, and it's frustrating to look at my slowly-improving complexion in the mirror and see a dime-sized mark on my cheek that won't go away.
I've tested about 25 different products that claim to brighten dark spots on the skin, and in my experience, nine of them really work. Using the regimen below, my scars start to fade in three weeks and disappear by the six-week mark. (To be clear, throughout this process I've still been getting semi-regular facials, but no steroids, dermal fillers, lasers, or bleaching products.) Read on for the results of my research.
The Best Exfoliating Pads
Thank god these are available on Amazon Prime, because I'm always afraid of running out. They're the best thing to use in the morning because they exfoliate gently, with chemicals, and really "wake up" my skin by making it look glowing and refreshed. Each pad has 3 layers of glycolic acid, lactic acid, and vitamin C to clear your pores and fade your scars at the same time. Just slip your fingers into the little sleeve and alternate between sides, with the gauze side for scrubbing and the soft side for picking up debris.
For me, P50 is a non-negotiable product. It exfoliates your face with acids rather than a harsh scrub, giving you brighter, more even skin and fading pigmentation much faster than a scrub would. I use it every morning and night by applying it onto cotton pads, then pressing and releasing the product onto my face in an upward motion.
There are a lot of dupes out of there that claim to do what P50 does, but trust me, they don't work. Personally, I like the original formula, which is the strongest option, but there's also a special one for hyperpigmentation, P50 PIGM 400, that's made for more sensitive skin.
Everyone seems to swear by Vitamin C serums for their ability to make your skin more luminous, but a lot of the forums are incredibly diluted. I've tried practically every one on the market, and this one is my favorite. (Plus it's only $27, so don't say I never did anything for you.) It has 20 percent pure Vitamin C, plus 72 percent chokeberry to stabilize the high concentration of Vitamin C and ensure that all the good stuff soaks into your skin and doesn't just sit on the surface. Thirty minutes after P50 has settled into your skin, mix this in with your moisturizer and rub it in. You won't regret it.
I was told by multiple beauty editors not to bother with this dark-spot solution since it doesn't have any of the chemicals that brightening serums do. But I swear to you, I've used this consistently — as in every single day, twice a day, no excuses — and within three weeks my marks gradually fade. The potent solution contains more Vitamin C, white birch, and peony extracts to unify your skin tone.
This isn't necessarily going to brighten dark spots — it's more for overall dull skin — but I started adding it in tandem with the Kiehl's solution above, and my skin has become noticeably more illuminated and evenly textured. It has a subtle shimmer, too, giving you that elusive dewy look.
Unless you're rich enough to get a facial every other week, you need a proper facial steamer. It feels really good and lets me pretend I'm a rich woman, which are nice side effects, but it also hydrates and purifies your skin in minutes. Use it before exfoliation and masks to accelerate the absorption of products and cell turnover.
One of my favorite quotes is when Dr. Dennis Gross said to the Cut, "Scrubs are a primitive way to exfoliate." It was such hilarious, subtle shade on anyone who's still using St. Ives. Scrubs really can give you wrinkles, and dermatologists have proven that micro beads don't disintegrate and can wind up in your pores. Instead of either of those, try Tatcha's water-activated exfoliant. It's made from rice bran and transforms to creamy foam to polish your skin, giving you results you can actually see. No matter what your skin has gone through this week, after you use this, it'll feel baby soft.
A few months ago, I had a crisis about retinol, which is supposed to stimulate the production of new skin cells, fade dark spots, and treat acne. I felt like I'd read every article on the planet about it, but still wasn't sure if it would actually do anything for me. My work wife and resident Cut senior beauty editor Ashley Weatherford also informed me that I'd have to use retinol every night for at least two months to see results, so I needed to find an affordable option, because if I'm going to have use a product a lot, I won't be spending $100 on it.
Finally I settled on A313 Pommade which Beauty Director, Kathleen Hou swears by and recommends as a top beauty pick if you're ever traveling through Paris (you can buy it even if you aren't traveling, on Amazon). Now, a couple months in, I'm here to tell you I should have used it much sooner. It's much more affordable than a lot of the celebrity-favorite retinols out there, but just as gentle, and it actually quells my acne and marks and has improved the tone of my skin greatly. The texture reminds me of Vaseline, but beware, your skin has to be dry when you use this. If it's the slightest bit wet, you'll be itching ferociously in an hour.
Sunscreen feels like a battle that I'm never going to win. Dermatologists are constantly coming out with changing information about how often to reapply it, how strong it should be, and what form it should take. But sunscreen is crucial for preventing dark scars from getting any darker, and I love the Invisible Shield from Glossier because it's hypoallergenic and goes on clear. While it's not recommended for a day in the sun on the beach, I like it for everyday use because it blends into skin beautifully.